Pineapple Ham Fried Rice
This Pineapple Ham Fried Rice is a great way to utilize any leftover ham you have lingering in the fridge after Easter.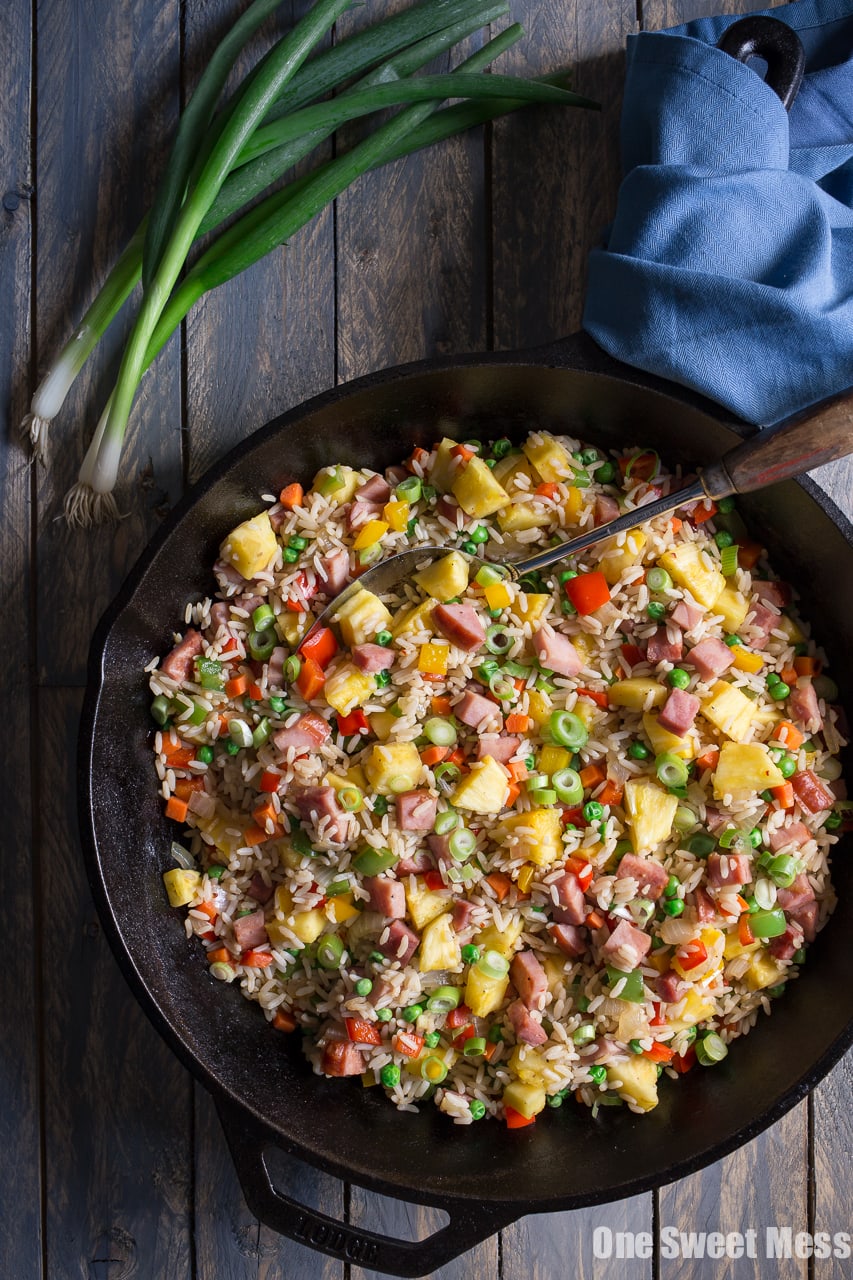 It never fails, I always end up with leftover ham after our Easter feast. It doesn't matter how many people attend dinner, or how much ham is piled on everyone's plate, there's still a hunk of ham that remains, sad and forgotten, in the roasting pan. Even after sending everyone home with a to-go bag, I still have ham.
All the ham!
Let's face it, there's only so many sandwiches I'm willing to assemble and eat. Then there's the always faithful frittata, but one is plenty. I'm working with limited freezer space over here. My mom usually makes ham, green beans, and cabbage – a concoction invented by my grandmother, no doubt.
Just when I think everything has been checked off the list, I was inspired by my favorite Thai restaurant. They make this really great pineapple fried rice. We frequent the place so often, that I'm surprised I hadn't noticed the dish on the menu sooner. I'm a sucker for anything that combines sweet and savory, so of course I had to give it a go. The dish did not disappoint. It was tasty as hell!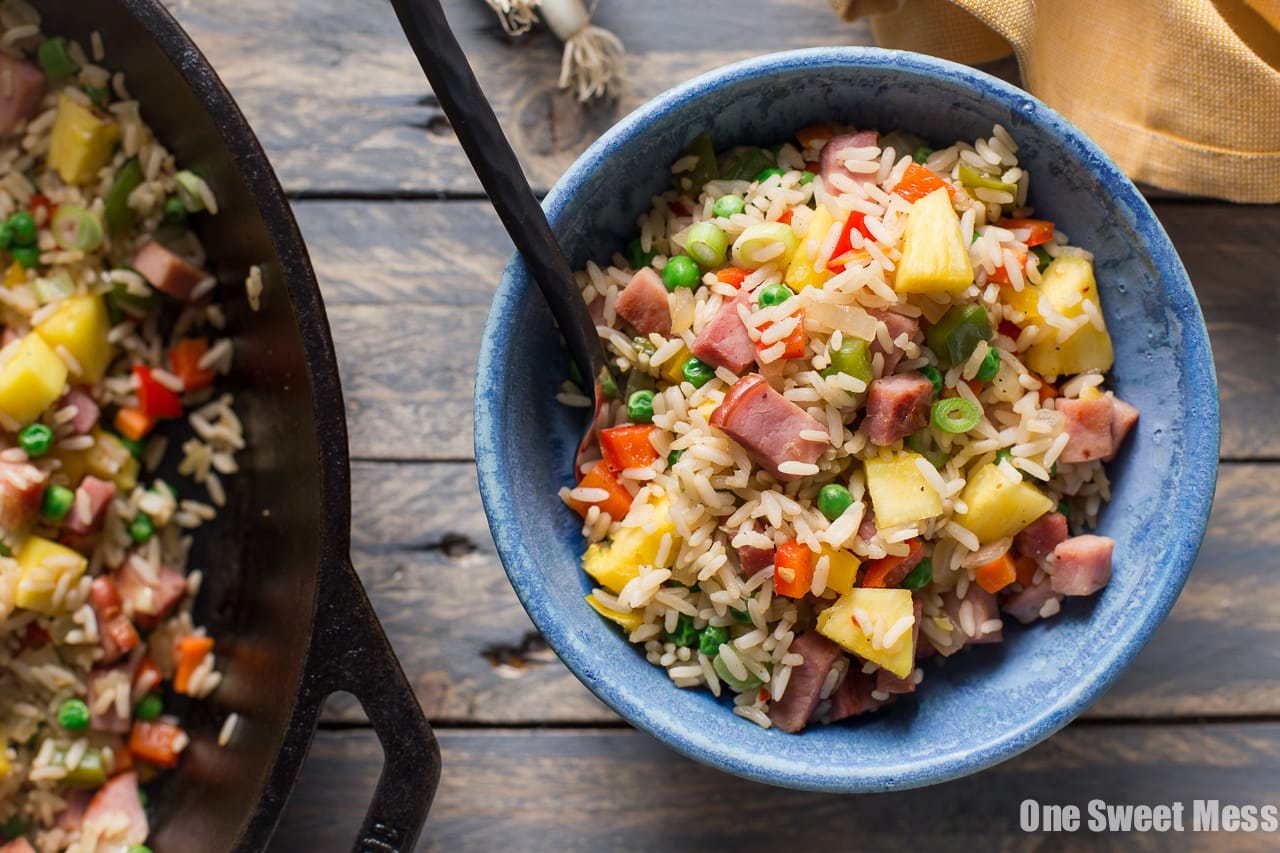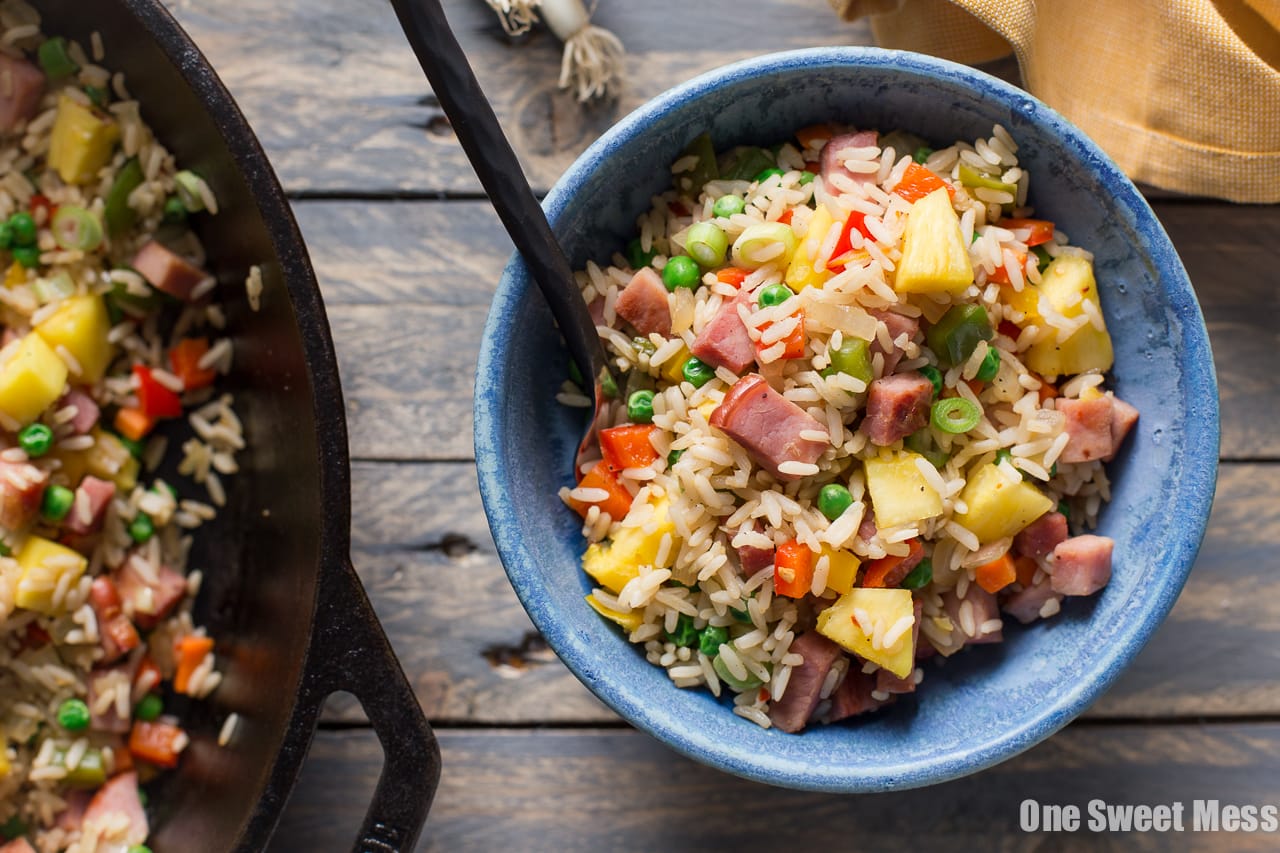 And that was my light bulb moment, folks. Sweet. Savory. Salty. <--- All of my favorite things combined into one tasty pan of fried rice. And so, Pineapple Ham Fried Rice was born! I chopped up the remaining Hatfield Traditional Dinner Ham and fried it up with some classic fried rice ingredients: red pepper, green pepper, diced carrots, onions, soy sauce, etc.
A little bit of effort goes a long way in this dish, and I literally mean a little bit of effort. Other than chopping, there's not all that much work. If you have 30 minutes to spare, you'll be rewarded with a tasty meal (or side dish, if you prefer).
Pineapple Ham Fried Rice
Ingredients:
4 cups cooked white rice
2 tablespoons canola oil, divided
2 cups fully-cooked diced ham
1 red pepper, chopped
1/2 cup chopped green pepper
1/2 cup chopped yellow pepper
1 medium onion, chopped
1 carrot, diced
2 cloves garlic, chopped
2 teaspoons fresh ginger, peeled and chopped
1/2-1 teaspoon red pepper flakes
1 and 1/2 cups diced pineapple
3 tablespoons soy sauce
1 tablespoon brown sugar
1 teaspoon sriracha
4 scallions, chopped
Salt and pepper
Directions:
Heat 1 tablespoon canola oil in a large saute pan over medium-high heat. Add the ham and fry until brown, about 3-4 minutes. Remove the ham from the pan and set aside.
Add the remaining 1 tablespoon of canola oil to the same pan. Add the peppers, onion, and carrot to the pan. Season with salt and pepper. Cook, stirring often, until the vegetables are tender, about 5 minutes. Add the garlic, ginger, and red pepper flakes to the pan. Cook, stirring often, for an additional 1-2 minutes.
While the veggies are cooking, add the soy sauce, brown sugar, and sriracha to a small bowl; whisk to combine.
Add the ham back to the pan with the veggies. Add the rice and soy sauce mixture to the pan; stir to combine. Fold in the pineapple. Cook until the rice is warmed through, about 1-2 minutes. Season with salt and pepper to taste. Garnish with scallions. Serve immediately.
All images and text ©
.
Whipping up one of my recipes? I wanna know about it! Snap a photo and tag your post with #onesweetmess on Twitter or Instagram. Seeing your creations come to life makes my day!
Disclosure: This recipe was developed for the lovely folks at Hatfield Quality Meats. All opinions are my own. Thank you for supporting my recipes and site while I work with brands I adore.