Dirty Rice
A big pot of this Dirty Rice is a crowd pleaser. I like to serve it alongside cold fried chicken and a scoop of cole slaw.
There's nothing fancy about this dirty rice recipe, but it sure does taste good. I'm always looking for ways to use leftover white rice. Squirrel is a rice fanatic. Any time I ask him what side he wants for dinner, it's the same answer–how about some rice?
Sure, I love rice, but it's kind of plain. Nothing a bottle of worcestershire sauce can't fix (his words, not mine). Or Tabasco. The man adds hot sauce to everything.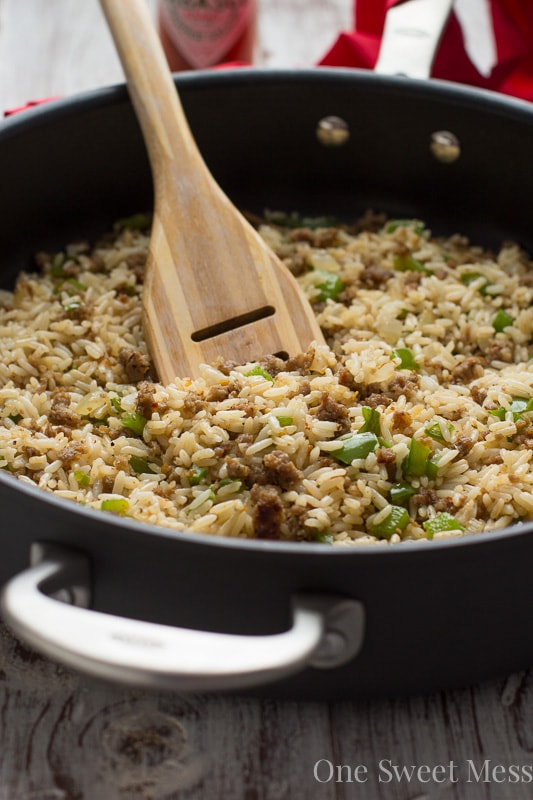 This recipe doesn't take a lot of effort, and it only requires 6 ingredients. Most importantly, it comes together in one pan. I'm lazy when it comes to dishes, so I always welcome the opportunity for one-pot recipes.
I made the rice in my new OXO Non-Stick Pro Sauté Pan. Excuse me while I ramble on about this pan for a moment. When they (and by "they" I mean OXO) say this pan is non-stick, they mean every bit of it. Nothing sticks to this pan! I have fried, sautéed, simmered, and braised, and not one piece of food has stuck to the bottom. Because of its non-stick superhero powers, it comes clean in a few swipes of a rag (or sponge).
It's a progressional home cook's dream come true.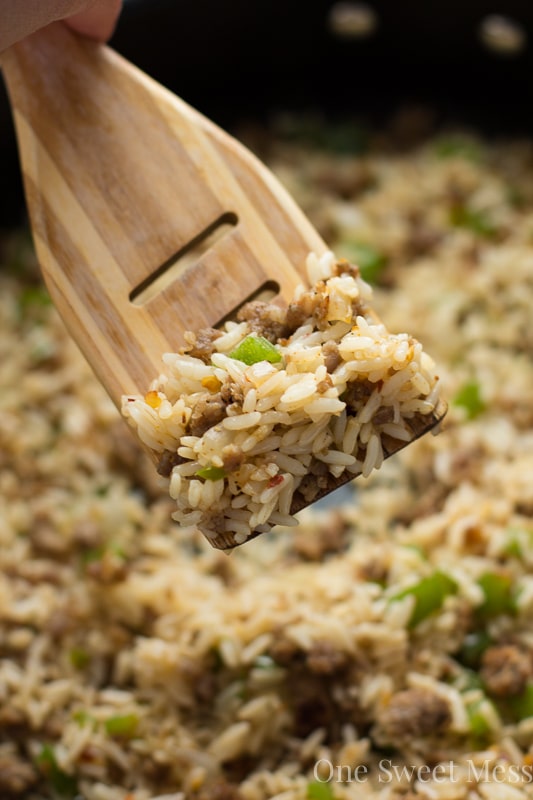 I'm sure you're all familiar with KFC and Popeyes dirty rice, right? I'm not a fan, but Squirrel loves the stuff. I decided to make it for him the other day to go with his fried chicken and cole slaw.
Walk the line, Popeyes. You can't compete with this!
What makes this rice so good is the crispy bits of browned hot sausage. A pinch of red pepper flakes and cayenne give the rice a spicy kick in the pants.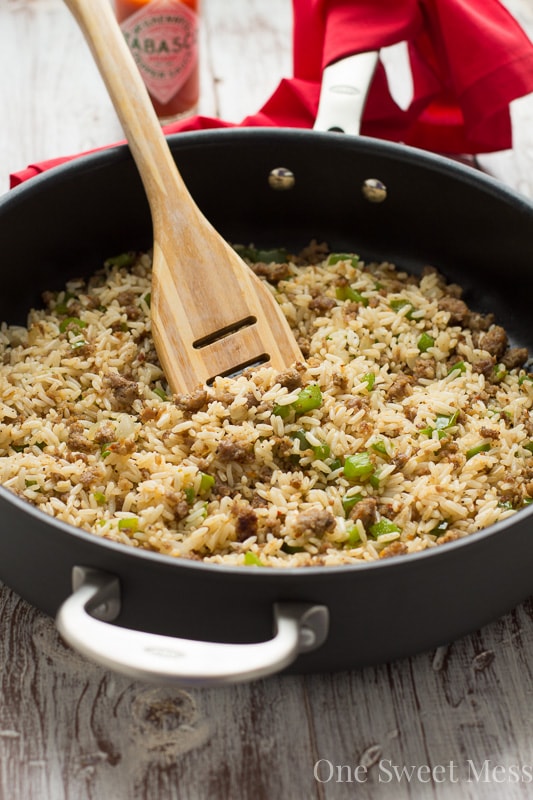 It's Squirrel approved.
Dirty Rice
Slightly spicy and extremely addictive, this dirty rice comes together in a few short minutes and only requires you to dirty one dish.
Ingredients:
1 tablespoon canola oil
1/2 pound bulk hot sausage (such as Johnsonville)
1/2 cup chopped green pepper
1/2 cup chopped onion
1/2 teaspoon red pepper flakes
1/4 teaspoon cayenne pepper
2 cups cooked white rice
Salt and pepper
Directions:
In a large skillet, heat canola oil over medium-high heat. When the oil is hot, add the sausage. Cook, breaking the sausage up as you go, until brown and crispy, about 8-10 minutes.
Stir in the green pepper, onion, and red pepper flakes. Cook, stirring occasionally, until tender, about 5 minutes.
Stir in the rice and cayenne pepper. Allow the rice to heat through, about 2-3 minutes. Season with salt and pepper to taste.
All images and text ©
.
Whipping up one of my recipes? I wanna know about it! Snap a photo and tag your post with #onesweetmess on Twitter or Instagram. Seeing your creations come to life makes my day!