Veggie Loaded Fried Quinoa
This Veggie Loaded Fried Quinoa is packed to the brim with fresh veggies. This dish is naturally gluten-free and comes together quickly for an easy weeknight meal.
Yup, I'm in yet another cooking club. I can't help myself. I'm out of control, I know! I just love getting together with other like-minded foodies and have a grand old time surrounded by good food and lively conversation. I've made so many new friends and met a ton of talented people during these monthly cooking clubs, that it's hard to say no.
So, when my dear friend and brilliant website designer Kita from Pass the Sushi invited me to join her #PasstheCookbookClub, well, I couldn't say no. As soon as Kita explained the premise of her club, I was sold. Kita's club encourages us to dust off our cookbooks and put them to use. Each month Kita chooses a few recipes from a new cookbook. We each choose a recipe and get to cookin'. With the internet, blogs, and Pinterest, I've kind of forgotten about the stacks of shiny cookbooks lining the shelves of my, well, everything. Here's the thing, I have cookbooks everywhere. On tables, in cabinets, on shelves, and stacked on my kitchen table. Yeah, I have a problem. As if I didn't have enough cookbooks already, I went to the library the other day and grabbed a few more. Help! You can see why I was eager to join Kita on her journey to utilize our cookbooks.
This month Kita chose Guy Fieri's book Guy Fieri Food:  Cookin' It, Livin' It, Lovin' It. I chose to make the fried quinoa. I think I've mentioned it before, but I'm not good a cooking rice or any other grain. Weird, I know, but so true. Since I need the practice, I decided to take on quinoa. I really like the fact that Guy put a spin on plain old quinoa and spiced it up a bit. Very clever, Guy!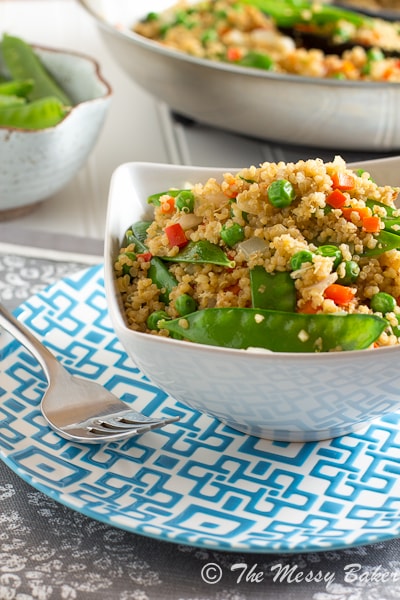 I loaded this quinoa to the brim with fresh veggies. I went on veggie overload and threw in some fresh snow peas, carrots, red pepper, onions, ginger, peas, and green onions. The result is crazy good, or, as Guy would say, Money!
The best part about this Veggie Loaded Fried Quinoa is that it's ridiculously simple to throw together, making it the perfect weeknight meal. Quinoa is surprisingly very filling. I'm diggin' it!
Veggie Loaded Fried Quinoa
Ingredients:
3/4 cup quinoa
1 and 1/2 cups chicken stock (vegetable stock or water)
4 tablespoons canola oil, divided
1 cup onion, diced
1/2 cup carrots, diced
1/2 cup red pepper, diced
3 cloves garlic, minced
2 tablespoons fresh ginger, minced
1 cup snow peas
3/4 cup frozen peas
4 tablespoons low-sodium soy sauce
1 egg, slightly beaten
Salt & pepper
Sriracha (optional)
Directions:
Heat 1 tablespoon of canola oil in a large saucepan over medium heat. Add the quinoa and toast for 4-5 minutes, stirring often. Add the chicken stock and reduce heat to medium-low. Cover and cook until the quinoa absorbs all of the liquid, about 20 minutes. Transfer to a bowl and fluff with a fork. Set aside.
Heat 2 tbs. of canola in a large sauté pan over medium heat. Add the onions, carrots, and red pepper. Cook for 3-4 minutes, or until the onions are soft and translucent, stirring occasionally. Stir in the garlic and ginger. Cook for 2 minutes. Add the snow peas, and cook for an additional 3-4 minutes. Add the last tablespoon of oil. When the oil is heated through, add the egg. Swirl the egg around with your wooden spoon until cooked through.
Stir in the quinoa and frozen peas, adding a little more oil if necessary. Stir in the soy sauce and salt and pepper to taste. Serve with a side of sriracha.
All images and text ©
.
Whipping up one of my recipes? I wanna know about it! Snap a photo and tag your post with #onesweetmess on Twitter or Instagram. Seeing your creations come to life makes my day!