Spring Pea & Asparagus Salad with Lemon Dill Vinaigrette
This Spring Pea & Asparagus Salad with Lemon Dill Vinaigrette is just in time for picnic season. It's loaded with crunchy snap peas, sweet english peas, and crisp asparagus. Fat shavings of Parmigiano Reggiano cheese and a citrusy lemon dill vinaigrette complete the salad.
Nothing makes me happier than a big bowl of seasonal veggies. I love scouring the farmers' markets for hand-picked produce. It's always so fresh and crisp and vibrant.
I'm extremely picky when it comes to selecting produce. A majority of my time at the grocery store is spent in the produce isle rummaging through the bins in hopes of locating the most attractive lemon, unbruised apple, or perfect bunch of asparagus. I'm a grocery store employee's worst nightmare.
Which brings me back to my farmers' market obsession. Everything at the farmers' market is so lovingly handpicked that every piece of produce is always at its prettiest. I'm very much looking forward to the start of market season!
This spring salad is loaded with three of my favorite green veggies: snap peas, english peas, and asparagus. I've been an asparagus junkie lately. I stock up every chance I get and keep it in the fridge for snacking.
If you're unable to find fresh-shucked english peas, feel free to substitute frozen peas. Fresh is always better, but sometime you gotta do what you gotta do, right?
The crunchy trio of green veggies, creamy red potatoes, and fresh dill are delicious start to any spring salad, but it's the addition of Parmigiano Reggiano cheese that really elevates the dish. I shave big ribbons of the distinctly nutty cheese over the salad right before serving. The flavor it adds to the salad is unbeatable.
For good measure, I also grate it right into the lemon dill vinaigrette.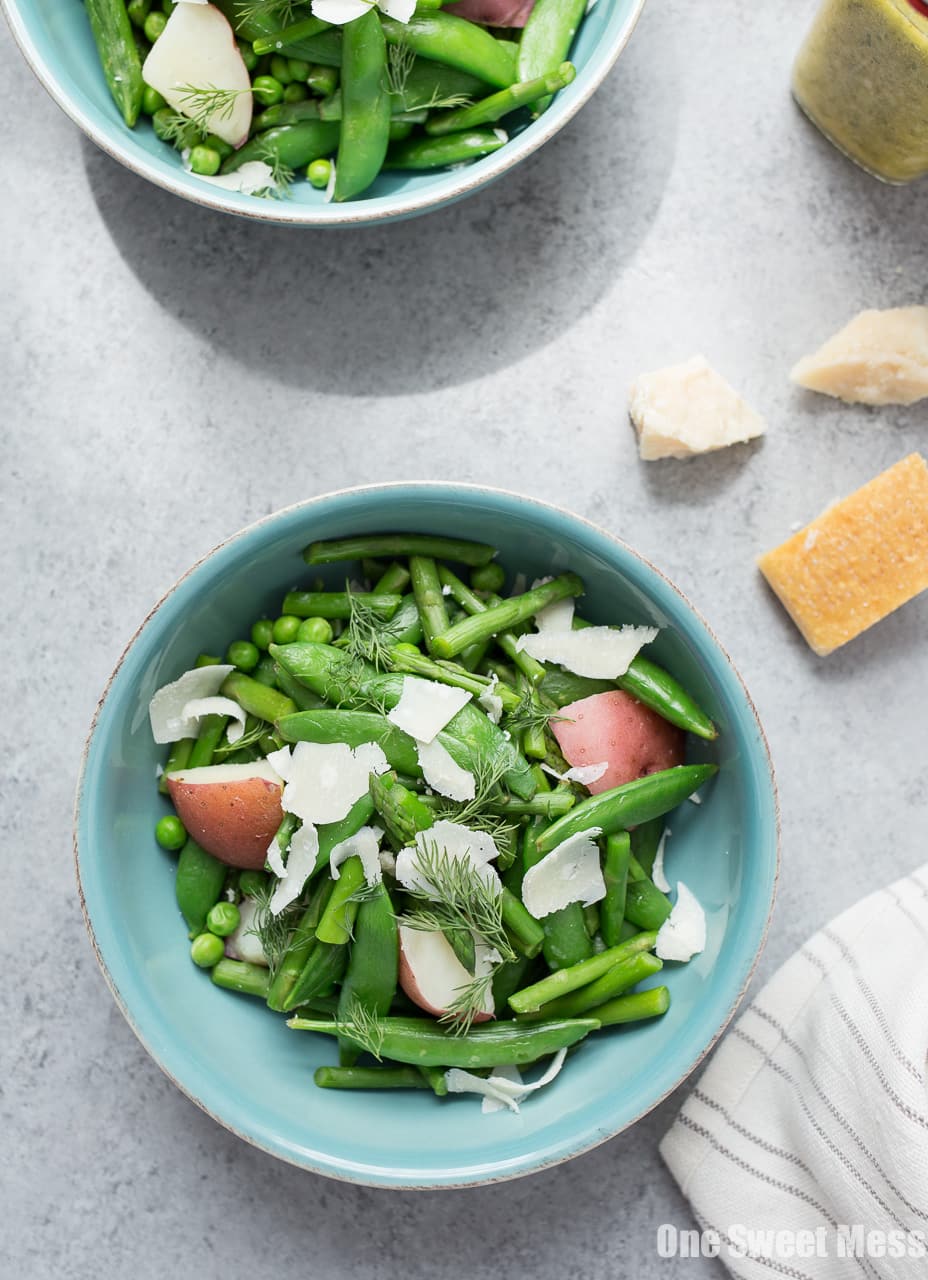 The tart lemon vinaigrette, crunchy veggies, and salty Parmigiano Reggiano cheese create one heck of tasty salad for the upcoming start of grilling season.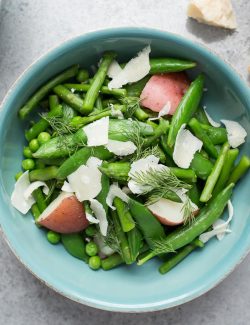 Spring Pea & Asparagus Salad with Lemon Dill Vinaigrette
Ingredients:
Salad
4 red potatoes, cut in half and quartered
10 ounces English peas
10 ounces snap peas
1 pound asparagus, woody ends trimmed + cut into 2-inch pieces
1/4 cup roughly chopped fresh dill
1 cup Parmigiano Reggiano shavings
Vinaigrette
1/2 cup olive oil
Juice of 2 lemons
1 teaspoon dijon mustard
2 tablespoons grated Parmigiano Reggiano
2 tablespoons chopped fresh dill
1/2 teaspoon honey
Salt and pepper
Directions:
Bring a large pot of water to a boil. Generously season with salt.
Add the potatoes to the pot and cook for 8 minutes, or until just short of fork tender. Add the snap peas, English peas, and asparagus to the pot. Continue to cook for an additional 2 minutes. Drain and rinse with cold water to stop the cooking process. Allow the veggies to drain well.
While the veggies drain, make the vinaigrette by adding all of the ingredients to a mason jar. Place the lid on the jar and shake vigorously to combine. Season with salt and pepper to taste.
Transfer the veggies to a large bowl. Fold in the chopped dill. Pour the vinaigrette over the veggies and gently fold to combine. Season with salt and pepper to taste. Top with the Parmigiano Reggiano shavings. Serve.
All images and text ©
.
Whipping up one of my recipes? I wanna know about it! Snap a photo and tag your post with #onesweetmess on Twitter or Instagram. Seeing your creations come to life makes my day!
Disclosure: This recipe was developed for the lovely folks at Parmigiano Reggiano. All opinions are my own. Thank you for supporting my recipes and site while I work with brands I adore.