Cobb Salad with Fresh Herbs
And my salad kick continues with this seasonal cobb salad with fresh herbs.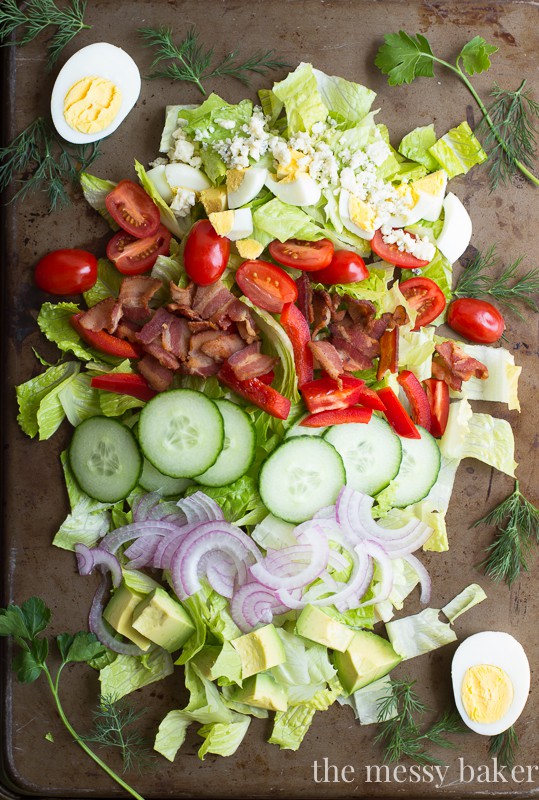 We interrupt this sugar-coated blog for yet another salad recipe. Don't run away just yet… I have bacon!
Spin right around on those pretty little spring heels and sit yourself down. This is no average salad. Psht, this salad is all dressed up and ready to party…in your mouth.
I'm patiently waiting for the weather to warm up so I can plant my newly purchased veggies. Last year was my very first attempt at a vegetable garden, and I had no idea what to expect. I set out on my new adventure with a pair of pink gardening gloves and a prayer.
I learned that gardening is more than just digging a few holes and inserting a few vegetable plants. It involves getting dirt under your nails, hours of manual labor, and sweat. Plants command attention. Every evening as the sun began to sink below the horizon, I would venture out to the garden to water the veggies and tend to the unruly weeds. Watching the wee little plants grow and thrive brought me great pleasure.
I'm ready to get the wheels in motion. My pink gloves and shovel are waiting in the shed.
Last year was a sort of trial garden. I made mistakes, killed a few plants, and over fertilized. This year will be better. My clay-like soil is now soft and airy. I added fresh compost and organic fertilizer to promote growth and add nourishment. I think I have this whole gardening thing in the bag.
I also have my salad plates ready. There is nothing better than a salad made with just-picked, crunchy cukes and tender bits of hand-torn leafy greens. My mouth is watering just thinking about it. I also have a list of herbs I'm planting this year. Get ready for homemade dressing and fresh pesto.
This salad was created by accident. I had an abundance of fresh herbs lingering in the fridge that needed to be utilized before they turned slimy. As I was mixing my greens, I decided to throw in a few handfuls of parsley and dill. If you want to add flavor to a salad, sprinkle in fresh herbs. It's that simple.
There is a mixture of fresh veggies in the salad. I used grape tomatoes, cucumbers, red onions, and red pepper. A cobb salad isn't complete without bacon, blue cheese, hard-boiled eggs, and creamy avocado.
Extra bacon… Yes, please! I drizzled the salad with my homemade buttermilk ranch dressing.
This happens to be my very favorite salad. It's the salad I make on the days I don't feel like pulling out every single pot in my arsenal—which is basically every single day—just to make a meal that will be devoured in 5 minutes. There's no way I'm going to scrub 500 pots while it's warm and sunny on the other side of the window.
Cobb Salad with Fresh Herbs
Crisp romaine topped with fresh veggies, crisp bacon, and blue cheese crumbles.
Ingredients:
6 cups romaine lettuce
1/4 cup fresh dill, chopped
1/4 cup fresh parsley, chopped
1/2 English cucumber, sliced
1/2 red pepper, sliced
1 avocado, cut into chunks
1 cup grape tomatoes, halved
1/2 small red onion, sliced thinly
3 hard-boiled eggs, chopped
4 slices cooked bacon, chopped
1/2 cup blue cheese crumbles
Directions:
Add all of the ingredients to a large bowl. Toss to combine. Sprinkle with salt and pepper. Serve with your favorite dressing.
All images and text ©
.
Whipping up one of my recipes? I wanna know about it! Snap a photo and tag your post with #onesweetmess on Twitter or Instagram. Seeing your creations come to life makes my day!