Greek Salad Wrap
Fresh Greek salad fixin's stuffed into a portable wrap.
I stuffed everything good about a Greek salad into a whole wheat wrap. Hello, portable lunch!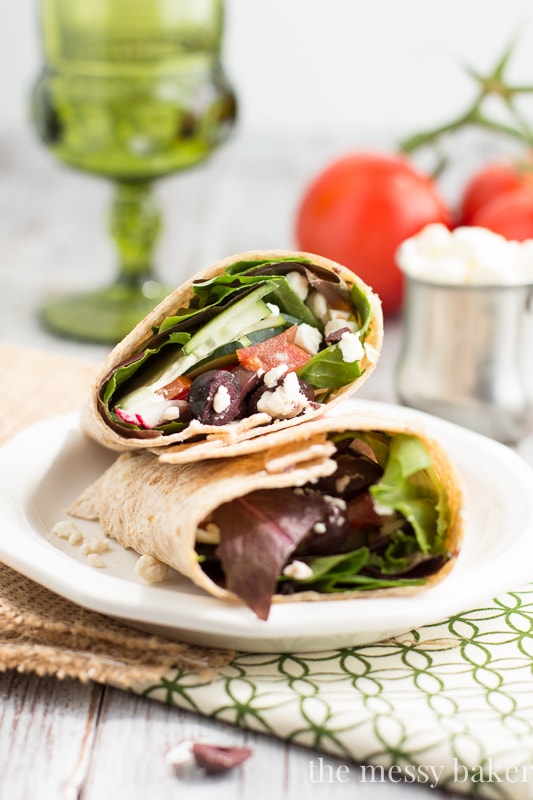 This recipe was inspired by an on-the-go wrap I picked up at The Fresh Market a few weeks ago. The wrap was busting at the seams and packed with everything you would find in a Greek salad. There were huge hunks of tangy feta, fresh, crisp lettuce, salty kalamata olives, sweet tomatoes, and shaved cucumbers. It was one of the best wraps I've ever eaten.
After dissecting it once I got back to the office, I knew it could be easily recreated at home for more than half the cost.

Sold!
Since I gave up meat for lent, I've been eating veggies like they're going out of style. I love a good salad, but being a vegetarian is more than just salads.
I didn't realize at first, but there are endless possibilities when it comes to cooking with veggies.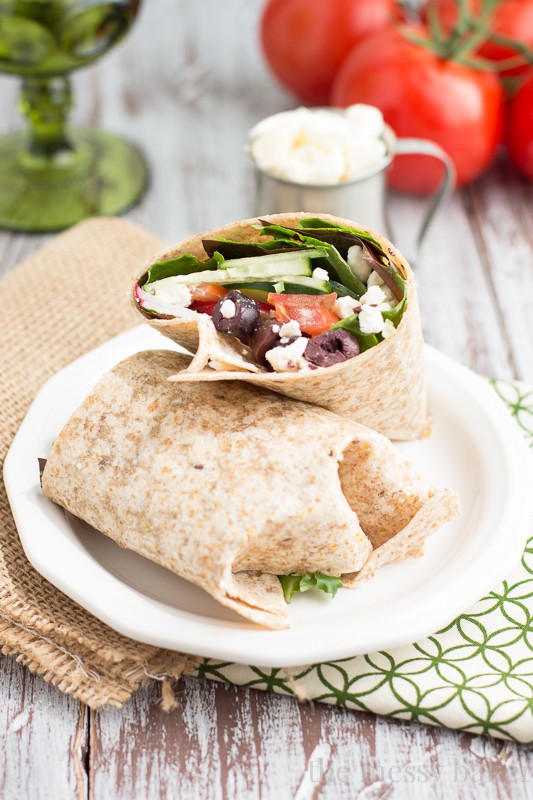 Just last week I made roasted veggie bowls with a tahini dressing. Talk about amazing! I quickly inhaled two bowls before going back for a third.
Now that the weather is warmer, I'm beginning to crave lighter, fresh meals. It doesn't hurt that this meal comes together in a total of 5 minutes. Now that the weather is warmer, I have better things to do than spend a hours hovering over a pot at the hot stove.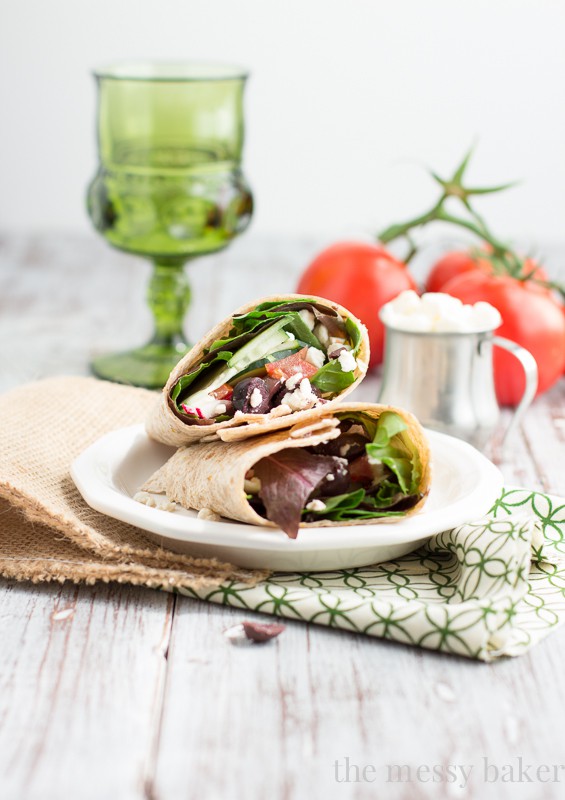 This wrap requires very little effort. Pile all the goods on a whole wheat wrap. Fold in the two sides and roll it up tight. Slice. Eat.
Greek Salad Wrap
Everything you love about Greek salad stuffed into a flour tortilla and rolled to create a portable lunch.
Ingredients:
1 whole wheat wrap
1/4 cup romaine lettuce or mixed greens
6 thinly sliced cucumbers
a few thin slices red onion
1 slice tomato, cut in half
1 tablespoon sliced or chopped kalamata olives
1 tablespoon feta cheese
1-2 teaspoons Greek dressing
Directions:
Layer your lettuce on top of the wrap. Top with sliced cucumbers, tomato slices, olives, and feta cheese. Drizzle with Greek dressing.
Fold the two sides of the wrap in and gently roll. Slice in half.
All images and text ©
.
Whipping up one of my recipes? I wanna know about it! Snap a photo and tag your post with #onesweetmess on Twitter or Instagram. Seeing your creations come to life makes my day!