Fennel & Radish Salad with Cherry-Balsamic Vinaigrette
Fresh spring greens tossed with vibrant radishes and crisp fennel create this seasonal fennel & radish Salad with Cherry-Balsamic Vinaigrette. 
The air is finally starting to warm up outside, the sun is peeking out from behind the clouds, and the heaping mounds of snow have finally melted.
I think spring is well on its way.
As the weather gets warmer and the sun shines longer, I begin to crave lighter meals made with fresh spring ingredients.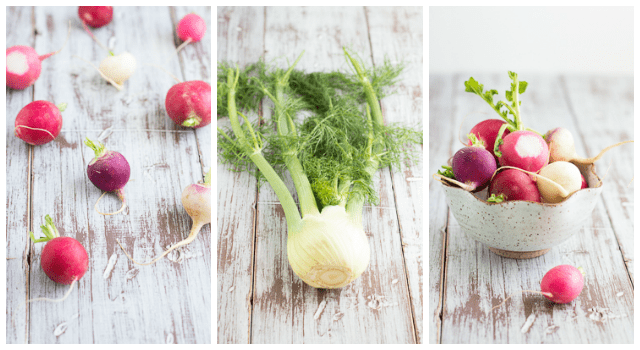 As I was shopping at my local organic market, I came across a beautiful head (bulb?) of fennel. The sweet, pungent licorice notes and wispy green fronds lured me in. The next thing you know, it's sitting in my basket ready to be crafted in to something bright and healthy.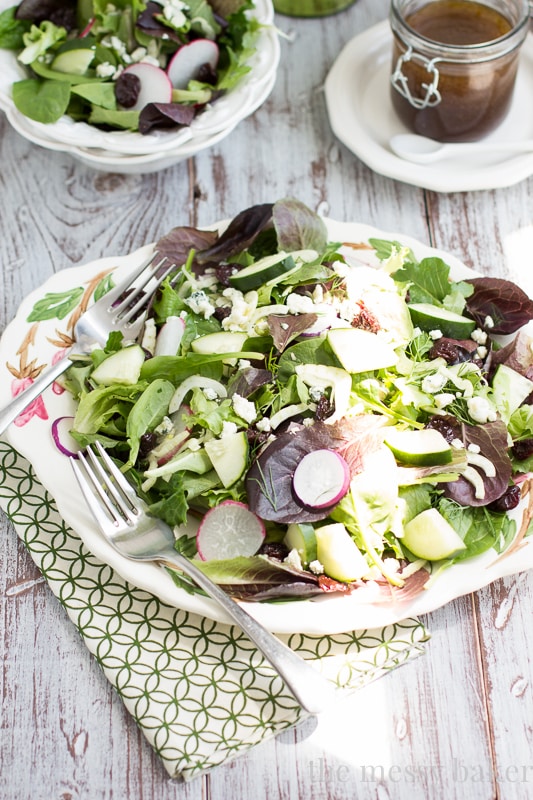 As I was rummaging through my fridge on the hunt for something to pair with the fennel, I spotted a bunch of redish-pink radishes and a box of earthy spring mix. In a bowl it all went.


Since cherry season is creeping closer, I threw in a handful of extra sweet dried cherries for good measure.
What salad is complete without cheese? So, in went some blue cheese. The pungent, marbled cheese is the perfect contrast to pair with the sweet cherries.
I wanted to highlight the cherries and add some balance to the salad since, in its current state, it's full of bite-y, bitter greens and zippy radishes. After a careful glance inside my fridge, I spotted a bottle of black cherry juice squeezed between a jar of pickles and cranberry juice.
After a few turns of the whisk, cherry-balsamic vinaigrette was born.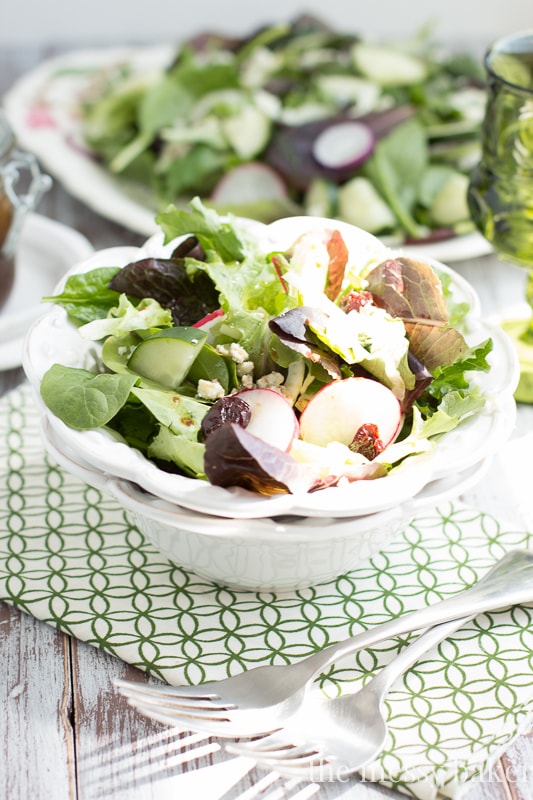 The sweet and tangy vinaigrette eases the bite of the bitter greens and pungent fennel.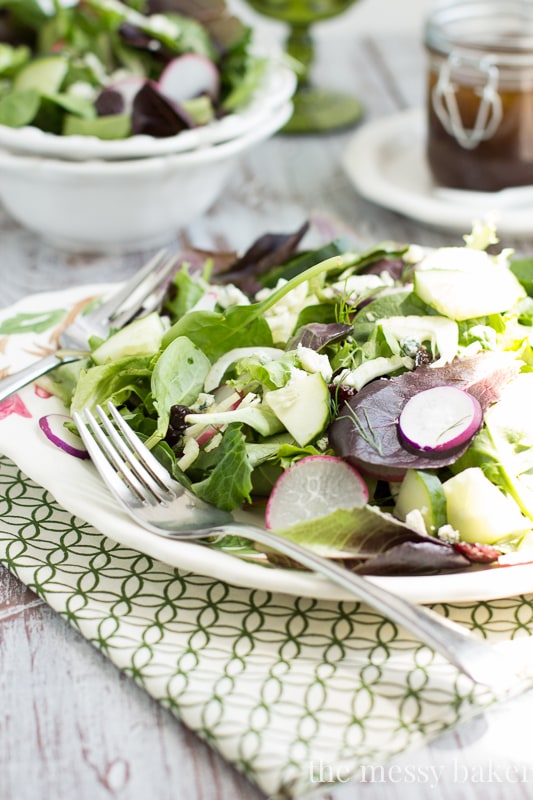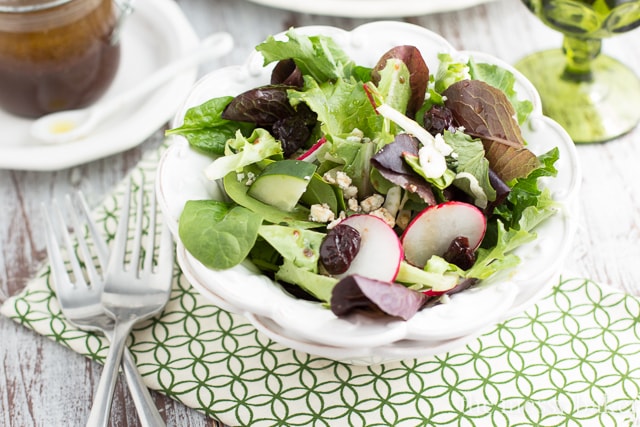 Grab your salad bowl and prepare to overload on fresh greens.
Fennel & Radish Salad with Cherry Vinaigrette
Fresh spring greens tossed with vibrant radishes and crisp fennel.
Ingredients:
Salad
10 ounces fresh greens (your choice)
1 small bulb fennel, cored and sliced thin
1/4 cup fennel fronds, roughly chopped
half cucumber, sliced thin
4 radishes, thinly sliced
1/3 cup blue cheese crumbles
1/2 cup dried cherries
1/3 cup toasted pecans
Cherry-Balsamic Vinaigrette
1/4 cup cherry juice
1/4 cup balsamic vinegar
1 clove garlic, minced
1/2 teaspoon dijon mustard
1/2 teaspoon grainy mustard
1/2 teaspoon honey
1/2 cup extra-virgin olive oil
salt and pepper to taste
Directions:
In a large bowl, toss together salad ingredients.
In a small bowl, whisk together cherry juice, balsamic vinegar, dijon and grainy mustard, garlic, and honey.
Slowly whisk in the olive oil until throughly combined. Add salt and pepper to taste.
Toss the salad with as little or as much dressing as you like right before serving.
All images and text ©
.
Whipping up one of my recipes? I wanna know about it! Snap a photo and tag your post with #onesweetmess on Twitter or Instagram. Seeing your creations come to life makes my day!