Greek Hummus Platter
Sweet cherry tomatoes, crumbled feta cheese, and salty olives get spooned over creamy hummus and paired with all the fixin's.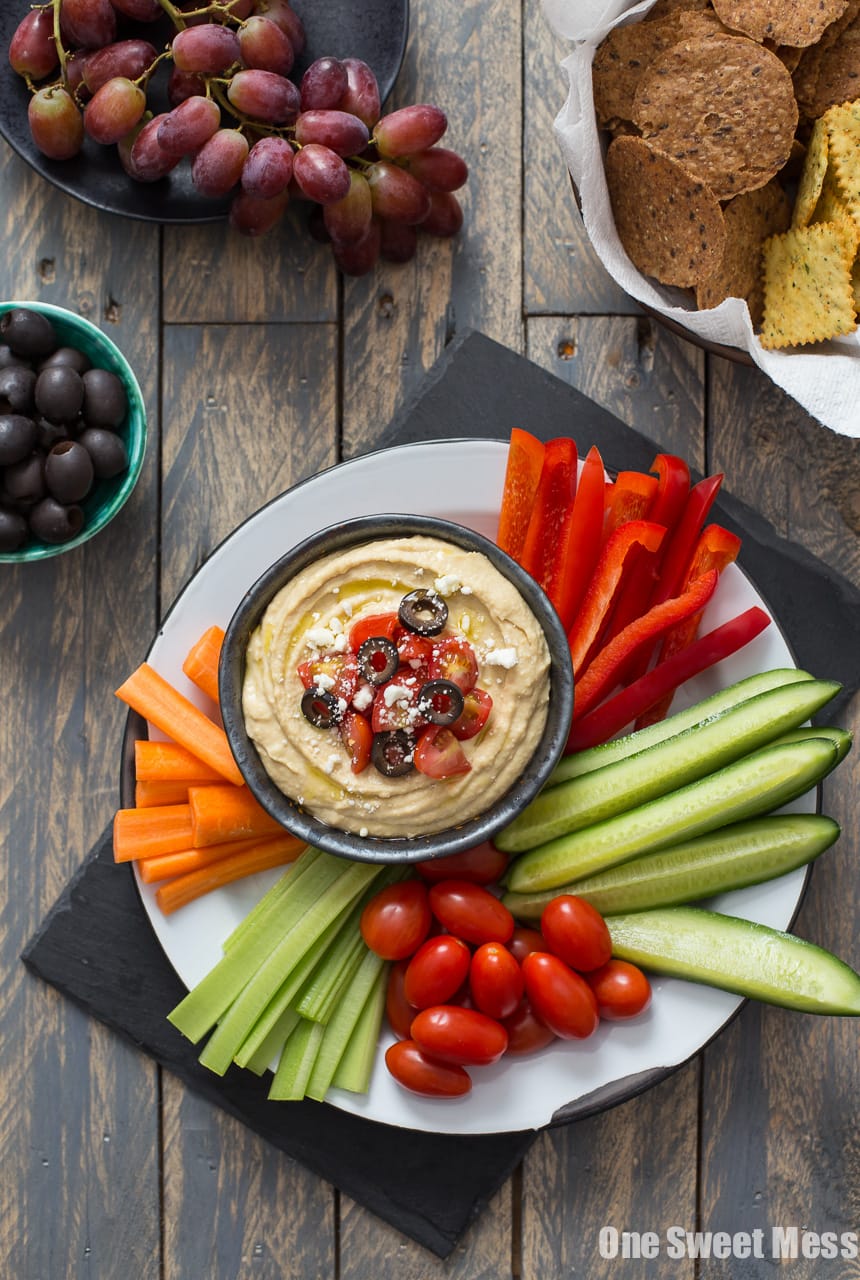 I love to eat, but I don't always have time for an official meal. What you see pictured above is a farce. Yes, I love hummus. Yes, I eat it on the daily. But what I don't do is style it to look like it appears above.
Instead, I prep all of the elements you see so perfectly styled above and store them in my fridge for safe keeping until I'm ready to chow.
Real life isn't a page torn out of a magazine. Real life is messy. Real life is thrown together. Real life is grab-and-go.
I only make things look pretty when I have guests coming over; otherwise, I pull all of the veggie containers and tub of Sabra Hummus out of the fridge and line everything up on the counter for easy access. Real life is also eating at the counter.
I'm a grazer. I like to come and go, snagging a carrot here and there before heading back to my studio to continue working.
Sabra Hummus is a great unofficial meal option. Serve it for lunch. Turn it into a healthy snack. Or, do what I do and hand the platter over to your family to help tide them over until dinner. With all the hummus in their mouth, it's hard to whine about being hungry.
Greek Hummus Platter
Ingredients:
Hummus:
1 (10-ounce) container Sabra Classic Hummus
1/4 cup grape tomatoes, quartered
2 tablespoons crumbled feta cheese
2 tablespoons chopped kalamata olives
 Dippers:
Cucumber
Carrots
Pita bread
Red bell pepper
Grape Tomatoes
Celery
Tortilla Chips
Directions:
In a small bowl, combine tomatoes, feta cheese, and kalamata olives. Spoon over hummus.
Serve with an assortment of veggies, tortilla chips, and pita bread.
All images and text ©
.
Whipping up one of my recipes? I wanna know about it! Snap a photo and tag your post with #onesweetmess on Twitter or Instagram. Seeing your creations come to life makes my day!
Disclosure: This recipe was developed for the lovely folks at Sabra. All opinions are 100% my own.