Strawberry Lemon Poppy Seed Bread
This Strawberry Lemon Poppy Seed Bread is ultra moist, full of zesty lemon flavor, and loaded with crunchy poppy seeds. Also, it's drizzled with a pretty epic strawberry lemon glaze.
Yesterday was the first day I put on a pair of jeans (of the short variety, at that) in a very long time. Yes, I was able to button them…but barely.
Leggings, you guys, is where it's at. Get on board! Ever since I discovered LuLaRoe–you bet your fine ass I caved and joined the masses–I find it hard to wear anything else. They're just so damn comfy. If you're not familiar with they're leggings, they fit like a glove and feel like buttah on yo' butt. Seriously, they feel like you're wearing absolutely nothing.
But, you know, summer is quickly approaching. Mother Nature basically said screw spring and moved on to the next the season. It was 90 degrees here in Baltimore last Friday. Too soon, Mother Nature, too soon!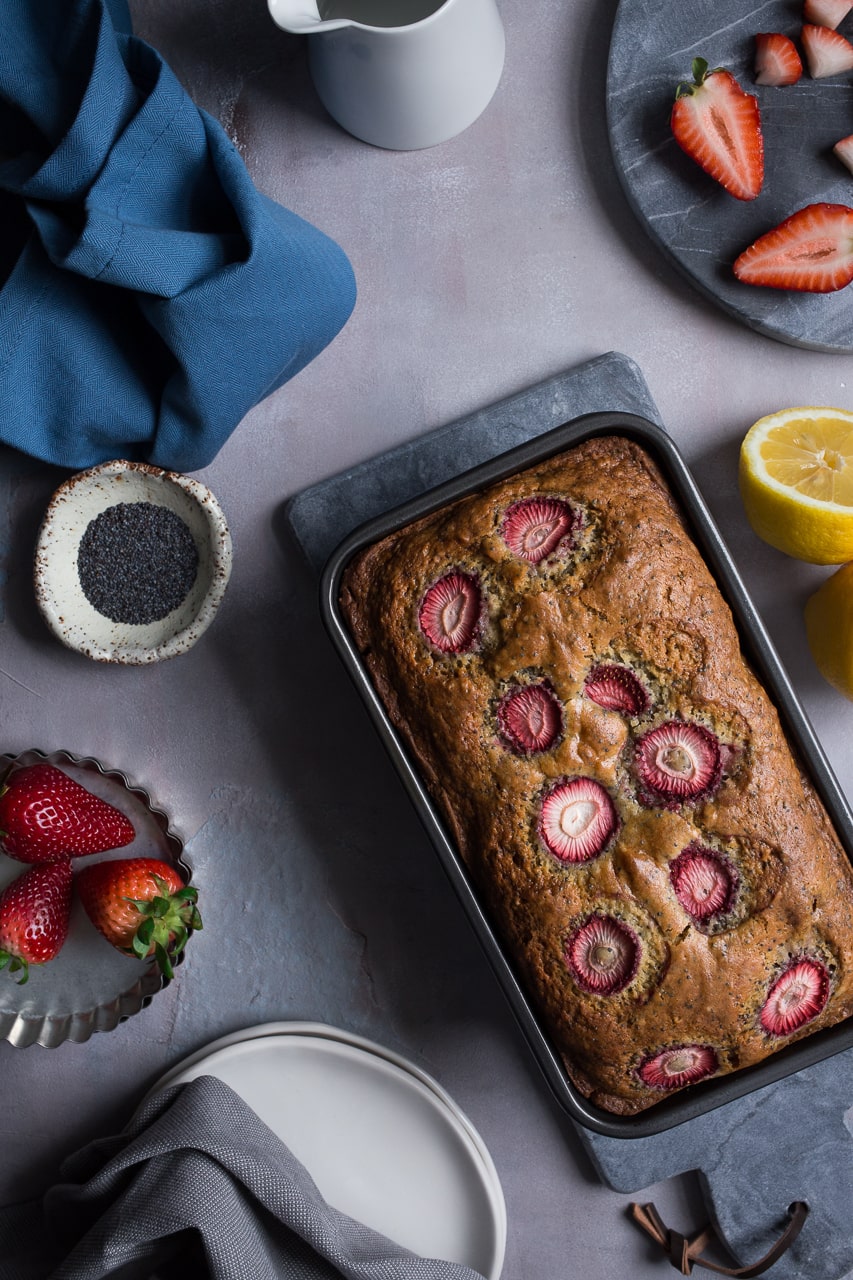 While I love my leggings, it comes to a point where it gets too damn hot and you're forced to trade them in for shorts. I hate shorts, or, really, anything that requires me to wear underwear. I LOATHE underwear! Too much information? Probably. If you don't feel like listening to my underwear rant, feel free to scroll down to the recipe.
Yes, I said it–on a food blog, at that!. I. Hate. Underwear. It's either riding up or cutting off the circulation in my thighs. And, no, it's not because I bought a size too small. It's because that's the nature of underwear. Sure, I could buy a pack of the "no-ride" variety, but they're full coverage and come up over your belly button. That just screams "rip me off and have your way with me." I'm sorry, but no! Maybe I'll take them into consideration when I no longer want to have sex.
So,rather than deal with the many pitfalls of wearing underwear, I decided the best route to take was to do away with them altogether. Problem solved!
Can we still be friends? Are there any other underwear haters out there? Let's be honest, because I know I'm not the only kid at the cool kids table.
Now that I've spent an inordinate amount of time chatting about underwear and the lack there of, let's chat about this Strawberry Lemon Poppy Seed Bread. It's so good, so good! Let's see, my mail carrier loved it, my grandparents each ate a few slices while they were in town over the weekend, and my dad didn't want to share it with anyone. That being said, I'm going to file this recipe under success.
The bread is ultra moist but not overly moist. There's nothing worse than a loaf of fruit bread that's gummy in the center. The fruit to bread ratio has to be just right. Yeah, I loaded this bread with poppy seeds, so don't go taking a drug test after you eat a slice (wink!). The poppy seeds add a lovely subtle crunch to the bread. The zesty lemon adds a burst of citrus that balances out the sweetness of the strawberries. It's all about balance, my friends.
And then there's the glaze… Ohhh, that strawberry lemon glaze is a winner! I added chopped strawberries to the powdered sugar, milk, and lemon juice mixture, and basically smashed them with my whisk. The glaze is a beautiful shade of pink and is bursting with strawberry flavor.
Put it all together and you have yourself a tasty loaf of Strawberry Lemon Poppy Seed Bread.
Strawberry Lemon Poppy Seed Bread
Ingredients
Bread
2 cups all-purpose flour
1 tsp baking soda
½ tsp kosher salt
3 tbsp poppy seeds
1 ½ cups chopped strawberries
½ cup granulated sugar
½ cup brown sugar
1 large egg
1 cup buttermilk
⅓ cup coconut oil, melted
1 ½ tsp vanilla extract
¼ tsp lemon extract
2 lemons , zested
Glaze
1 cup powdered sugar
2 tbsp lemon juice
2 tbsp milk
½ tsp vanilla bean paste
¼ cup chopped strawberries
Instructions
1. Preaheat oven to 350 degrees F. Grease a 9-inch-by-5-inch loaf pan.

2. In a large bowl, add flour, baking soda, salt, and poppy seeds; whisk to combine.

3. In a seperate bowl, add both sugars and egg; whisk to combine. Whisk in oil, buttermilk, extracts, and lemon zest until smooth.

4. Add the chopped strawberries to the bowl with the flour and toss to combine. Gently fold in the wet ingredients.

5. Transfer the batter to your prepared loaf pan. Bake for 50-60 minutes, or until a toothpick inserted in the center comes out clean. Allow the bread to cool in the pan on a wire rack for 30 minutes. Remove from the pan and allow to cool completely. Drizzle the glaze over the cooled bread.

6. While the bread is baking, make the glaze by adding the powdered sugar, lemon juice, milk, and vanilla bean paste to a bowl; whisk until smooth. Add the chopped strawberries. Using the whisk, smash the strawberries into the glaze to break up, small chunks are okay.
Whipping up one of my recipes?
I wanna know about it! Snap a photo and tag @onesweetmess / #onesweetmess on Twitter or Instagram. Seeing your creations come to life makes my day!
If you like this recipe, pin it to Pinterest