Strawberry Lemon Gin Fizz
This Strawberry Lemon Gin Fizz combines sweet, juicy strawberries, tart lemon juice, and herb-infused gin. If you want to do summer up right, get to shakin'!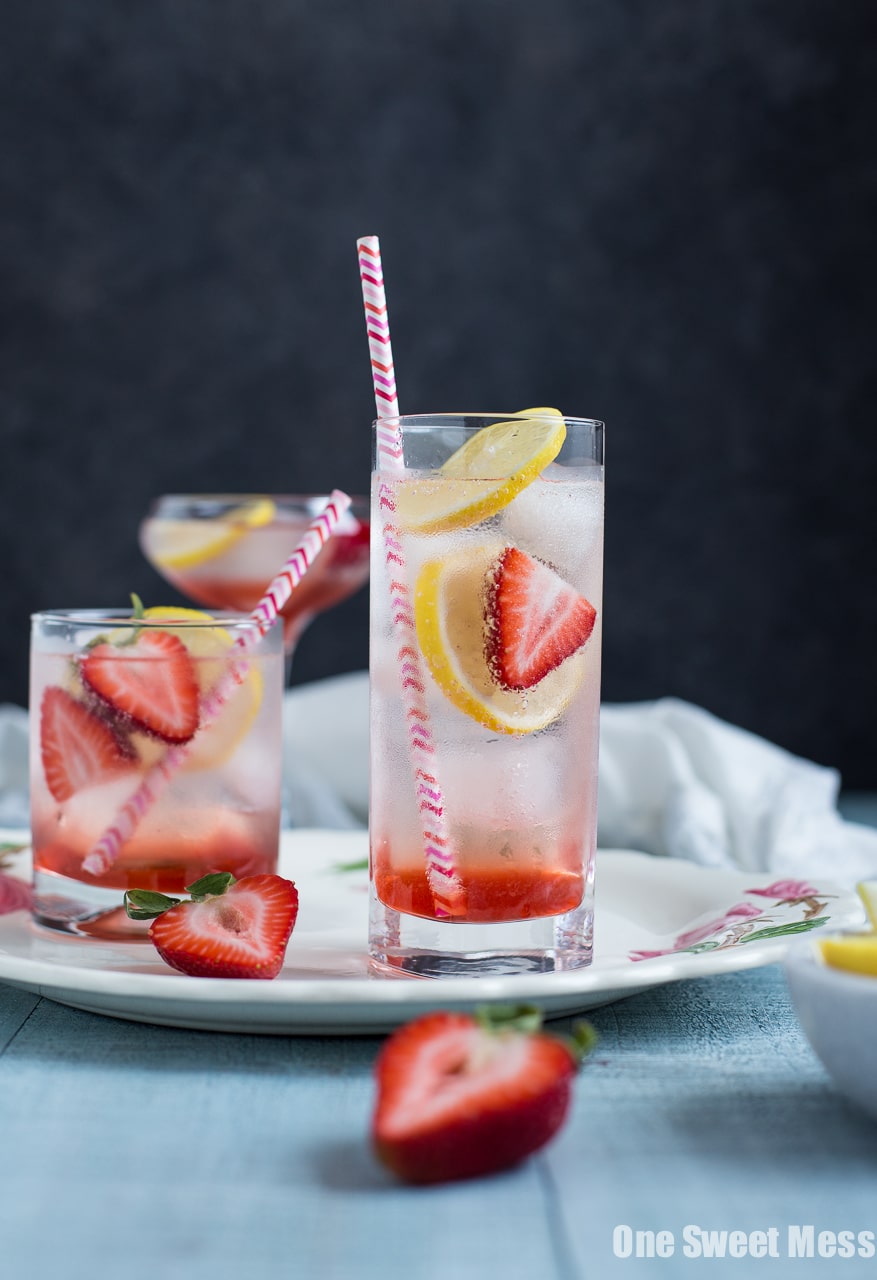 Last Tuesday, I got to experience what it's like to be in front of the lens. All I have to say is that I now understand exactly how my clients feel. It's a strange and unnatural feeling. I'm a far cry from shy–I make friends with strangers on the daily–but the moment the camera entered my personal space, I fought the urge to laugh uncontrollably and run in the opposite direction. Obviously, I need more practice.
The very talented Kita Roberts of Pass the Sushi and Girl Carnivore was the gal behind the camera dishing out the orders.
It's not like I'm unfamiliar with being in front of the camera–quite the contrary, actually. If you follow me on Snapchat, you've seen me at my very worst, and by worst, I'm referring to my unwashed hair, unmade face, and standard stained t-shirt. I'm literally a hot mess, and yet I'm comfortable and carefree.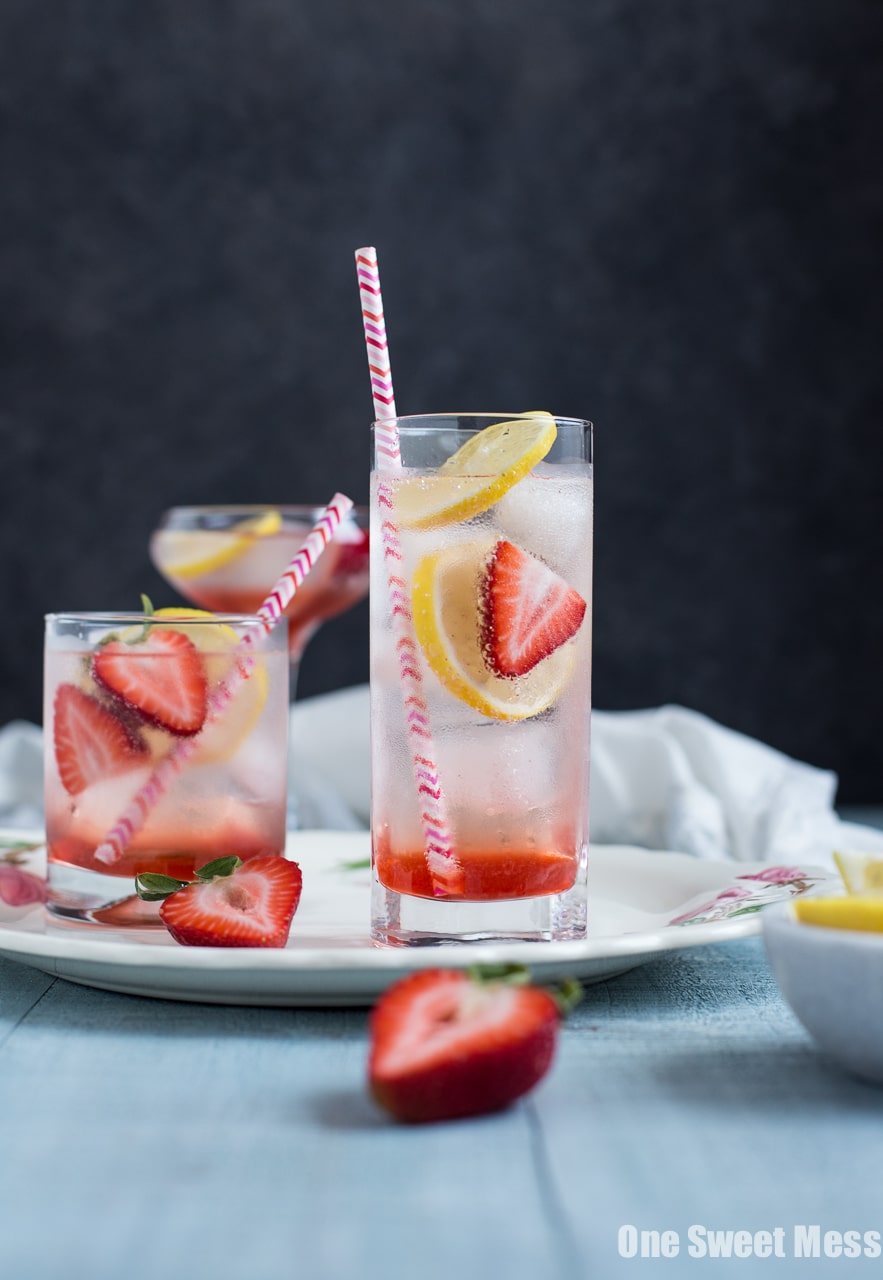 In preparation for my photo shoot, I had my hair professionally styled, I bought a new outfit and accessories, and took the time to slap on some makeup. I looked and felt good, and yet I could not relax in front of the lens. Well, that's a lie. I finally started to loosen up after two very strong cocktails.
Just when I thought, "I got this!" Kita asked me to look sultry. Um… I beg your pardon. Sultry? Can you define sultry? Can you use it in a sentence?
S.U.L.T.R.Y.
I need to add "practice sultry face" to my to-do list, because the face I ended up making every. single. time. was some weird, oddly contorted duck face. Definitely not the definition of sultry and all sorts of unsexy.
No woman has ever convinced a man to come to bed by giving the guy her best duck face. But then again, who am I to say? Does it really take a whole lot of effort to get a man into bed? From my experience, the answer is no. If I said to Squirrel, "Damn, I'm all out of underwear. I really need to do some laundry." That would get translated to, "She's not wearing any underwear, so she must want some. Be upstairs in 5 minutes!"
Yeah, somewhere down the road I made a very sharp left turn and ran with. Sorry, guys!
In the end, I think what I gave her was a look of deep concentration. Well, at least I hope it was that and not my poop face. The whole experience left me questioning my sexy bedroom face.
It also left me craving booze. The hard stuff! A double finger of gin, and I felt like the sexiest, duck-face-making woman in the world.
I fancied up my gin by adding a splash of strawberry simple syrup leftover from the Strawberry-Lime Sangria I made last week, and then I added a squeeze of lemon juice and topped it off with some fizzy club soda. Because, bubbles!
Boom, booze saves the day again!
Strawberry Lemon Gin Fizz
Ingredients:
1 and 1/2 ounces gin
1/2 ounce strawberry simple syrup
squeeze of lemon juice
3-4 ounces club soda
strawberry slice for garnish
lemon slice for garnish
Directions:
Fill a cocktail shaker with ice. Add gin, strawberry simple syrup, and lemon juice. Give the mixture several vigorous shakes.
Strain into a rocks glass. Add ice and top with club soda. Garnish with strawberry and lemon slices.
All images and text ©
.
Whipping up one of my recipes? I wanna know about it! Snap a photo and tag your post with #onesweetmess on Twitter or Instagram. Seeing your creations come to life makes my day!