Veggie-Loaded Flatbread Pizza with Hummus and Tzatziki
Veggie-loaded, hummus-smeared, tzatziki-drizzled, no-bake flatbread pizza for your pizza-loving face hole. Did I mention this Veggie-Loaded Flatbread Pizza requires absolutely no baking. I'm looking out for your well being during the heat of the summer. Because, ain't nobody want to even think about turning on their damn oven.
Can we all agree that the oven is the devil during the summer? I do everything in my power to avoid turning the ominous dial. If I absolutely have to turn on the oven, I crank up the air conditioning to compensate for the extra heat that is undoubtably seeping from the devil's box.
It's funny how our perception of the oven is reversed during the summer. During the frigid months of winter, I look forward to its comforting heat that fills the house. Come summer, I duct tape the knob as a warning to my chicken nugget-loving husband: Turn it on and die!
I'm a sucker for flatbread pizza. It's pizza without any of the work. There's no need to knead (<---totally did that on purpose), wait for dough to rise, or turn on the damn oven.
Since this Veggie-Loaded Flatbread Pizza with Hummus and Tzatziki doesn't require any oven time, it's the ideal choice for an unofficial meal. I don't know about you, but I live for the unofficial meal moments in life. The time in between lunch and dinner when I'm too hungry to wait one second longer. That, if-I-don't-get-food-in-my-belly-right-now moment. Or, that time your friend stops by unannounced, and you feel compelled to feed him/her, because it's the right thing to do.
Sabra makes the unofficial meal moments in life so much easier. Pop the container, add a few of your favorite toppings, or, in this case, smear it on a piece of toasty naan bread and sprinkle over any and all veggies you have currently living in your fridge.
Boom, chow time!
To get the naan bread warm and toasty, I popped it in the toaster for a few minutes. It's a great way to avoid the oven but still enjoy a warm pizza. I also chose individual naan bread for this recipe, because sharing isn't an option. You can always cut them into quarters for easy eating, or you can do what I do and fold it over like a piece of pizza and get at it.
The topping are pretty much endless. You can use any veggie variety you have readily available in your fridge. Get creative!
Sabra is offering their fans a $2.00 off coupon in honor of National Hummus Day. Hurry, the coupon is only available until midnight EST May 13th, 2016.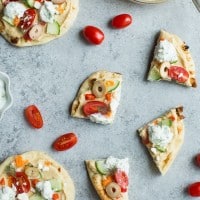 Veggie-Loaded Flatbread Pizza with Hummus and Tzatziki
Yield: 4 servings
Total Time: 10 minutes
Prep Time: 10 minutes
Cook Time: 0 minutes
Ingredients:
Tzatziki
1 cup plain Greek yogurt, preferably full-fat
2 tablespoons lemon juice
1 clove garlic, grated
2 tablespoons freshly chopped dill
1/2 cup grated and drained English cucumber
Salt and pepper
Flatbread Pizza
4 small pieces naan bread
8 tablespoons hummus, such as Sabra
4 tablespoons tzatziki, homemade or storebought
2 tablespoons Feta cheese
2 tablespoons chopped kalamata olives, optional
1/2 cup fresh veggies of your choosing
Directions:
To make the tzatziki, add all of the ingredients to a bowl. Stir to combine.
To make the flatbread pizza, toast the naan bread in a toaster until golden brown. Top each piece of naan with 2 tablespoons of hummus. Add a layer of the chopped veggies of your choosing. Sprinkle on the feta cheese and olives. Drizzle each piece of naan with 1 tablespoon of tzatziki.
All images and text ©
.
Whipping up one of my recipes? I wanna know about it! Snap a photo and tag your post with #onesweetmess on Twitter or Instagram. Seeing your creations come to life makes my day!
Disclosure: This recipe was developed for the lovely folks at Sabra. All opinions are my own. Thank you for supporting my recipes and site while I work with brands I adore.
Leave some love. It makes me happy!