Game Day Loaded Nachos ~ #SundaySupper


Happy #SundaySupper football fans! Lane from Supper for a Steal is hosting this week's tailgating #SundaySupper. Now, Lane's a Gators fan, but we're not going to hold that against her.
It's officially football season in our house, and my husband couldn't be more excited. He has been counting down the days to kickoff for a month now. A month? Do you know how annoying that is? He'd randomly come to me and say, "You know what happens in 20 days?" And I'd respond, "Twenty days? Heck, I don't even know what's happening today?" I'd get the you-know-what-I'm-talking-about stare and he'd respond with, "Twenty more days until the first Raven's game!" Normal people get excited for birthdays, holidays, or cake. Not my husband; he's indifferent to all of that, but what he does get excited about is football, and he goes all out.
We live in Baltimore, so naturally, we're Ravens fans. Let me repeat that last tidbit… Ravens fans! We bleed purple and black, we're dedicated to our team, we cheer our guys on, we wear jerseys for Purple Friday, and we light the city purple when our team makes it to the playoffs. We're hardcore!
Just a word of advice, do not ever mention that team with the black and gold uniforms in a Ravens household. It will not end well, and you may even get booted out of the house like Jazzy Jeff on The Fresh Prince of Bel Air. Now, this doesn't mean we can't be friends; it just means we can't be friends on game day. And, I may not share my nachos with you. Just sayin'.
Let me explain just how hardcore we are. Our basement is decked out in all things Ravens: signed helmets, signed footballs, framed photos of players in action, bobble heads, neon signs, game day towels, a big foam finger, and a coin counting football (don't ask, my husband had to have it). To top it all off, we have a 7 ft. tall purple Christmas tree, adorned with purple lights, purple feather boas, and ravens ornaments. A tree, people! If that's not hardcore, than I don't know what is.
We like to watch football and eat finger foods, so I made loaded nachos. These aren't just any ordinary nachos. Nope. These nachos are special. Why, you ask? Because they're smothered with my homemade chili sauce- a recipe that I've perfected over the years. It's slap-yo-momma good!
The chili sauce only takes about 30 minutes to prepare, and it's extremely versatile. Have leftovers? Do what we do, make chili dogs. People go nuts for chili dogs. You'll blink and the chili sauce will be gone. Pinky swear.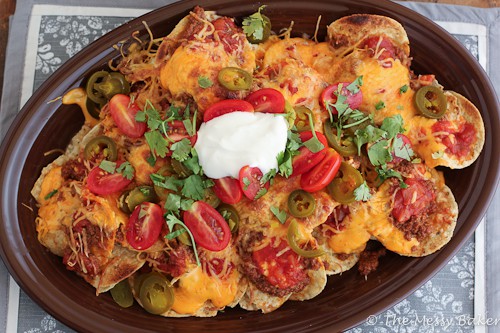 Wanna know the great thing about loaded nachos? You get to top them with whatever you like. The options are limitless. We like ours with chili, cheese, salsa, pickled jalapeños, sour cream, and diced tomatoes.
I haven't even told you the best part yet. You might want to sit down for this. I top my nachos with two different types of cheese. You heard right…two! I top them with a soft queso cheese sauce and shredded cheddar. It's cheese heaven.
I love when the chips get all soggy. I grab a fork, scoop up the chips, and shovel them into my mouth. So good!
Happy tailgating!
Game Day Loaded Nachos
Crispy tortilla chips slathered with homemade chili sauce and queso cheese and topped with your favorite nacho fixings.
Yield: 4 servings
Prep Time: 5 minutes
Cook Time: 15 minutes
Total Time: 20 minutes
Ingredients:
1 1/2 lbs. ground beef
1 cup water
1 1/2 tsp. kosher salt
1/2 tsp. pepper
3 tbs. chili powder
1 tsp. red pepper flakes
1/2 tsp. cayenne
1 tsp. onion powder
2 tsp. garlic powder
1/2 tsp. coriander
1 tsp. cumin
1-8 oz. can tomato sauce
1/2 cup ketchup
1 tbs. worcestershire sauce
1 tbs. Franks Red Hot sauce (or Tabasco)
2 tbs. tomato paste
Tortilla chips
Queso cheese dip
Shredded cheddar
Salsa
Pickled jalapeños
Sour cream
Diced tomatoes
Directions:
In a medium-sized saucepan, add the first 15 ingredients. Mix ingredients to combine. Simmer on medium low heat, stirring occasionally, for about 15 minutes. Add the tomato paste and simmer for another 15 minutes, or until the sauce thickens.
Preheat the broiler.
Place desired amount of chips on a heat-proof platter. Add desired amount of chili sauce, queso, and salsa. Top with a handful of cheddar cheese. Place plate on a sheet pan and under the broiler just long enough for the cheese to melt, about 2 minutes. Top nachos with pickled jalapeños, sour cream, and diced tomatoes. Enjoy!
Whipping up one of my recipes? I wanna know about it! Snap a photo and tag your post with #onesweetmess on Twitter or Instagram. Seeing your creations come to life makes my day!
Check out the other game day recipes:
Pre Game Warm-ups:
On the Sidelines:
Main Events:
Overtime:
From the Cooler:
Wine Pairings by Wine Everyday
92 Responses to "Game Day Loaded Nachos ~ #SundaySupper"

Trackbacks/Pingbacks

Leave some love. It makes me happy!