Bacon-Wrapped Barbecue Potato Wedges
These bacon-wrapped barbecue potato wedges are every appetizer lovers' dream come true. Baked up crispy and glazed with Sweet Baby Ray's Barbecue Sauce, these wedges make the perfect holiday appetizer.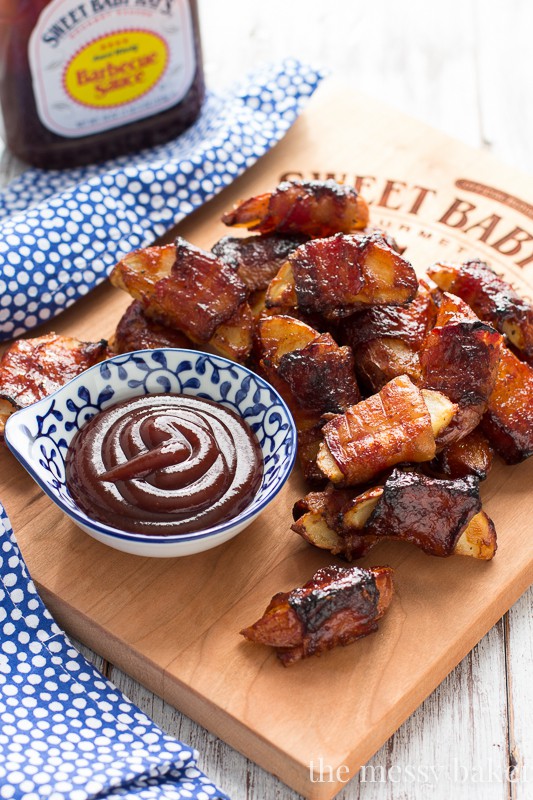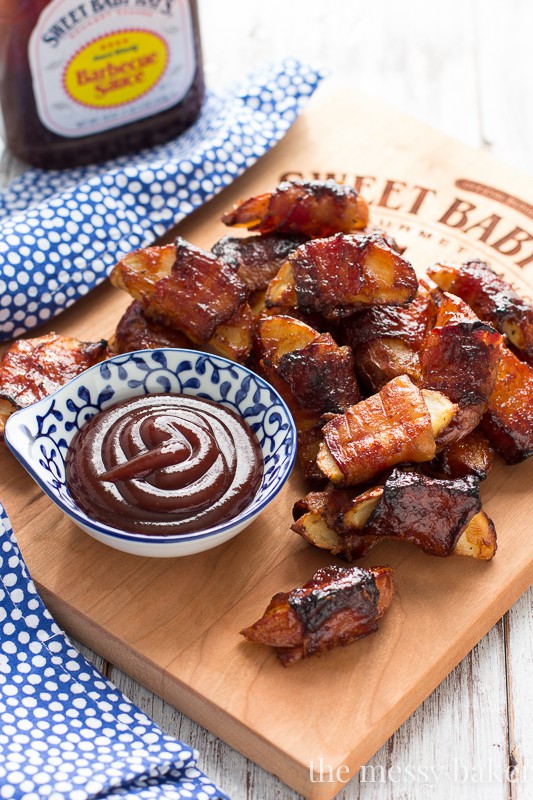 If you want to drive the men folk in your house wild, wrap something in bacon and slather it in bbq sauce.
I could wrap the dog's rawhide bone in bacon and drizzle it with Sweet Baby Ray's Barbecue Sauce, and I have no doubt Squirrel would gnaw on it. If you ask him, he'll refuse, but I bet he would at least lick it. Don't let the man fool you. I know him far too well to believe any of his lies. He'd lick that bone without thinking twice.
Prepare yourself for a crispy potato wedge addiction. They're highly addictive and exceptionally delicious–a combo difficult to refuse. The first time I made this recipe, I pounded back 10 without even blinking.
It's all thanks to that sweet, sweet barbecue glaze that caramelizes as the potatoes bake, creating a crispy, sticky, irresistible coating. I used Sweet Baby Ray's Barbecue Sauce to glaze these wedges. It's a long-time favorite in our house and amongst my family. We go through a lot of bbq sauce. Squirrel squirts bbq sauce on just about every food item he shoves in his mouth. Last month, we went all in and purchased a gallon-size container of Sweet Baby Ray's at Costco. Sadly enough, it's gone.
As these delicious little bites bake up in the oven, the bacon grease oozes over the potatoes, basting them with hardwood smoked flavor and crisping each potato wedge to perfection. Ten minutes before they're finished baking, they get a generous brush of Sweet Baby Ray's Barbecue Sauce. The sauce adheres to the bacon, creating a sweet, sticky glaze.
You might want to consider doubling the batch. If I can devour ten in a matter of minutes, imagine the damage a group of hungry people could do.
If you want to wow your guests this holiday season, put these wedges on your menu. Everyone will be asking you for the recipe before they leave. They're also great for football gatherings, parties, or even dinner. The other day Squirrel and I ate the entire tray for dinner.
They're super easy to make. Here's how it's done:
1. Wash and dry 5 medium red potatoes.
2. Cut each potato in half lengthwise.
3. Cut each half in half again, quartering the potato.
4. Cut each potato quarter in half. You should have 8 wedges per potato.
Cut 12 slices of bacon in half. Wrap each potato wedge with bacon. Place the potatoes on a lightly greased grate. Place the grate on a parchment or aluminum foil lined baking sheet.
Bake the potato wedges at 425 degrees F. for 25 minutes. Remove from the oven. Using a pastry brush, glaze each wedge with barbecue sauce. Place the potatoes back in the oven to cook for 15 minutes.
Serve with extra barbecue sauce for dipping.
These wedges quickly became Squirrel's favorite football snack. He has been requesting them every week since I made this recipe a few weeks ago.
Sweet Baby Ray's is having a Pass the Sauce contest. All you have to do is send a little football smack talk to a friend and you're entered for a chance to win a year's supply of Sweet Baby Ray's Barbecue Sauce. You'll also receive a coupon for a $1 off two bottles of SBR for you and a friend. The contest runs from now until December 2, 2014. Who wouldn't want a year's supply of the best bbq sauce ever?
Bacon-Wrapped Barbecue Potato Wedges
Crispy potato wedges wrapped in bacon and glazed with barbecue sauce.
Ingredients:
3 medium red potatoes
1 teaspoon canola oil
1/4 teaspoon season salt
1/4 teaspoon garlic powder
pinch of kosher salt and pepper
12 slices of bacon, cut in half
1/2 cup barbecue sauce
Directions:
Preheat oven to 425 degrees F. Line a baking sheet with parchment or aluminum foil. Lightly grease a cookie grate and place it on top of the baking sheet.
Cut each potato into 8 wedges (pictured above). Place the wedges in a bowl and drizzle with canola oil. Sprinkle with season salt, garlic powder, and a pinch of salt and pepper. Toss until the potatoes are evenly coated.
Wrap each potato wedge with bacon. Place the wedges on the pan. Bake for 25 minutes.
Remove from the oven. Brush each potato wedge with a thin layer of  barbecue sauce. Bake for an additional 10 minutes.
Serve with extra barbecue sauce if desired.
All images and text ©
.
Whipping up one of my recipes? I wanna know about it! Snap a photo and tag your post with #onesweetmess on Twitter or Instagram. Seeing your creations come to life makes my day!
Disclosure: I received several bottles of Sweet Baby Ray's to use for recipe development. All opinions are my own.