Hazelnut Crusted Tilapia with Lemon Butter Sauce
Crispy Hazelnut Crusted Tilapia with Lemon Butter Sauce is fast enough to dish up on a weeknight.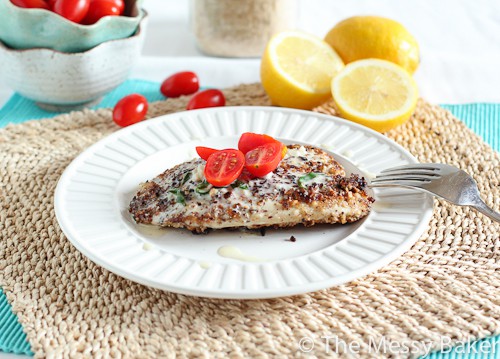 It's back to school for me. I'm not excited about it, but I'm an adult, and adults have to do things they don't always want to do. At least that's what they tell me. You know, the undefined "they." Who do they think they are anyway?
This semester happens to be my last semester. Yippee! Soon I'll be deemed smart by Towson University and rewarded my Bachelor's degree in English. The picture to the left is the building I'll be spending my entire Tuesdays and Thursdays until mid December. If you need me, that's where I'll be, studying and watching the youngins strut their stuff down the halls with their sunglasses on. Hello! We're inside, there's no need for protective eyewear in the building. This is one trend that completely eludes me.
I'm getting off track. Sorry.
I'll be hitting the books for the next three months, which means I'll be a busy gal. Finding time to cook can become a bit problematic, so I tend to resort to no-fuss meals during the semester and become very close with my crockpot.
I made a no-fuss hazelnut crusted tilapia over the weekend. The entire meal only took 30 minutes from start to finish, and it was one of the best meals I've ever had. Delicious doesn't have to mean laboring over a stove for 4 hours.
This dish derives from my husband's love of Carrabba's tilapia nocciola. If you're not familiar with tilapia nocciola, it's a hazelnut crusted tilapia topped with a lemon butter sauce. My husband orders it every time we eat at Carrabba's. Once my husband finds a dish that he loves, he doesn't deviate from it. He's so predictable.
My husband practically swooned over this Hazelnut Crusted Tilapia with Lemon Butter Sauce when it was done. He said he couldn't tell the difference between my version and Carrabba's. I'm not going to lie. I felt like a total rock star after that comment.
The hazelnuts toast up as you sear the tilapia, giving the outside layer a warm, nutty crunchiness. Then it gets drizzled with the tart, buttery lemon sauce.
First you're hit with the tart sauce, then your teeth sink into the nutty crust, and finally into the moist, flakey fish. The combination is absolutely divine.
Hazelnut Crusted Tilapia with Lemon Butter Sauce
Ingredients:
Lemon Butter
2 garlic gloves, minced
4 tablespoons butter
1/4 cup lemon juice
2 tablespoons Sherry
1 tablespoon chicken stock
1/2 cup heavy whipping cream
1 teaspoon lemon zest
1/4 cup fresh basil, chopped
Salt and pepper
Tilapia
6 tilapia fillets
1 cup hazelnuts, coarsely ground
3/4 cup panko bread crumbs
3 eggs
Canola oil
Salt and pepper
Grape tomatoes for garnish (optional)
Directions:
In a medium-sized saucepan over medium-low heat, add butter and garlic. Sauté until garlic softens. Add lemon juice, sherry, and chicken stock. Reduce by half, about 4-5 minutes. Whisk in cream and lemon zest and reduce to thicken slightly, about 3 minutes. Take the mixture off of the heat and add the basil, whisk to combine.
Add 2 tablespoons of oil to a large pan and heat over medium-high heat. Place two shallow dishes by the stove, closest to the burner you're going to sear the tilapia in. Add ground hazelnuts and panko to one of the dishes and the eggs to the other dish. Add a 1/2 teaspoon of kosher salt and a pinch of pepper to each dish and whisk. Dip tilapia fillets into the egg mixture, turning to coat, then directly into the hazelnut mixture, making sure to thoroughly coat each side. Place the first 3 fillets into the hot pan and cook for 3-4 minutes on each side, adding a sprinkle of salt to the fillets after you flip them. Repeat with the next three fillets.
Drizzle the tilapia with lemon butter sauce and garnish with fresh grape tomatoes.
All images and text ©
.
Whipping up one of my recipes? I wanna know about it! Snap a photo and tag your post with #onesweetmess on Twitter or Instagram. Seeing your creations come to life makes my day!