Honey Pecan Whipped Cream Cheese with Honeyed Fruit Salad
If you want the ultimate morning bagel experience, make this Honey Pecan Whipped Cream Cheese with Honeyed Fruit Salad.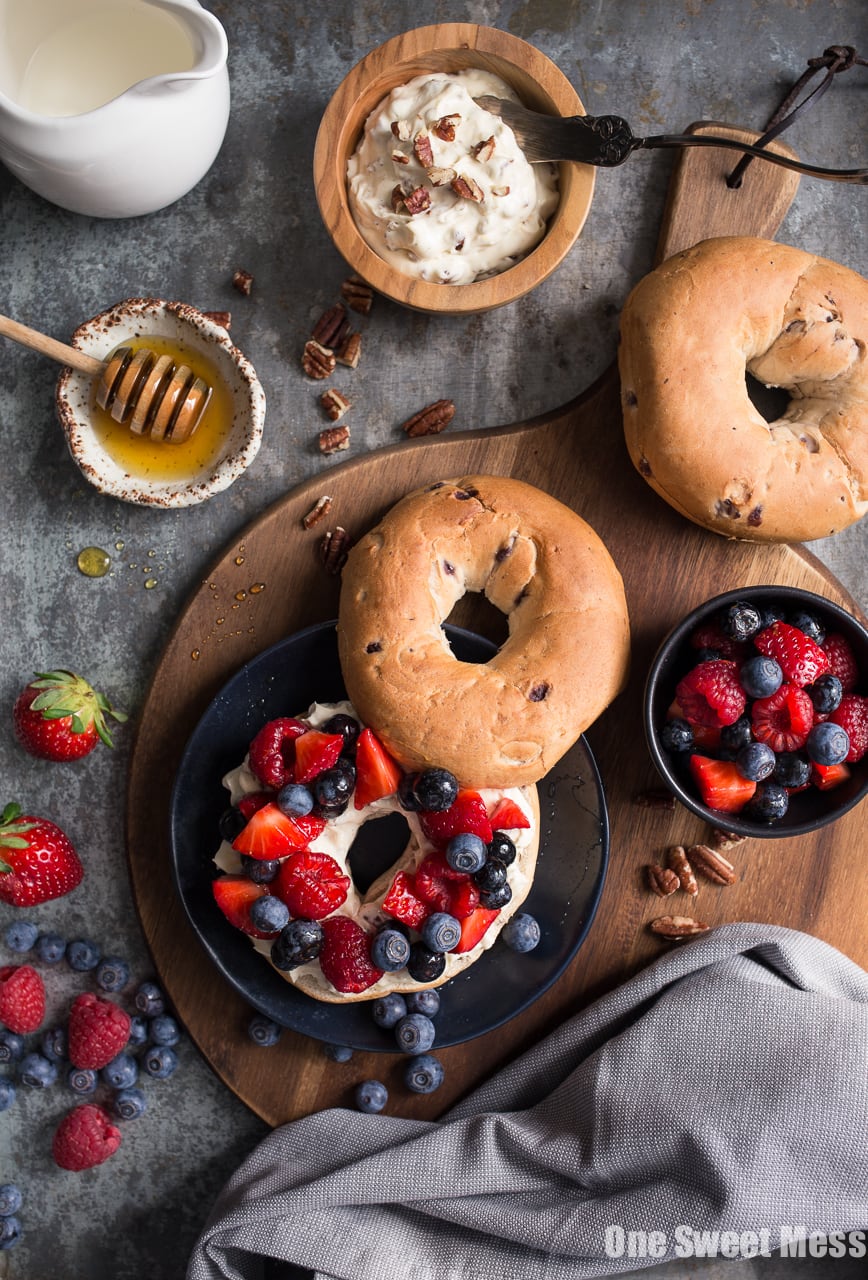 Fun fact: I skip breakfast 5 out of 7 days each week, which, as we know, is highly frowned upon.
However, I'm sure I'm not the only violator. Listen, I get it–we're busy, and it's easier to skip the meal altogether than it is to take the time to scramble an easy egg or throw a bunch of smoothie ingredients into a blender.
But… We must change our ways! A cup of coffee alone is not substantial enough in the morning. Our bodies require fuel to maintain energy. No fuel = foggy brain activity and sluggish behavior. Trust me, I'm extremely familiar with both symptoms. Take it from the gal that lives off coffee alone most days. It's not healthy.
What is healthy is this Honey Pecan Whipped Cream Cheese with Honeyed Fruit Salad. The whipped honey + toasted pecan cream cheese is absolutely delicious. If I had it my way, I would spoon it into my mouth like frosting, but, again, our goal is to eat a well-balanced meal, and whipped cream cheese alone is not the definition of a balanced breakfast.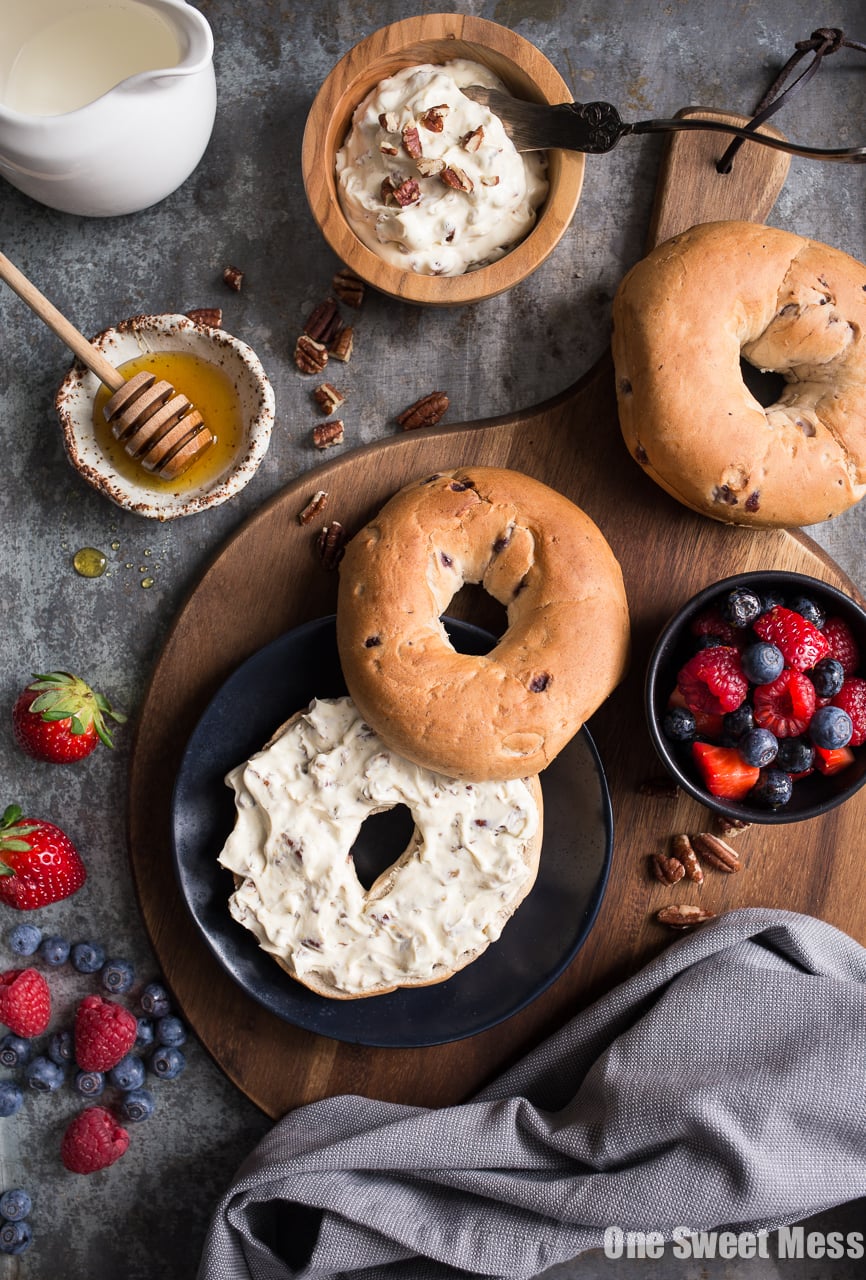 Honey is the superstar ingredient in this recipe. It also happens to be my favorite natural sweetener. It's my go-to sweetener of choice for just about everything: marinades, smoothies, vinaigrettes, and savory glazes. The possibilities are endless when it comes to integrating honey into your diet.
There are over 300 varietals of honey available in the United States, so it's a great way to add unique flavor to each and every recipe creation. I love using it to add balance to vinaigrettes and marinades that are citrus or vinegar dense. Its rich, golden color enhances browning when glazing chicken, pork, turkey, or veggies. It's the perfect alternative to sugar when creating naturally sweetened baked goods.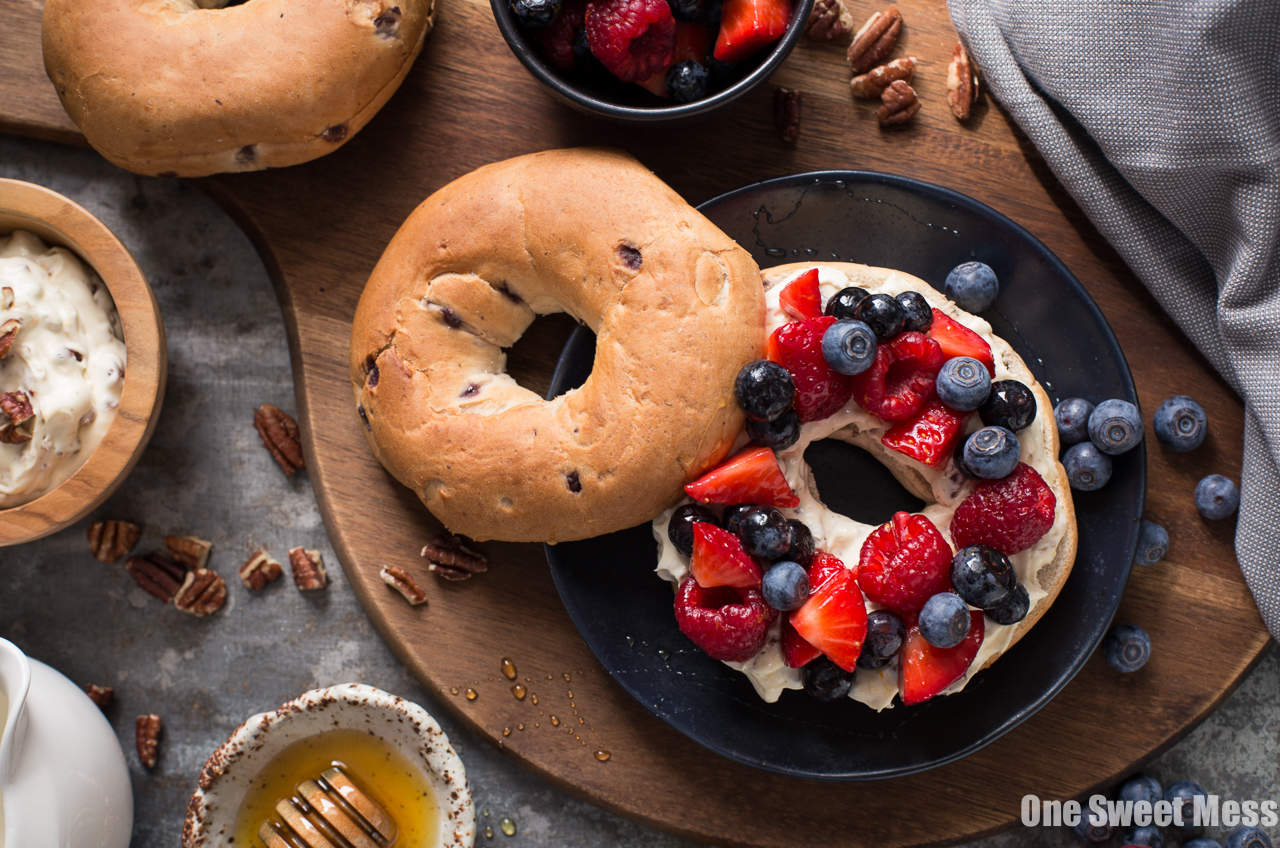 I use honey to naturally sweeten healthy snacks and drinks, such as my favorite Peanut Butter Banana Oat Smoothie, Honey Orange Iced Chai Tea, or this Honey Rosemary Lillet Spritzer.
This Honey Pecan Whipped Cream Cheese with Honeyed Fruit Salad makes the perfect bagel topper. Nothing quite compares to a thick layer of cream cheese on a toasted bagel. My homemade version combines sweet, golden honey, orange zest, vanilla bean, and toasted pecans. It's so much better than plain ol' cream cheese, and it's easy to make and keeps for at least 1 week in the refrigerator.
Because we're all about balancing out our plate, I made a honeyed fruit salad with fresh strawberries, blueberries, and raspberries. To it, I added a squeeze of fresh orange juice, orange zest, and a drizzle of honey.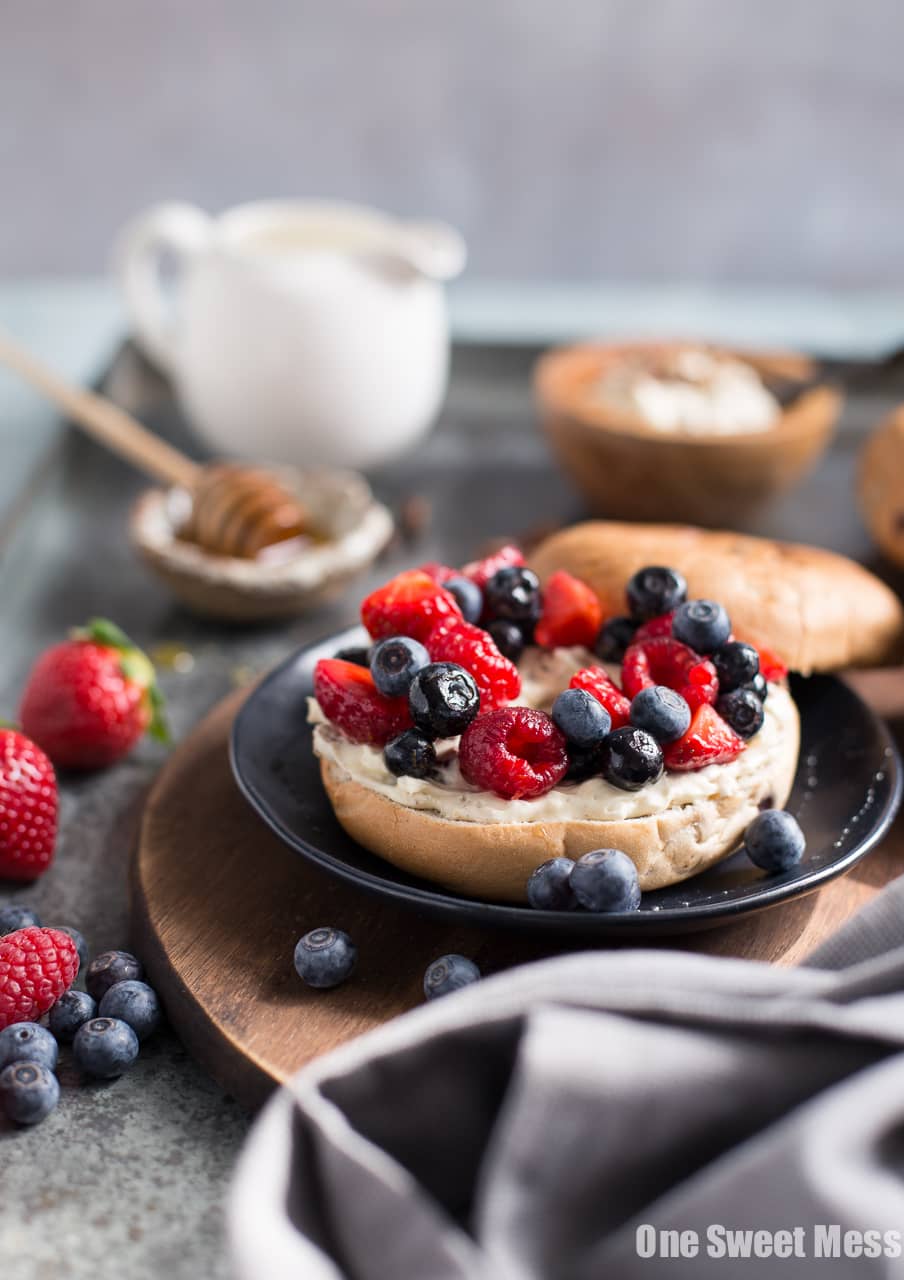 This Honey Pecan Whipped Cream Cheese with Honeyed Fruit Salad creates the ultimate breakfast experience.
Honey Pecan Whipped Cream Cheese with Honeyed Fruit Salad
Ingredients:
Whipped Honey Cream Cheese
1 (8-ounce) package cream cheese, softened
3 tablespoons honey
1/2 teaspoon vanilla bean paste
Zest of 1 orange
1/4 cup toasted pecans, finely chopped
Fruit Salad
1 cup diced strawberries
1 cup blueberries
1 cup raspberries
1 tablespoon orange juice
Zest of 1 orange
1 teaspoon honey
Bagels
4 bagels (favorite variety)
Honey, for drizzling
Directions:
In the bowl of a stand mixer fitted with the whisk attachment, or in a large bowl using a handheld mixer, add the cream cheese, honey, vanilla bean paste, and orange zest. Beat until light and fluffy, about 1 minutes. Fold in the toasted pecans. Store in an airtight container in the refrigerator until ready to use. The cream cheese will stay fresh for up to 1 week.
In a bowl, add strawberries, blueberries, raspberries, orange juice and zest, and honey. Gently fold to combine.
To assemble the bagel: spread a thick layer of cream cheese on both halves of a toasted bagel. Top each half with fruit salad and drizzle with extra honey, if desired. Serve immediately.
All images and text ©
.
Whipping up one of my recipes? I wanna know about it! Snap a photo and tag your post with #onesweetmess on Twitter or Instagram. Seeing your creations come to life makes my day!
If you like this recipe, share it on Pinterest!

Disclosure: This recipe was developed for the lovely folks at the National Honey Board. All opinions are my own. Thank you for supporting my recipes and site while I work with brands I adore.