Blood Orange Vanilla Bean Rosé Sangria
If you're looking for something fun, pink, and boozy to serve on Valentine's Day, whip up a pitcher of this Blood Orange Vanilla Bean Rosé Sangria.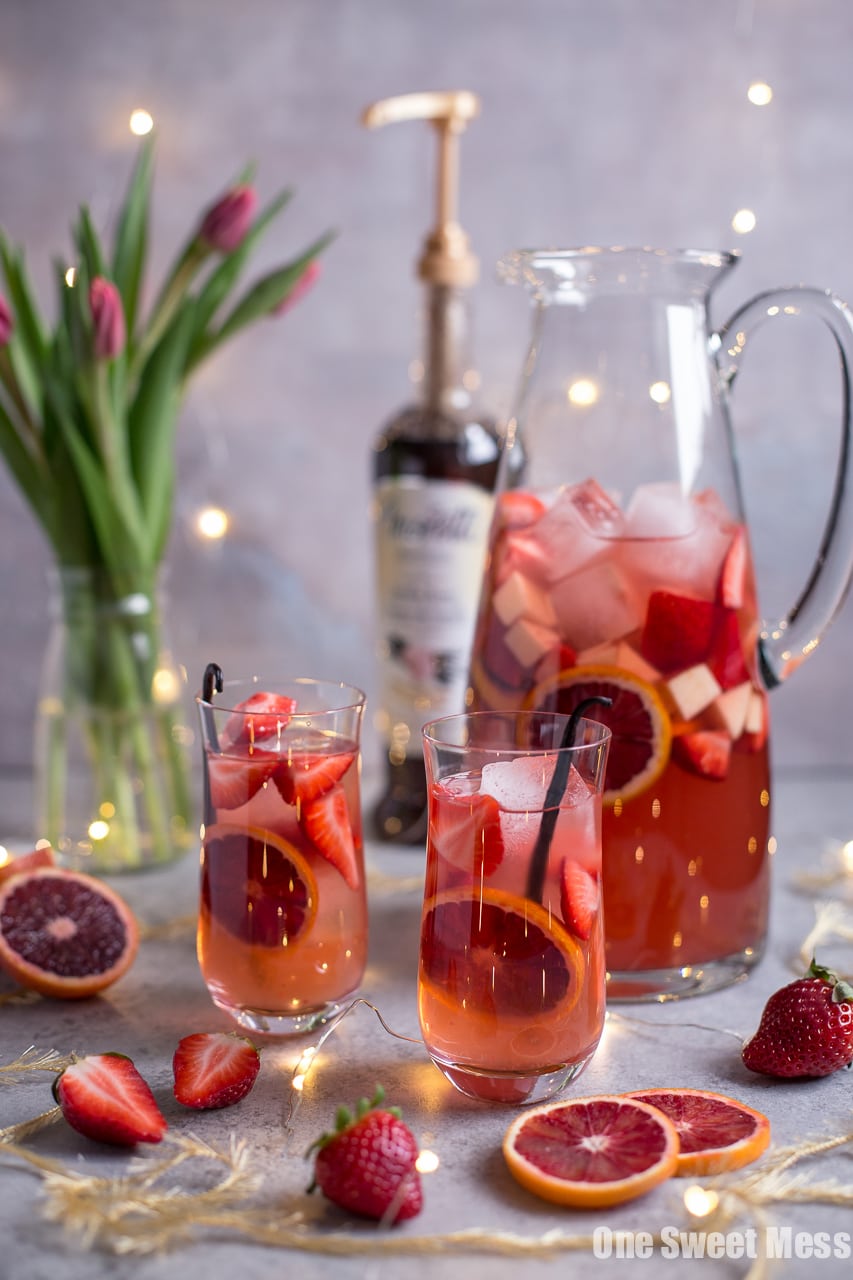 Valentine's Day is quickly approaching. Do you celebrate? Technically, we don't celebrate–at least not in the traditional sense. Squirrel and I don't do flowers, heart-shaped boxes of chocolate, or fancy restaurants.
Our definition of a Valentine's Day celebration now includes comfy pjs, fuzzy blankets, and Netflix. We've gone from being the romantic couple that gets dressed up to the old married couple that debates whether or not it's worth the shower and makeup application–99.9% of the time it's not. Guess what…I'm okay with that.
Couch and takeout for the win!
Just because we choose to stay home on Valentine's Day doesn't mean we skip the boozy beverages. Oh, on the contrary, friends. Instead of ordering $12 craft cocktails at some fancy bar, we now pair our Chinese takeout with a glass of homemade sangria.
This Blood Orange Vanilla Bean Rosé Sangria is all decked out in pink and ready to be part of your romantic Valentine's Day celebrations–whether it's on the couch with lover face or after dinner festivities back at home.
I look forward to blood orange season every year. Once they hit the shelves, I start hoarding blood oranges until they disappear for the season. If you can't find blood oranges in your local grocery store or farmers' market, cara cara oranges make a great substitute.
To make this pitcher of sangria extra special–because it is Valentine's day after all–I added some vanilla bean action. I used a few pumps of Amoretti Madagascar Bourbon Vanilla Bean Syrup. The thick, rich syrup is bursting with bold vanilla flavor and loaded with bits of vanilla bean. It's good stuff!
It's so good, in fact, that I keep a bottle on my counter at the ready and a backup stored in my pantry. I add a few pumps to my coffee every morning, and then again in my afternoon iced coffee (I'm clearly coffee obsessed!). I love mixing it into cocktails. Matter of fact, it's perfect in my Pineapple Vanilla Bean Martini and Vanilla Tangerine Martini recipes. The possibilities are endless, really. It's great in milkshakes, frostings, mixed into your morning oatmeal, or drizzled over ice cream.
I love the stuff so much, that I've decided to host a giveaway. Amoretti will ship a bottle of their Madagascar Vanilla Bean Syrup to the doors of Five lucky readers. Scroll down to the bottom of this post for the details.
The combination of pale pink Rosé wine, elderflower liqueur, sweet blood orange juice, and vanilla bean syrup is deliciously irresistible. Hints of floral, citrus, and creamy vanilla is the perfect way to show your special someone you care. Cheers!
Enter for a chance to win a bottle of Amoretti Madagascar Bourbon Vanilla Bean Syrup using the Rafflecopter below. The giveaway is for U.S. residents only and will run from February 2nd, 2017 through February 16th, 2017.
Blood Orange Vanilla Bean Rosé Sangria
Ingredients:
1 (750ml) bottle Rosé
1/2 cup St. Germain liqueur
1 cup blood orange juice
3 tablespoons Amoretti Madagascar Bourbon Vanilla Bean Syrup
1 vanilla bean, seeds removed
Blood orange slices, for garnish
Strawberry slices, for garnish
Apple slices, for garnish
Directions:
In a large pitcher, add Rosé, liqueur, blood orange juice, vanilla syrup, and vanilla seeds. Stir to combine. Place the pitcher in the refrigerator to chill for at least 4 hours.
Serve over ice. Garnish with blood orange, strawberry, and apple slices.
If you're unable to locate blood oranges, or if they're out of season, you can substitute cara cara or navel oranges.
For a hint of fizz, top with a splash of club soda.
All images and text ©
.
Whipping up one of my recipes? I wanna know about it! Snap a photo and tag your post with #onesweetmess on Twitter or Instagram. Seeing your creations come to life makes my day!
If you like this recipe, share it on Pinterest!
Disclosure: This recipe was developed for the lovely folks at Amoretti. All opinions are my own. Thank you for supporting my recipes and site while I work with brands I adore.