Black Cherry Sangria
Black Cherry Sangria that tastes like boozy fruit punch.
Your Thanksgiving menu deserves a festive cocktail. It is a party, after all.
When I throw a dinner party–that's what Thanksgiving is, a big dinner party–I like to serve a cocktail that can be made by the pitcher. If I have my hand up a turkey's butt, there's no way I'm shaking up cocktails for each guest.
I'm kind of a lazy bartender. I prefer to prep the bar with all the boozy essentials and let the guests serve themselves DIY-style.
The inspiration for this sangria came from a local restaurant Squirrel and I tried last week. When the waitress handed me the glass, it was stuffed to the brim with fresh fruit and smelled like paradise. It reminded me of my trip to Mexico and all the fancy cocktails with cute little umbrellas I consumed (good times). After one sip, I knew I had to go home and re-create the boozy beverage that tasted a lot like fruit punch. I'm a sucker for anything fruit punch flavored.
This cocktail is a combination of red wine, black cherry rum, pineapple juice, fresh orange juice, and a splash of ginger ale. I prefer to serve my fruit on the side and add it to the glass right before serving. I added the fruit to the pitcher the first time I made this sangria, and the red wine turned the fruit purple. It was delicious but not aesthetically pleasing. Cut up your fruit and serve it in pretty little bowls next to the pitcher of sangria. That, my friends, is how you prepare a sangria bar.
I tested this recipe using a few different types of wine. It works well with a semi-sweet red variety, such as merlot, cabernet sauvignon, and, my recent favorite, Barefoot Refresh Crisp Red. The Barefoot Refresh Crisp Red is a tad sweet, extra fruity, and bursting with bubbles. Since I'm a sucker for bubbles, Barefoot's Refresh line has won my heart.
You can make this recipe ahead of time and store it in the refrigerator until you're ready to serve. Stir in the ginger ale right before you're ready to serve so it doesn't go flat.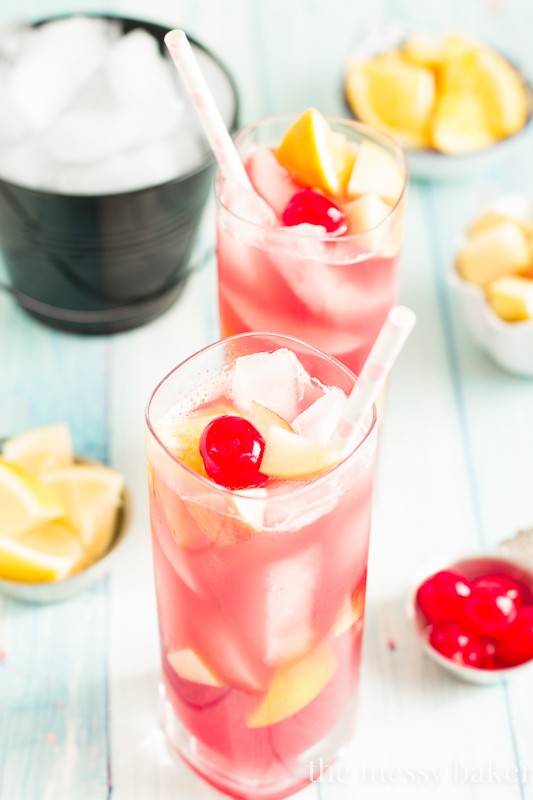 This sangria is extremely tasty. It reminds me of my youth when I would pound back Hawaiian Punch, only less sweet and far more sophisticated.
Black Cherry Sangria
A sweet mixture of red wine, black cherry rum, pineapple juice, orange juice, and ginger ale. It tastes like boozy fruit punch.
Ingredients:
Sangria:
1 (750ml) bottle semi-sweet red wine
1 cup black cherry rum
1 and 1/2 cups pineapple juice
juice of two oranges
1 and 1/2 cups ginger ale
Garnish:
lemon slices
orange slices
chopped apple
maraschino cherries
Directions:
Add the first 4 sangria ingredients to a large pitcher. Stir to combine.
Place the sangria in the refrigerator to chill. Stir in the ginger ale right before serving.
Pour over ice and garnish with mixed fruit.
All images and text ©
.
Whipping up one of my recipes? I wanna know about it! Snap a photo and tag your post with #onesweetmess on Twitter or Instagram. Seeing your creations come to life makes my day!
Love boozy beverages? Check out my other cocktail recipes.
If you like sangria, check out this recipe for Raspberry Moscato Sangria.
Disclosure: I was not compensated by Barefoot for the creation of this post. Heck, they don't even know I exist. I'm just a wino who fell in love.