Cranberry Orange Crush
This cranberry orange crush is a refreshing mixture of tart cranberry juice, fresh squeezed orange juice, and vodka.
My mom and I are hosting Thanksgiving dinner at her house this year. She has a shiny new kitchen equipped with fancy new pots, casserole dishes, and serving pieces (thanks to me), and she's ready to show it off.
When I  consulted with her about the menu, she responded with some devastating words, "Why don't we cut back this year–maybe not make so many dishes?" You guys, I almost fainted. The woman was just given the gift of a fancy new kitchen stocked with fancy new gadgets (again, thanks to me), and she wants to ruin my favorite holiday of all time by trimming down the menu.
I almost died. After I came to, I was outraged, mortified, and downright shocked. My heart broke a little when her words hit my ear.
With all the shock coursing through my veins, I don't exactly remember how I responded. There was a lot of hand motions, I remember that much. Maybe a bit of whining, too. In the end, we were discussing adding a few more dishes to the menu, so I suppose I won. Honestly, I think she just wanted to shut me up.
I'm hosting #SundaySupper this week, and the theme is Thanksgiving Leftovers. I'm sure your fridge will be busting at the seams the day after Thanksgiving, so the #SundaySupper team came up with a menu to help you use all of those yummy leftovers.
While you're re-inventing your Thanksgiving dinner, you can whip yourself up a refreshing cranberry orange crush. I don't know about you, but I always have leftover cranberry juice in the fridge from the cranberry sauce and oranges from the turkey brine. I took one look at the two ingredients in my fridge and spotted vodka at the bar–hello, cocktail!
This refreshing boozy beverage is a mixture of fresh squeezed orange juice, cranberry juice, vodka, and a splash of bubbly lemon-lime soda. It's sweet, slightly tart, and goes down much easier than I'd like.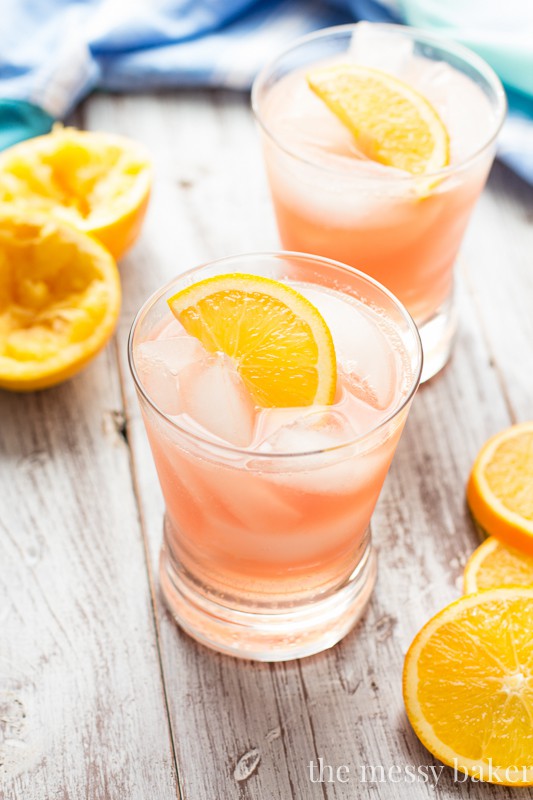 This festive cocktail is perfect for the holidays.
Cranberry Orange Crush
A refreshing mixture of tart cranberry juice, fresh squeezed orange juice, vodka, and a splash of bubbly lemon-lime soda.
Ingredients:
2 ounces vodka
2 ounces cranberry juice
2 ounces orange juice
splash of lemon-lime soda
Directions:
Add vodka, cranberry juice, and orange juice to a cocktail shaker filled with ice. Give the mixture a few good shakes.
Pour over ice and top with a splash of lemon-lime soda.
All images and text ©
.
Whipping up one of my recipes? I wanna know about it! Snap a photo and tag your post with #onesweetmess on Twitter or Instagram. Seeing your creations come to life makes my day!