Fruity Pineapple Sangria
This fruity pineapple sangria is made with bubbly white wine and mango pineapple vodka. One glass just isn't enough.
I refuse to wait for spring to get its butt in gear and pay us a vist. Do you hear me, Spring… I refuse to wait! I've been patient long enough.
In other words, I'm gonna get this party started without you.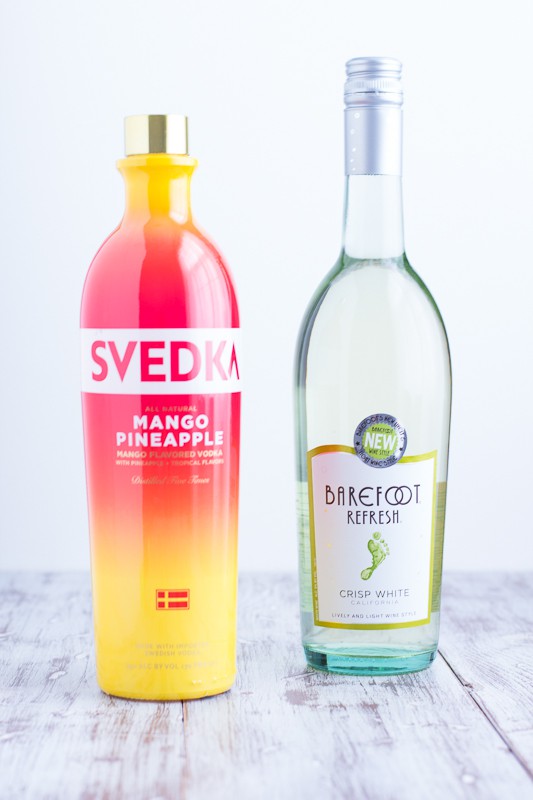 Look, our guests have arrived. Meet Bubbly White Wine and Mango Pineapple Vodka. They're excited to get to know you. Now, get to mingling.
In my mind, spring is here. It's warm and sunny and bright.
And, I have a tan. Frankly, dreaming about a tan is the only way I'm ever going to acheive a tan. Let's face it, we all said goodbye to the ozone layer a long time ago and now we don't stand a chance against the almighty sun. I'm the chick on the beach wearing a surf shirt and a thick white layer of sunblock. Sexy, eh?
Let's recap. It's spring. It's warm and sunny and bright, and I'm a bronze beauty with long legs and a six pack. Like every girl with a mean six pack, I'm wearing a belly shirt. Are those still in style?
What does every ficticious spring dreamland need? A fruity cocktail, of course. Wine + liquor = fun. It's that simple.
I had this sad can of pineapple chunks sitting in my pantry that needed some attention. I must have been sitting there for ages, because the can was bent and rusted. Canned goods last forever, so it's all good. The pineapples were desperately looking for love; I could tell. So, I did what any other sane woman looking for the sun would do. I dumped them in a pitcher and saturated them with booze.
Mmm, boozy pineapples.
Because it's spring in some other state, I added some sliced strawberries and oranges to the pitcher. Why not, right? If you're living in a warm, sunny state, I envy you. I bet your taking your puppy for long strolls in the park and cycling the trails. It's just not right.
This fruity pineapple sangria is sweet, bubbly, and refreshing. I used Barefoot's new Refresh Crisp White. If you haven't tried their new line of bubbly wines, I highly recommend giving it a go. There are four total in their new collection, and they're all delicious. At $7.99 a bottle, it's a steal. Heck, buy all four.
The mango pineapple vodka really adds a burst of tropical flavor to this sangria. I used an entire cup. Whew, it's boozy, folks. Boozy and fruity. I topped it off with a 2 cups of Sprite to sweeten the deal.
My mom has deemed this her favorite cocktail yet. I don't know how reliable she is, considering she also said the same thing about this sparkling upside down cake martini, but I have to agree with her on this one. It's good!
When your pitcher is empty, I highly recommend dishing out the fruit and eating it. Honestly, there's nothing better than a drunken fruit salad. Yum!
Fruity Pineapple Sangria
Sweet, fruity sangria made with bubbly white wine and mango pineapple vodka.
Ingredients:
1 (20 ounce) can pineapple chunks, juice included
1 cup sliced strawberries
1 orange, sliced into rounds
1 (750ml) bottle sweet white wine
Juice of 1 orange
1 cup mango pineapple vodka
2 cups Sprite
Directions:
Add pineapple chunks and juice, strawberries, and oranges to the bottom of a pitcher. Stir in wine, orange juice, and vodka. Refrigerate for at least 2 hours, or until completely chilled.
Stir in Sprite right before you're ready to serve.
All images and text ©
.
Whipping up one of my recipes? I wanna know about it! Snap a photo and tag your post with #onesweetmess on Twitter or Instagram. Seeing your creations come to life makes my day!