Herb & Cheese Potato Soufflés
Fluffy, herb-spiked, cheese-loaded potato soufflés.
Easter and Passover are quickly approaching. Have you planned your holiday menu yet?
Me? Well, um, not exactly.
I'm very last minute when it comes to planning my Easter menu. I like to keep it simple and seasonal. I usually serve one main dish and a few side dishes. As we all know, the side dishes are the best part of any holiday meal. I always load up on extras as I make my way through the buffet line.
So far, the only recipe I have on my menu is this herb & cheese potato soufflé. It's elegant but not fussy; fancy but not persnickety. It's the perfect balance of polished and rustic. Whether you're hosting a formal dinner or casual buffet-style meal, this soufflé will feel right at home.
Before making this dish, I had no idea potato soufflé was even a thing. After I shoveled the first spoonful in my mouth, I knew I'd never be able to live my life without it. It's a dish like no other dish I've ever had. Think fluffy mashed potatoes–the fluffiest! And it's all thanks to the whipped egg whites. Those egg whites are magic.
In my house, potatoes are always in season. I used Idaho® Russet potatoes for this recipe. I keep my basement pantry stocked at all times; they stay fresh in my grandmother's old pottery bowls for weeks.
Tips for successful potato soufflés:
Drain your potatoes well. Give your colander a few good shakes, and then shake it some more. 
For the best results, use a food mill or potato ricer to mash your potatoes. If you don't own either tool, whip your potatoes in the bowl of a stand mixer or using a handheld mixer. There's also the good old-fashioned potato masher. If you decide to go this route, give it all you got and mash 'em good. The less lumps your potatoes have, the better.
Generously butter your soufflé dishes–get in those nooks and crannies!
Gently fold the whipped egg whites into the potato mixture. Light, fluffy whites=big, floofy soufflés. Not stirring allowed!
Preheat your oven. Do not skip this step. If you place the soufflés in a cold oven, they won't puff and rise.
What makes this dish so irresistible is the addition of Swiss cheese (extra cheese, please!) and fresh herbs. I used a combination of thyme and rosemary. The smell that comes from the oven as the soufflés bake should be bottled and sold as the new spring fragrance. I just want to roll around in it!
You can have mashed potatoes any ol' time. Your holiday deserves something special… It deserves this fluffy, herb-spiked, cheese-loaded soufflé.
For more holiday recipe inspiration and unique potato recipes, visit Idaho® Potatoes' recipe page. Connect with Idaho® Potato on Facebook, Twitter, Instagram, and Pinterest.
Herb & Cheese Potato Souffles
Light, fluffy potato soufflés made with fresh herbs and Swiss cheese.
Ingredients:
1 and 1/4 pounds Idaho® Potatoes, peeled
2 tablespoons unsalted butter, plus more for brushing
1 heaping cup grated Swiss cheese
1/3 cup half and half
1 and 1/2 teaspoons chopped thyme
1 and 1/2 teaspoons chopped rosemary
3 large eggs, separated and at room-temperature
Scant 1/8 teaspoon cream of tartar
Salt and pepper to taste
Directions:
Preheat oven to 375 degrees F. Generously brush the inside of 2 (5-inch) soufflé dishes with butter.
Cut the potatoes into 1-inch chunks. Add the potatoes to a large pot and cover with cold water. Bring the potatoes to a boil over medium-high heat. Continue to cook until the potatoes are fork tender, about 10 minutes.
Drain the potatoes very well. Place a food mill attached with the coarse die over a large bowl. Add the potatoes to the bowl of the food mill. Once all of the potatoes pass through the mill, scrape the bottom to remove any excess potatoes.
Stir in the butter, grated cheese, half and half, and herbs. Season with salt and pepper to taste. Stir in the egg yolks.
Add the egg whites to a large bowl. Whisk until the whites become foamy. Add a pinch of cream of tarter to the bowl. Continue to whisk the egg whites until stiff peaks form.
Add a heaping scoop of egg whites to the potato mixture; gently stir to combine. Fold in the remaining egg whites until no streaks of white remain.
Fill each of the prepared soufflé dishes 3/4 of the way full with the potato mixture. Bake for 40-45 minutes, or until the soufflé is puffed and a rich golden brown color. Serve immediately.
If you don't own a food mill, you can use a potato ricer or mash your potatoes using a potato masher.
The soufflés will deflate slightly a few minutes after you remove them from the oven—that's normal.
All images and text ©
.
Whipping up one of my recipes? I wanna know about it! Snap a photo and tag your post with #onesweetmess on Twitter or Instagram. Seeing your creations come to life makes my day!
If you like this recipe, then you'll love these:
Bacon-Wrapped Barbecue Potato Wedges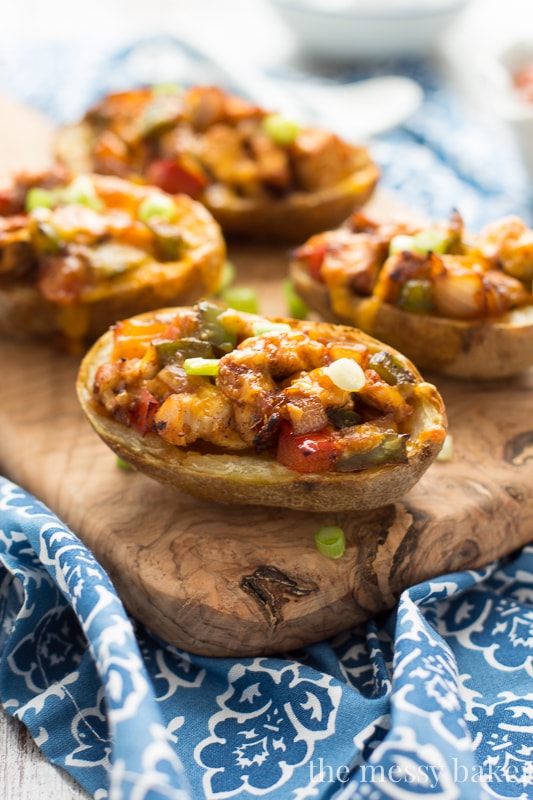 Gluten-Free Chicken Fajita Potato Wedges
Disclosure: This recipe was developed for the lovely folks at Idaho® Potato. All opinions are my own. Thank you for supporting my recipes and site while I work with brands I adore.