Nutella Almond Granola
Sweet, decadent granola coated in a rich chocolate sauce and baked until crunchy.
Have you jumped on the healthy eating bandwagon?
Confession: I never jump on the wagon. Every year it makes its rounds, and every year I refuse to hop on board. I let it roll past, giving it a snarky look as I wave goodbye.
It's not that I don't like healthy food, because I do. It's just that I make it a point to eat a balanced diet year round. So, when January comes around, I don't feel the need to suddenly drop my glazed donut.
Just because I eat a balanced diet doesn't imply that I don't indulge, because I do, and I'm very good at it. We all deserve to indulge from time to time. I can't imagine life without these Chocolate Reese's Pieces Pudding Cookies. There's no way I'm giving up cookies.
That's where this nutella almond granola comes in. It's a cross between healthy and indulgent. A sort of hybrid snack.
The healthy, wholesome aspect of this granola comes from the oats, almonds, and coconut. The more decadent side is thanks to the nutella, brown sugar, and maple syrup. It's the best of both worlds.
This granola reminds me of an Almond Joy candy bar. It has your chocolate, your almonds, and your coconut. It's more subtle, but the flavors shine through with every crunchy bite.
Have you ever had the pleasure of standing over a pot of melted nutella? It's absolute bliss. Do yourself a favor and dunk your finger in the melted sauce and give it a taste. After that, try very hard not to pour the mixture into a mug and call it hot chocolate.
The melted chocolate mixture is thick even after it's melted. Make sure you fold the chocolate mixture until all of the oats are coated. No oat left behind!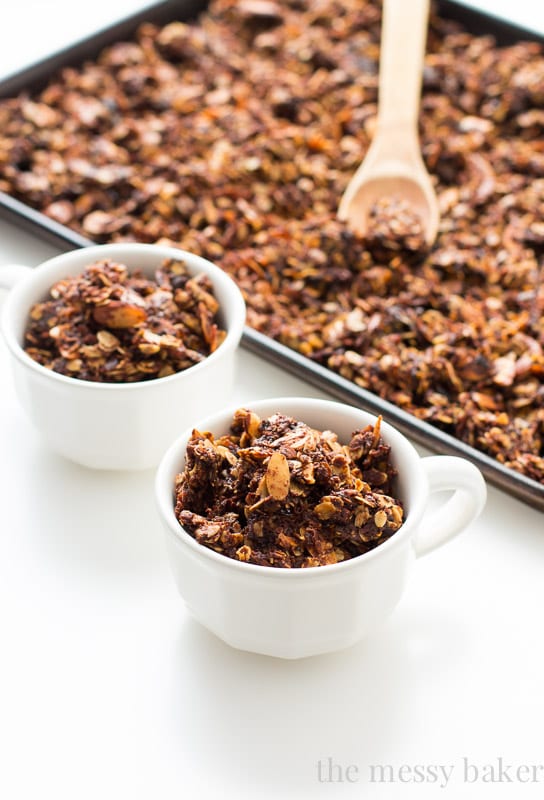 If you find–or should I say when you find–yourself hungry in between meals, head for the granola jar. If you like your granola on the indulgent side, you'll love this recipe for Cookie Butter Cinnamon Chip Granola.
Munch on, my friends!
Head on over to Food Fanatic to read my article and grab this nutella almond granola recipe.
Baking tools I used to make this granola:
• Large mixing bowl
• Whisk
• Rubber spatula
• Baking sheet
• Wire cooling rack
Disclosure: This post includes affiliate links.