Southwestern Spaghetti Pie
This spicy southwestern spaghetti pie casserole will quickly become a family favorite.
Today I'm sharing one of my very favorite recipes with you. I've been perfecting this recipe for a few months, and I'm finally ready to share it with the world. I hope you love this southwestern spaghetti pie as much as we do.
Squirrel is a bit obsessed with this recipe, and that's putting it lightly. He loves this recipe so much that he asks for it at least once a month (if not more). I made this recipe one last time last week so I could make sure everything was perfect before it went live. Squirrel came home for lunch the day I made the pie and quickly began loading up his plate.
Me: Hey, that's for dinner. I made you egg salad for lunch.
Squirrel: But I want this.
Me: Like I said, it's for dinner. If you eat it for lunch, you won't want it for dinner.
Squirrel: There's no getting tired of this pie. I could eat it every day.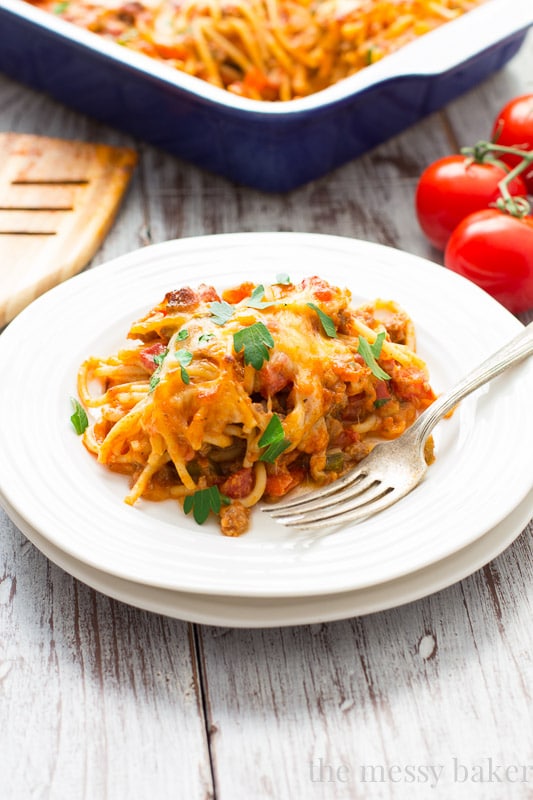 From his mouth to your ears (eyes?). Let me just say, it's not often that this man requests leftovers. Usually, it's up to me to eat the leftovers. He's what I call a leftover snob.
Honestly, I can't take credit for this recipe. The inspiration for this recipe was all thanks to Squirrel. My job was to tweak the recipe to his standards, which happen to be extremely high now that he's a food snob (I may have had a hand in that character trait).
This recipe is fairly easy to make. If you know how to boil pasta and sauté sausage, you're gold. This recipe is all about the smoky sauce that gets tossed with the pasta and baked until bubbly.
The flavor is unbelievably rich. I like to thank the sausage and all of the bold spices that get added to the tomato-based sauce. This dish is reasonably spicy. Not too spicy, but you're tongue is definitely going to take notice.
I use a combination of sweet red bell pepper, green pepper, jalapeño peppers, and chipotle in adobo to add spice to the sauce. The diced tomatoes with green chiles lend a hand in boosting flavor and creating a rich sauce for the pasta to swim in.
This casserole wouldn't be proper without a generous amount of cheese, am I right? Because cheese makes the world go 'round. I mix the cheese in with the pasta and sprinkle it on top–double the cheese!
After its 425 degree sauna, this casserole comes out bubbly and browned to perfection. I like to wait (if you have the patience) 15 minutes before cutting the pie. This gives the pie time to cool and the pasta to soak up all of the sauce. After the 15 minutes is up, cut the pie into squares and serve.
You'll family will ask for this recipe again and again. So often, in fact, that you'll probably regret the day you ever introduced them to this recipe (kidding).
Southwestern Spaghetti Pie
Ingredients:
8 ounces uncooked spaghetti
1/2 cup milk
1 egg
1 tablespoon extra-virgin olive oil
1 pound bulk sausage (I used Jimmy Dean)
1 medium onion, diced
1 medium red bell pepper, diced
1/2 medium green bell pepper (about 1/2 cup), diced
1-2 jalapeños, seeded and diced (I like my pie spicy, so I use two)
2 cloves garlic, minced
1 teaspoon chili powder
1 teaspoon ground cumin
1/2 teaspoon smoked paprika
1/2 teaspoon dried oregano
2 (10-ounce) cans diced tomatoes with chiles
1 (15-ounce) can tomato sauce
1 chipotle pepper in adobo, diced
salt and pepper to taste
1 and 1/2 cups grated cheddar cheese, divided
Directions:
Preheat oven to 425 degrees F. Grease a 9-inch-by-13-inch casserole dish.
Cook pasta according to package instructions. Strain the cooked pasta. Allow the pasta to cool slightly.
Add milk and egg directly to the casserole dish. Whisk to combine. Stir in the room-temperature pasta and 1/2 cup of shredded cheddar cheese. Set aside.
Heat 1 tablespoon of olive oil in a large sauté pan over medium heat. Brown the sausage until cooked through, about 7 minutes.
Add the onion, red and green bell pepper, jalapeños, and garlic to the pan. Cook, stirring occasionally, until the veggies are tender, about 5 minutes.
Stir in the spices, diced tomatoes, tomato sauce, and chipotle pepper. Turn the heat down to medium-low and allow the sauce to simmer for 5 minutes. Add salt and pepper to taste.
Pour the sauce over the pasta. Toss to combine. Top with remaining cup of cheddar cheese.
Bake uncovered for 20 minutes. Allow the spaghetti to rest for 15 minutes before slicing.
All images and text ©
.
Whipping up one of my recipes? I wanna know about it! Snap a photo and tag your post with #onesweetmess on Twitter or Instagram. Seeing your creations come to life makes my day!