Chocolate Reese's Pieces Pudding Cookies
The secret ingredient in these thick, chewy chocolate cookies is instant pudding mix.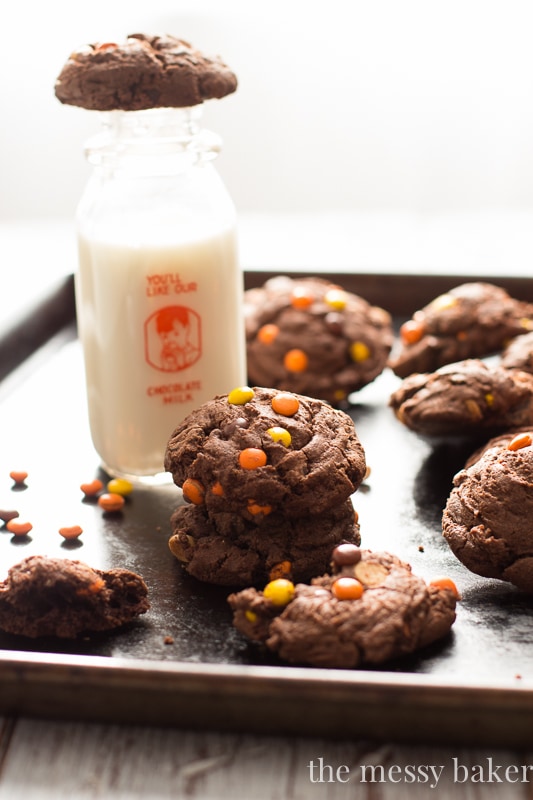 Welcome to the unofficial start of Cookie Week here at The Messy Baker. Why unofficial? Well, I didn't actually organize cookie week on purpose. It just sort of happened. Since all of my scheduled recipes happen to be cookie recipes, I decided to label this week Cookie Week.
It happens to fit perfectly into the theme of the holidays, so I'm going with it.
I know I've been throwing a lot of dessert your way, but, in my defense, it is almost Christmas (only 9 days). And, let's face it, the holidays were made for indulging.
We'll worry about detoxing, juicing, and eating lettuce 3x a day after New Year's Day, capeesh?
For now, we feast…on cookies!
I recently participated in The Great Food Blogger Cookie Swap. The purpose of the swap is to raise money for Cookies for Kids' with Cancer, an organization committed to funding new therapies used in the fight against pediatric cancer. Not only did we support a great cause, but we got to eat cookies doing it. I baked up a batch of cookies and sent them to three other bloggers from across the web. In return, I received three different scrumptious cookie packages.
Every single package of cookies I received was absolutely delicious. What I wanted to do was hoard all the cookies to myself, but, keeping with the spirit of Christmas, I decided to share.
In return, I sent my cookie recipients a dozen of these Chocolate Reese's Pieces Pudding Cookies. These are by far, Squirrel and my dad's favorite cookie recipe this year.
Just the other day, my dad asked me if I had anymore brown cookies with the peanut butter pieces. Brown cookies, not chocolate cookies, but brown cookies. He doesn't know what he's eating, just that he likes it. So, needless to say, I'll be making more of the brown cookies with peanut butter pieces for Christmas.
To make these cookies extra soft and chewy, I added a box of instant chocolate pudding mix. It creates a super chocolatey cookie that stays soft even after it cools. And, they're loaded with semi-sweet chocolate chips, peanut butter chips, and, my favorite, mini Reese's Pieces.
This recipe comes together easily right in the bowl of your stand mixer (or using a hand mixer). I recommend chilling the dough for at least 4 hours for extra-thick, extra-chewy cookies. If you like your cookies on the crunchy side, feel free to mix and bake them right away.
Chocolate Reese's Pieces Pudding Cookies
Super thick, soft and chewy chocolate pudding cookies loaded with semi-sweet chocolate chips, peanut butter chips, and mini Reese's Pieces.
Ingredients:
1 stick unsalted butter, softened
3/4 cup brown sugar
1/4 cup granulated sugar
1 egg
1 egg yolk
2 teaspoons vanilla extract
1 and 1/4 cups all-purpose flour
1 (3.9-ounce) package instant chocolate pudding mix
1/4 cup cocoa powder
1 teaspoon baking soda
1/2 teaspoon kosher salt
1 tablespoon cornstarch
1 teaspoon espresso powder
1/2 cup peanut butter chips
1/2 cup semi-sweet chocolate chips
1/2 cup mini Reese's Pieces
Directions:
In the bowl of a stand mixer with the paddle attachment, cream butter, brown sugar, and granulated sugar until light and fluffy, about 2 minutes.
Add egg, egg yolk, and vanilla. Beat until smooth, scraping down the bowl as needed.
Add flour, pudding mix, cocoa powder, baking soda, salt, cornstarch, and espresso powder to the bowl. Turn the mixer on low and beat until thoroughly combined.
Fold in the chips and mini Reese's Pieces.
Refrigerate the dough for at least 4 hours.
Preheat oven to 350 degrees F. Line a baking sheet with parchment paper or a silicone mat.
Scoop 1-tablespoon size dough balls onto your prepared baking sheet. Gently press down the dough balls. Bake for 12-13 minutes. The cookies will appear under cooked. Allow the cookies to cool on the pan for 10 minutes. Transfer to a wire rack to cool completely. The cookies will firm up as they cool.
Store the cookies in an airtight container for up to 1 week.
***If you don't mind a crunchier cookie, feel free to bake your cookies right after you mix the batter.
All images and text ©
.
Whipping up one of my recipes? I wanna know about it! Snap a photo and tag your post with #onesweetmess on Twitter or Instagram. Seeing your creations come to life makes my day!