Chocolate Chip Brown Butter Banana Bourbon Blondies
Love is in the air! I can feel it swirling around me in the form of sprinkles, chocolate chips, bananas, and bourbon. These Chocolate Chip Brown Butter Banana Bourbon Blondies are just how they sound–delicious!
The #SundaySupper crew is celebrating love, romance, and all things gushy this week in honor of Valentine's Day. That means recipes for a romantic dinner, sweets for your sweetie, and chocolate…lots of chocolate.
While Cupid is busy flying around sticking people in the butt with his mojo, I'm hard at work making a special mojo of my own. My mojo comes in the form of baked goods. That's my special trick; give someone a baked good and they'll fall right in love with you. Who needs cupid when you have chocolate chip banana bourbon blondies? Sorry, Cupid, but you're no longer needed.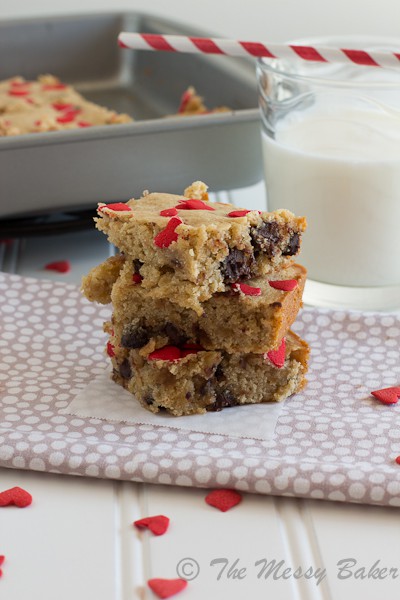 Squirrel and I don't really celebrate Valentine's Day. It's not that we're against Valentine's Day and all the red roses that come with it; we just celebrate something else instead. Squirrel's birthday falls on Valentine's Day, so I like to dedicate the day to him. Honestly, I feel bad for people that have to share their birthday with a holiday. Giving a gift on your birthday just seems wrong.
Even though Squirrel doesn't have to buy me a gift, he always does. Maybe he thinks it's some kind of trick. You know, a test of sorts. "Well, she said I don't have to buy her a gift, but if I don't buy her a gift, will she be mad? Or, does she really not want a gift?" That type of thing. Honestly, I think we just confuse men when we tell them they don't have to buy us anything. I received my gift a week early, and it was very special and very surprising. Squirrel bought me the anniversary ring I found and fell in love with a few weeks ago. Check it out here. It's a beauty!
I digress. Let's bring on the Chocolate Chip Brown Butter Banana Bourbon Blondies; it's what you came here for, right? Not me blabbering on about V-Day mojo, birthdays, and rings.
If you like bourbon, then you're going to love these. There's not a ton of bourbon in this recipe, but it's definitely not shy. Put it this way, you can taste the bourbon, and it pairs beautifully with all of the other elements in this blondie.
Like I said, who needs Cupid when you have these?
The gooey, chocolatey, banana center will have that special someone bowing at your feet.
Enjoy!
Chocolate Chip Brown Butter Banana Bourbon Blondies
Ingredients:
1 cup brown sugar
1 banana
9 tablespoons unsalted butter
1/4 cup bourbon
1 large egg
1 teaspoon vanilla extract
1/4 teaspoon kosher salt
1 and 1/4 cups all-purpose flour
2/3 cup chocolate chips
Directions:
Preheat oven to 350 degrees F. Grease a 8-by-8-inch square brownie pan.
In a small saucepan over medium-low heat, add the unsalted butter. Simmer until brown and nutty, about 5 minutes. Cool slightly before using.
In a large bowl, mash the banana. Whisk in the brown sugar until smooth. Add the slightly cooled brown butter, whisk to combine. Whisk in egg and vanilla extract until incorporated. Whisk in bourbon.
Stir in flour and salt until just incorporated.
Fold in chocolate chips.
Transfer the mixture to the prepared brownie pan. Sprinkle with festive sprinkles.
Bake for 20-25 minutes, or until a toothpick inserted in the center comes out clean.
All images and text ©
.
Whipping up one of my recipes? I wanna know about it! Snap a photo and tag your post with #onesweetmess on Twitter or Instagram. Seeing your creations come to life makes my day!