Honey Orange Glazed Ahi Tuna
Life gets busy. Fact! This Honey Orange Glazed Ahi Tuna comes together in a few short minutes.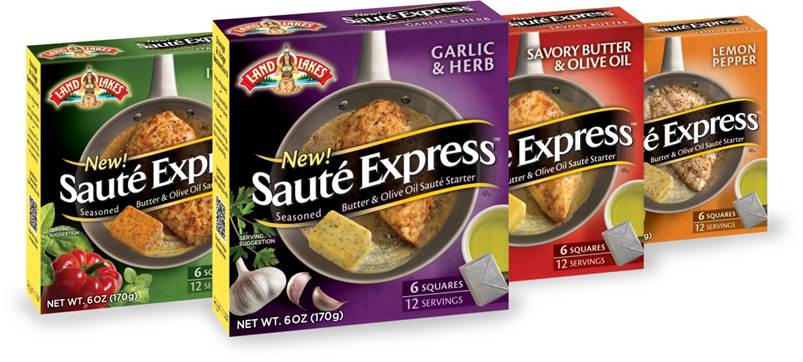 We don't always have the time to cook a gourmet meal during the week. Would I love to cook like Julia Child during the week? Yes. But, the fact is, I just don't have time. Like most of you, I'm a busy gal;  I work, go to school, have a family, and run a website. There just aren't enough hours in the day, so my inner Julia Child must wait until the weekend.
We're programmed to work hard, never miss an opportunity, and better ourselves. This usually means busy days and late nights. And, what do we do? We go to sleep, get back up, and do it all over again. We're troopers, I tell ya!  Trying to fit everything in is hard, so why not make dinner easy so you can spend more time doing the things you love. For me, that's knitting, reading, mountain biking, and catching up on my DVR.
Land O Lakes® is here to help make weeknight meals easy with their new Sauté Express® Sauté Starter Kits. They come in four different delicious flavors:
I went a little wild and tried all four, and they're all delicious. They help make weeknight meal making effortless and flavorful.
I have a simple weeknight recipe that's not only delicious but good for you. I made a Honey Orange Glazed Ahi Tuna using Land O Lakes®  Savory Butter & Olive Oil Sauté Express® Sauté Starter Kit.
I used the savory butter and olive oil kit to sear to the ahi tuna to perfection before I coated it in the sweet honey and orange glaze that I reduced down with some orange zest and fresh rosemary. It's absolutely delicious. Oh, and it only takes 10 minutes to make. You'll have dinner on the table in no time, which means more time left over to do the things you love.
I spent a total of 12 hours in the kitchen this weekend preparing for Super Bowl. As you can imagine, I was wiped out by the time Monday arrived. Cooking wasn't on the top of my list when I got home from work Monday evening, but I had to push through and make a meal.
This dish was a nice change of pace. I had it on the table and in my stomach in less than 15-minutes.
Enjoy!
Honey Orange Ahi Tuna
Ingredients:
1 pound Ahi tuna
2 squares Savory Butter & Olive Oil Land O Lakes® Sauté Express® Sauté Starter
1/2 cup honey
Zest of 1 orange
Juice of 2 oranges
1 sprig of rosemary
salt & pepper
2 cups cooked rice, for serving
Directions:
In a small saucepan, add honey, orange zest, orange juice, and rosemary. Cook over medium-low heat, stirring occasionally, until the sauce is reduced by half, about 5-7 minutes.
Salt and pepper the tuna fillets.
Heat a large non-stick skillet over medium heat. Add the Land O Lakes® Sauté Express® Sauté Starter squares. Sear the tuna on each side for 3 minutes. Add the glaze and cook for 1 minute, flipping the tuna to coat on each side.
Serve over rice and drizzle with glaze.
All images and text ©
.
Whipping up one of my recipes? I wanna know about it! Snap a photo and tag your post with #onesweetmess on Twitter or Instagram. Seeing your creations come to life makes my day!