Turkey & Cranberry Panini with Goat Cheese Aioli ~ #SundaySupper
Yikes! Thanksgiving is only 4 days away. I'm not going to lie, I'm shaking in my boots a little. I'm not remotely ready for Thanksgiving this year.
I have nothing checked off of my list. The shopping hasn't been done. I'm in charge of dessert this year, and I haven't even thought about what I'm going to make. Oh, and there's the sweet potato casserole and macaroni and cheese to think about, which, by the way, I haven't done either. See what I mean about shaking in my boots? I need to jump on the Thanksgiving band wagon and get things rolling.
One thing I have thought about is Thanksgiving leftovers. I know this sounds a bit backwards, but our #SundaySupper theme this week is all about what to do with the fifteen pounds of turkey, five pounds of sweet potatoes, three pounds of mashed potatoes, two containers of green bean casserole, and half a pumpkin pie you have left over because you decided to make dinner for an army instead of your family of five.
Hey, Thanksgiving is an exciting holiday, so I can see why we tend to go a bit overboard. Plus, there's also that looming fear of not having enough food for everyone (which is never the case). There are so many delicious recipes floating around on the Interweb that it's hard to decide which dishes to make so you end up making them all. No? That's just me?
I always overdue it during the holidays and end up with leftovers for an entire week after the main event. My fridge is always packed to the brim after the BIG day that opening the fridge can be a bit tricky. If you're not careful, you chance being knocked out by a tupperware container or two.
If you're anything like me, then I have good news. The #SundaySupper crew is here to save the day and rescue everyone from the pile of leftovers that are taking over the fridge.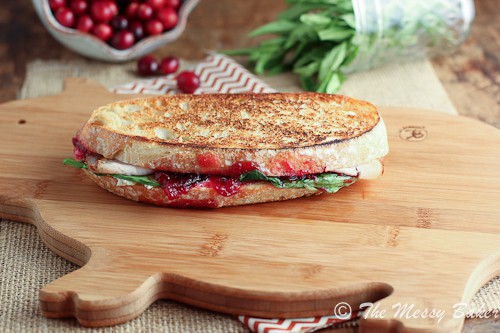 I always seem to have an abundance of turkey and cranberry sauce left over, so I decided to go with a turkey & cranberry panini with goat cheese aioli. The sweet cranberry sauce pairs perfectly with the tangy goat cheese and anise flavored tarragon. I tell ya, it's a match made in heaven.
I always had this idea that a panini required a panini maker. It doesn't! I rigged one up with two heavy pans and a piece of aluminum foil. What I don't need is another useless gadget to store in my kitchen.
All you have to do is heat a cast iron skillet, place the assembled panini in the pan, top it with a piece of aluminum foil, then place a heavy pan (or an aluminum foil covered brick) directly on top of the panini and press down. Viola, panini maker. Here's what mine looked like: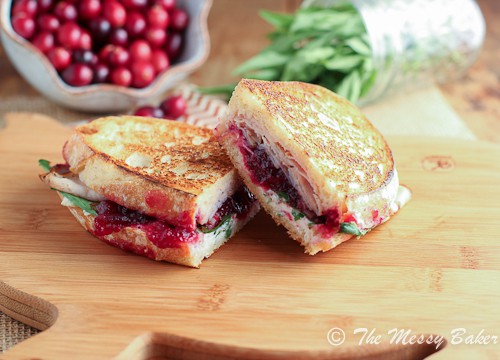 This is great for the following days when you're in a turkey stupor and require a meal that takes little effort. Slap the leftovers on some bread and warm it up until the bread is crispy on each side; that's it.
Happy Thanksgiving!
Check out the other recipes for Thanksgiving leftovers:
Breakfast & Brunch
Sweet Potato Cinnamon Rolls by Juanita's Cocina
Turkey Cranberry Muffins by In the Kitchen with Audrey
Sweet Potato Biscuits by Home Cooking Memories
Main Course
Turkey Enchiladas by Webicurean
Thanksgiving Leftover Casserole by FamilyFoodie
Turkey and Cranberry Monte Cristo by Supper for a Steal
Thanksgiving hangover sandwich by Crispy Bits & Burt Ends
Turkey Tamale Pie by Dinners, Dishes, and Desserts
Thanksgiving Leftovers Pot Pie by I Run For Wine
Turkey and Stuffing Pasty by Small Wallet Big Appetite
The Ultimate Thanksgiving Leftovers Sandwich by Daily Dish Recipes
Turkey Vegetable Hash by Generation Y Foodie
Turkey Tetrazzini by That Skinny Chick Can Bake
Thanksgiving Leftovers: Turkey and Andouille Gumbo for #SundaySupper by Catholic Foodie
Red Potato Turkey Cutlets with Ginger & Fresh Herbs by Sue's Nutrition Buzz
Thanksgiving Turkey Banh Mi Sandwich by 30AEats
Leftover Turkey and Sausage Gumbo by My Catholic Kitchen
Turkey Mornay Open-Face Sandwiches by The Weekend Gourmet
Leftover Mashed Potatoes and Beef Croquettes by Pippis in the Kitchen Again
Simple and easy! Turkey a la king, fit for a queen! by Midlife Road Trip
Turkey and Mushroom Risotto by Comfy Cuisine
Vegetarian Shepherd's Pie by The Wimpy Vegetarian
Kartoffelpuffer – German Potato Pancakes by MrsMamaHen
Skillet Turkey Reuben by Cindy's Recipes and Writings
Gluten-Free Turkey Shepard's Cake by Cooking Underwriter
Hearty Ham and Cheese Penne Pasta by Mama Mommy Mom
Hawaiian BBQ Turkey Flatbread Pizza by Damn Delicious
Turkey shepards pie! by The Realistic Nutritionist
Spicy Turkey Chili for #SundaySupper #Leftovers by Hot Curries and Cold Beer
Turkey & Cranberry Panini with Tarragon Aioli by The Messy Baker Blog
Soups, Salads, Sides & Starters
Gluten Free Turkey and Dumplings by The Meltaways
Shaved Brussels Sprouts Salad with Shallots and Pancetta by Girl in the Little Red Kitchen
Curried Turkey Salad  by Kimchi Mom
Potato Patties w/ Tomato Salsa by La Cocina De Leslie
Spicy Coconut Turkey Soup by Diabetic Foodie
Mashed Potatoes Twice Baked by Hezzi-D's Books & Cooks
Moroccan Chicken Salad with Rice by My Trial's in the Kitchen
Cranberry Barbecue Stuffed Sweet Potatoes by Cupcakes and Kale Chips
Olive Tapenade by Fast Food to Fresh Food
Leftover Turkey Soup by Bobbi's Kozy Kitchen
Sweet Potato Bread Pudding by MarocMama 
Sweets & Desserts
Cranberry Sauce Crumb Bars by girlichef
Pumpkin Gingersnap Truffles by Chocolate Moosey
Sweet Potato Spice Cake with Pecan Streusel Topping by Shockingly Delicious
Chocolate Peanut Butter Potato Frosting by Yummy Smells
Wine Pairings for the Recipes Featured
Wine Pairings for Thanksgiving Leftovers #SundaySupper by ENOFYLZ Wine Blog
Please join on us on Twitter throughout the day during #SundaySupper on November 18.  In the evening we will meet at 7pm EST for our weekly #SundaySupper live chat. All you have to do is follow the #SundaySupper hashtag or you can follow us through TweetChat.
We'd also love to feature your recipe for Thanksgiving Leftovers on our #SundaySupper Pinterest board to share them with all of our followers, too.
Turkey & Cranberry Panini with Goat Cheese Tarragon Aioli
Author:
Prep time:
Cook time:
Total time:
Ingredients
Aioli:
4 oz. goat cheese
1 tbs. lemon juice
3 tbs. fresh tarragon, chopped
1 clove garlic, finely minced
salt & pepper
Sandwich:
2 pieces of crusty bread
1/2 cup cooked turkey, shredded
2 tbs. cranberry sauce
1/4 cup baby spinach
1-2 tbs. goat cheese tarragon aioli
Instructions
In a small bowl, add goat cheese and lemon juice. Mix with a rubber spatula to combine. Stir in tarragon, garlic, and a pinch of salt and pepper. Refrigerate until ready to use.
Heat a cast iron skillet over medium heat. While the pan is heating assemble the panini.
Slice the bread about a 1/2-inch thick. Smear one side of the bread with the goat cheese aioli. Place the turkey on the other slice of bread and top with the cranberry sauce and spinach. Place the cheese smeared slice on top and place assembled panini in the skillet.
Top the panini with a slice of aluminum foil, then place a heavy skillet (or aluminum foil covered brick) directly on top of the panini and press down.
Cook for 1-2 minutes on each side, or until the bread is golden brown.
Slice and eat.
73 Responses to "Turkey & Cranberry Panini with Goat Cheese Aioli ~ #SundaySupper"

Trackbacks/Pingbacks

Leave some love. It makes me happy!