Chipotle Turkey Burgers
Let me just start by saying that I have a new love in my life. I found a new grocery store today, and I think I'm smitten. This store is amazing. It's called The Fresh Market, and the name says it all. As soon as I walked into the store, I knew we were meant to be. This store has everything. Fresh, crisp produce, succulent meats, gourmet cheese, rich coffee beans by the barrel full, and my new favorite granola. I picked up two bags of Erin Baker's granola, one of them being their peanut butter granola. I opened the peanut butter granola today and have been munching on it ever since. It's good stuff! I highly recommend it. Plus, it's healthy, so I don't have to feel bad about eating it.
Oh, I almost forgot, I made turkey burgers topped with this guacamole. Yum!  They're good stuff, too. I love turkey burgers. I know they don't get a lot of recognition, but they should. I know, I know, beef is better. I agree. I love beef burgers, and I won't be giving them up any time soon, but turkey burgers need love too. I think you're going to love this particular turkey burger recipe. They're packed with tons of flavor and topped with homemade guacamole.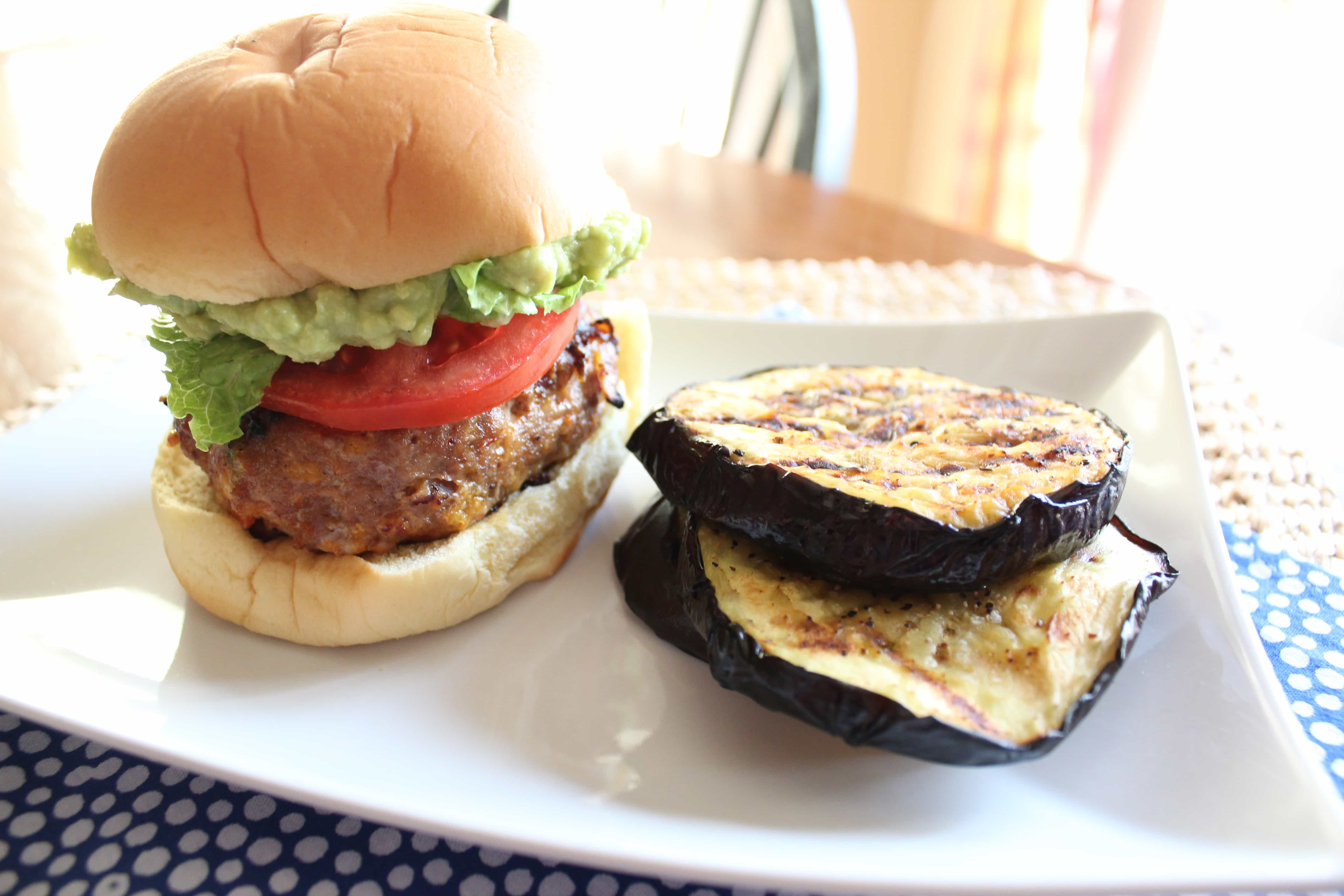 I think the misconception with turkey burgers is that they're dry. Whoa! Let's stop right there. Turkey burgers are not dry. They're moist and juicy, just like a beef burger. I had juice running down my hands and onto my wrist as I was eating this giant last night.
Jalapeños, red pepper, red onion, and garlic get sautéed together and added to the ground turkey meat. Talk about flavor, but that's not all. I proceeded to add chipotle in adobo, cayenne, cumin, coriander, chili powder, cayenne pepper, worcestershire sauce, and a few splashes of tobasco. Now, that's a train to flavor town. To top it all off, I added a handful of grated cheese to the ground meat mixture. Yup, right on in it went. The cheese assists with the juiciness of the burger. Are you willing to try a turkey burger yet?
Add some sliced tomato, lettuce, and a generous helping of guacamole, and you've got yourself a killer turkey burger. Who knows, you may never go back to the beef burger again. I went to far, didn't I?
Happy eating,
Jennie
Recipe:
1 lb. ground turkey
2 1/2 tbs. chipotle in adobo
1 jalapeño, seeded and diced
1/2 cup red onion, diced
1/2 cup red bell pepper, diced
2 garlic cloves, diced
1/2 tsp. cayenne pepper
1 tsp. cumin
1/2 tsp. corriander
1/2 tsp. chili powder
1 tsp. worcestershire sauce
4-5 splashes tabasco
1/2 cup grated sharp cheddar or pepper jack
salt and pepper
1 recipe guacamole
In a medium-sized saute pan, heat 2 tbs. olive oil. Add jalapeño, red pepper, onion, and garlic. Season with salt and pepper. Saute for 4 minutes, just until the veggies soften slightly. They will cook the rest of the way in the burger. Take off heat and set aside for a few minutes.
In a large bowl, add the ground turkey, chipotle in adobo, cayenne, coriander, cumin, chili powder, worcestershire sauce, tabasco, salt and pepper. Add the veggies and cheese. Mix until combined and patty. I usually get about 6 burgers.
Fire up the grill or heat a cast iron pan. Cook for 4-5 minutes on each side. If your feeling fancy, toast the burger rolls. Top burgers with tomato, lettuce, and a generous amount of guacamole. Enjoy!