Turkey & Cranberry Panini with Goat Cheese Aioli
I may not be ready for Thanksgiving, but I have your leftover turkey problem covered with this Turkey & Cranberry Panini with Goat Cheese Aioli. Talk about the ultimate sandwich!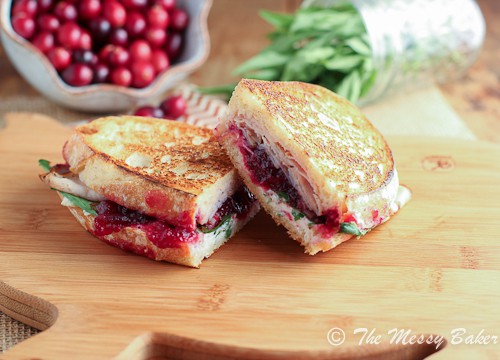 Yikes! Thanksgiving is only 4 days away. I'm not going to lie, I'm shaking in my boots a little. I'm not remotely ready for Thanksgiving this year.
I have nothing checked off of my list. The shopping hasn't been done. I'm in charge of dessert this year, and I haven't even thought about what I'm going to make. Oh, and there's the sweet potato casserole and macaroni and cheese to think about, which, by the way, I haven't done either. See what I mean about shaking in my boots? I need to jump on the Thanksgiving band wagon and get things rolling.
One thing I have thought about is Thanksgiving leftovers. I know this sounds a bit backwards, but our #SundaySupper theme this week is all about what to do with the fifteen pounds of turkey, five pounds of sweet potatoes, three pounds of mashed potatoes, two containers of green bean casserole, and half a pumpkin pie you have left over because you decided to make dinner for an army instead of your family of five.
Hey, Thanksgiving is an exciting holiday, so I can see why we tend to go a bit overboard. Plus, there's also that looming fear of not having enough food for everyone (which is never the case). There are so many delicious recipes floating around on the Interweb that it's hard to decide which dishes to make so you end up making them all. No? That's just me?
I always overdue it during the holidays and end up with leftovers for an entire week after the main event. My fridge is always packed to the brim after the BIG day that opening the fridge can be a bit tricky. If you're not careful, you chance being knocked out by a tupperware container or two.
If you're anything like me, then I have good news. The #SundaySupper crew is here to save the day and rescue everyone from the pile of leftovers that are taking over the fridge.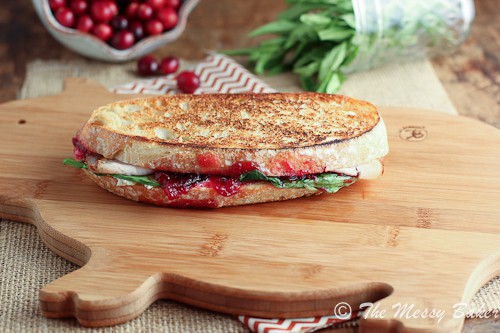 I always seem to have an abundance of turkey and cranberry sauce left over, so I decided to go with a turkey & cranberry panini with goat cheese aioli. The sweet cranberry sauce pairs perfectly with the tangy goat cheese and anise flavored tarragon. I tell ya, it's a match made in heaven.
I always had this idea that a panini required a panini maker. It doesn't! I rigged one up with two heavy pans and a piece of aluminum foil. What I don't need is another useless gadget to store in my kitchen.
All you have to do is heat a cast iron skillet, place the assembled panini in the pan, top it with a piece of aluminum foil, then place a heavy pan (or an aluminum foil covered brick) directly on top of the panini and press down. Viola, panini maker. Here's what mine looked like:
This Turkey & Cranberry Panini with Goat Cheese Aioli is great for the following days when you're in a turkey stupor and require a meal that takes little effort. Slap the leftovers on some bread and warm it up until the bread is crispy on each side. That's it!
Turkey & Cranberry Panini with Goat Cheese Aioli
Ingredients:
Aioli
4 ounces goat cheese
1 tablespoon lemon juice
3 tablespoons fresh tarragon, chopped
1 clove garlic, finely minced
Salt & pepper
Sandwich
2 pieces of crusty bread
1/2 cup cooked turkey, shredded
2 tablespoons cranberry sauce
1/4 cup baby spinach
1-2 tablespoons Goat Cheese Aioli (recipe above)
Directions:
In a small bowl, add goat cheese and lemon juice. Mix with a rubber spatula to combine. Stir in tarragon, garlic, and a pinch of salt and pepper. Refrigerate until ready to use.
Heat a cast iron skillet over medium heat. While the pan is heating assemble the panini.
Slice the bread about a 1/2-inch thick. Smear one side of the bread with the goat cheese aioli. Place the turkey on the other slice of bread and top with the cranberry sauce and spinach. Place the cheese smeared slice on top and place assembled panini in the skillet.
Top the panini with a slice of aluminum foil, then place a heavy skillet (or aluminum foil covered brick) directly on top of the panini and press down.
Cook for 1-2 minutes on each side, or until the bread is golden brown.
All images and text ©
.
Whipping up one of my recipes? I wanna know about it! Snap a photo and tag your post with #onesweetmess on Twitter or Instagram. Seeing your creations come to life makes my day!