Gluten-Free Peanut Butter S'mores Bars
Prepare yourself, friends, because these Gluten-Free Peanut Butter S'mores Bars are not only life-changing, they're also gluten-free.
This time tomorrow I'll be in the place I've longed to visit the moment I left. I fell in love with the city the moment I stepped out of the cab and onto the cobbled pavement. That place is Charleston, South Carolina.
Charleston was the destination I chose as a graduation gift to myself after working my ass off for 3 long years to obtain my undergraduate degree in English Literature. I remember those years all too well. I was working full-time, attending school nearly full-time, and working to keep up with the website. Busy doesn't even begin to describe that period of my life.
Five years later, and I still haven't stopped dreaming about my return to Charleston. I've been homesick for the charming southern city for so long, and now I finally get to experience the historic city all over again. My mom and I are vacationing together for the first time–a mother-daughter trip! She finally managed to get on a plane last year for the first time, and she's agreed to do it all over again.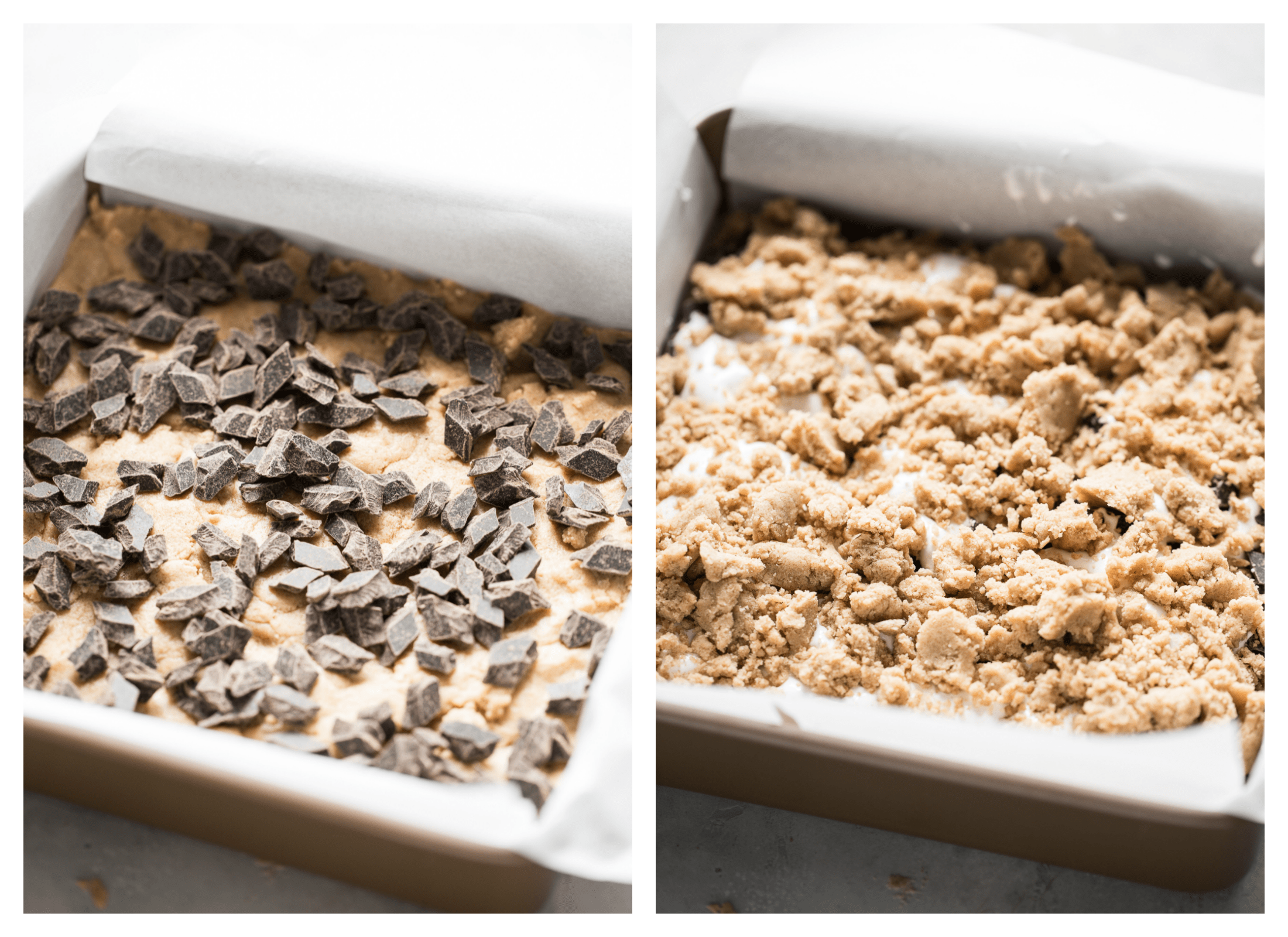 I can't wait to introduce her to southern food! I'm sure you're familiar with the good ol' fashioned pub crawl? Well, I'm going to treat her to a food crawl. I plan on eating all the things and visiting a few prohibition-style bars while we're there.
None of this has anything to do with the Gluten-Free Peanut Butter S'mores Bars I'm sharing with you today, but I thought it would be fun to share a little bit about what's been going on outside of the weekly dose of food that happens in this space.
These bars are a combination of my two favorite things in all the world, peanut butter and s'mores. Since summer is well on its way (hurry up already!), I thought you could use a good summer mash-up recipe. I'm never on top of the current food trends, but I hear mash-up recipes are all the rage right now…or maybe that was so last week?
Trends come and go, but these Gluten-Free Peanut Butter S'mores Bars are here to stay!
If you love s'mores on repeat in the summer, try this Boozy S'mores Hot Chocolate or make this No-Bake S'mores Cheesecake.
Gluten-Free Peanut Butter S'mores Bars
Ingredients
½ cup unsalted butter
½ cup creamy peanut butter
½ cup granulated sugar
¼ cup brown sugar
1 large egg, at room temperature
1 teaspoon vanilla extract
1 and 1/4 cups gluten-free all-purpose flour
¼ cup teff flour
1 teaspoon baking powder
2 7-ounce milk chocolate bars
1 7-ounce container marshmallow fluff
Instructions
Preheat oven to 350 degrees F. Line a 8-inch-by-8-inch square baking pan with parchment paper so that it overlaps on all sides.

In a mixer fitted with a paddle attachment (or in a large bowl using a handheld mixer), beat butter, peanut butter, granulated sugar, and brown sugar until light and fluffy, about 1 minute. Scrape down the sides of the bowl and add the egg and vanilla extract; beat until combined.

Add the dry ingredients to the bowl and beat until just combined, scraping down the sides of the bowl as needed.

Add 2/3 of the batter to the bottom of the prepared baking pan. Press the dough evenly into the bottom of the pan. Add the chocolate bars in an even layer, breaking them apart as needed, to the top of the batter. Press down slightly on the bars so they adhere to the batter. Spread the marshmallow fluff evenly over the chocolate layer. Sprinkle the remaining 1/3 of the batter evenly over the marshmallow cream.

Bake for 25-30 minutes, or until golden brown. Allow to cool completely before cutting into squares.
Notes
For best results, choose a gluten-free all-purpose flour mixture that contains xanthum gum. I prefer Bob's 1 to 1 Gluten-Free Baking Flour.
If you don't have chocolate bars, you can use 8 ounces of chocolate chips or chunks. Make sure you press the chips/chunks into the batter slightly so they don't come up when you're spreading on the marshmallow fluff layer.
Whipping up one of my recipes?
I wanna know about it! Snap a photo and tag @onesweetmess / #onesweetmess on Twitter or Instagram. Seeing your creations come to life makes my day!