Sweet Potato Bundt Cake with Marshmallow Frosting
This Sweet Potato Bundt Cake with Marshmallow Frosting is the perfect way to celebrate the holidays. It's moist, tender and loaded with warm spices and a sweet toasted pecan center.
I'm sure you're all familiar with the traditional sweet potato casserole… You know, the one with the toasted marshmallows on top? I really, really dislike that particular holiday recipe, and yet my husband's side of the family can't get enough of the weirdly sweet side dish. If I host Thanksgiving dinner, I usually opt for this new and improved Pecan Streusel Topped Sweet Potato Casserole. It's so much tastier!
I think my aversion to the popular marshmallow-topped side dish has everything to do with the fact that it lacks a necessary textural component, and not to mention it's overly sweet.
Given that there are a few lingering family members that look forward to the side dish every year, I decided to put my own spin on tradition and turn the oddly sweet-savory side dish into an elegant and easy-to-make dessert.
This Sweet Potato Bundt Cake with Marshmallow Frosting is sure to impress your holiday guests. It will have those casserole lovers forgetting all about tradition and leaning towards making new and improved recipes for the holiday table.
I love that this cake can be made in advance and frosted the day you plan to serve it. I made my cake 3 days in advance, and it was still just as moist as the day I pulled it out of the oven. The trick to keeping a cake fresh for a few days is to wrap the entire cake in plastic wrap. You can store it in the fridge to keep it extra fresh and pull it out a few hours before serving to bring it to room temperature.
The cake is super moist and loaded with warm fall spices–think ginger, cinnamon, cloves, and allspice. To make it extra special for the holidays, I added a layer of toasted Diamond of California Chopped Pecans mixed with brown sugar and cinnamon to the center of the cake. The added crunch is lovely!
For the marshmallow component, I made a very simple marshmallow frosting. For the best result, I highly recommend making the frosting the same day you're going to serve the cake. It takes a total of 10-15 minutes, so it won't take up too much of your time on the big day.
To boost the toasted pecan flavor, I made a bourbon praline caramel sauce to drizzle over the top of the cake after it's frosted (or after the cake is plated–your choice). It's a delicious added bonus. To save yourself some time, you can make the caramel sauce in advance. To get the perfect consistency for drizzling, heat it in the microwave for a few seconds.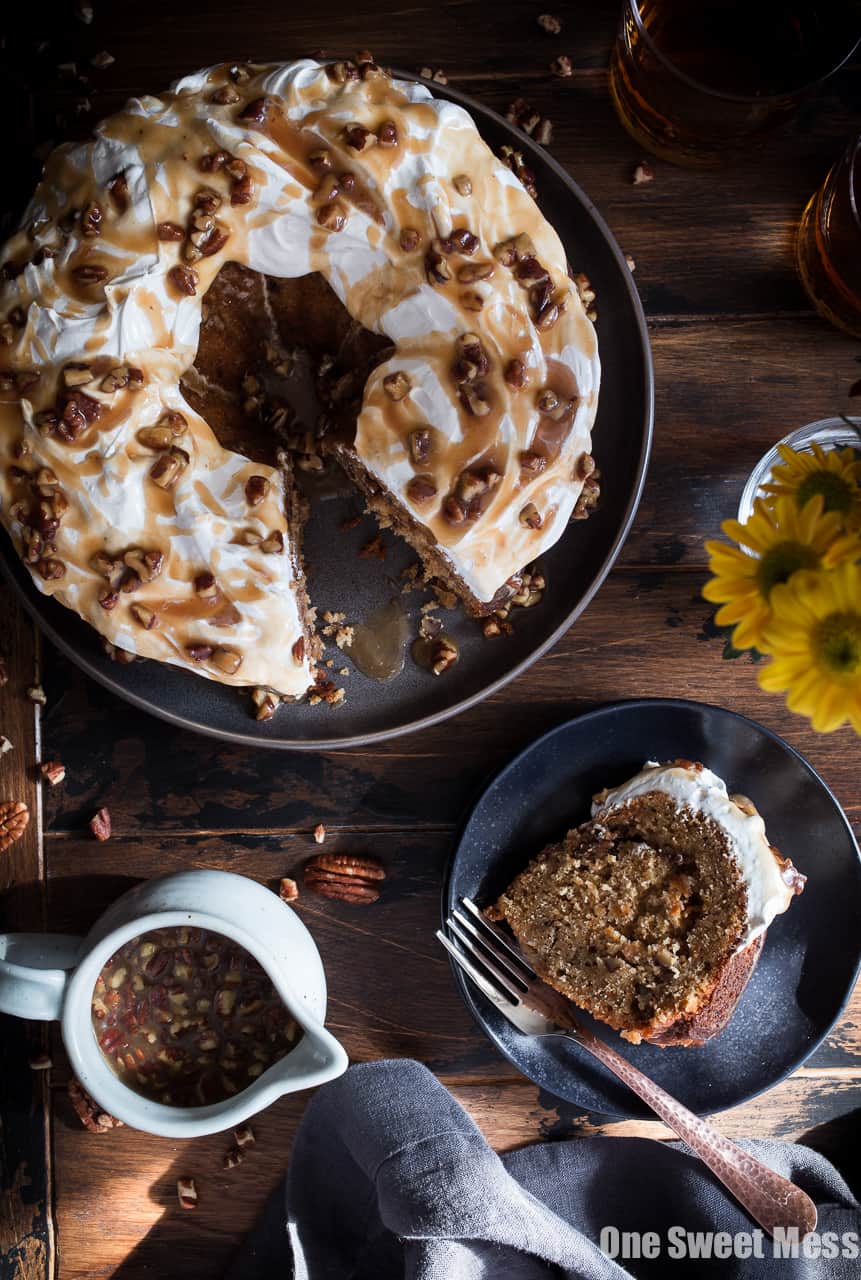 This Sweet Potato Bundt Cake with Marshmallow Frosting is show-stopping dessert that will have your guests forgetting all about the classic casserole.
Sweet Potato Bundt Cake with Marshmallow Frosting
Yield: 8 servings
Total Time: 1 hour 20 minutes
Prep Time: 20 minutes
Cook Time: 60 minutes
Ingredients:
Cake
4 large eggs, at room-temperature
1 cup granulated sugar
1 and 1/3 cup brown sugar, divided
1/2 cup canola or vegetable oil
1/2 cup unsalted butter, melted
2 teaspoons vanilla extract
2 cups sweet potato puree
3 cups all-purpose flour
2 teaspoons cinnamon, divided
1/2 teaspoon ground ginger
1/8 teaspoon allspice
1/8 teaspoon ground cloves
1/2 teaspoon kosher salt
1 teaspoon baking soda
1 teaspoon baking powder
1 cup buttermilk
1/2 cup chopped toasted pecans
Marshmallow Frosting
3 large egg whites, at room-temperature
3/4 cup granulated sugar
1/4 teaspoon cream of tartar
1/8 teaspoon kosher or sea salt
1 teaspoon vanilla extract
Bourbon Pecan Caramel
1 cup brown sugar
1/4 cup evaporated milk or heavy cream
1 tablespoon butter
1/8 teaspoon kosher or sea salt
1 and 1/2 tablespoons bourbon
1/2 teaspoon vanilla extract
1/4 cup chopped toasted pecans
Directions:
Cake
Preheat the oven to 350 degrees F. Generously grease and flour a bundt pan.
In the bowl of a stand mixer, beat eggs, granulated sugar, and 1 cup brown sugar at high speed (speed 6 on my Kitchen-Aid) for 3 minutes or until thick and pale. Add oil, melted butter, and vanilla, beating at a low speed until just combined. Add the sweet potato puree, beating until just combined, stopping to scrape down the sides of the bowl.
In a separate bowl, add flour, cinnamon, ginger, allspice, cloves, baking powder, baking soda, and kosher salt. Whisk to combine.
Gradually add the flour mixture to the egg mixture, alternating with the buttermilk. Beat at a low speed after each addition until just combined.
Make the pecan filling, by combing the remaining 1/3 cup brown sugar, 1/2 teaspoon cinnamon, and chopped pecans in a small bowl.
Pour half of the batter into the prepared bundt pan. Using a spoon, make a small indentation in the batter. Evenly sprinkle the pecan mixture over the batter. Pour the remaining batter into the pan. Gently tap the baking pan on the counter to remove the any air bubbles.
Bake for 50-60 minutes, or until a toothpick inserted into the center comes out clean. Cool in the pan on a wire rack for 30 minutes. Remove from pan and allow to cool fully on the wire rack.
If not serving immediately, wrap the cooled cake in plastic wrap and store in the refrigerator for up to 3 days.
Marshmallow Frosting
Add the egg whites, granulated sugar, cream of tarter, and salt to a heat-safe bowl. Set the bowl over a saucepan filled with a few inches of simmering water, making sure the water doesn't touch the bottom of the bowl.
Heat the mixture, whisking constantly, until the egg whites are warm to the touch and sugar has dissolved, about 5-7 minutes. Make sure the sugar is fully dissolved before removing from the heat; otherwise, the frosting will be grainy.
Remove the bowl from the heat and transfer the mixture to the bowl of a stand mixer fitted with the whisk attachment. Mix on high speed until stiff, glossy peaks form, about 7-9 minutes. Add the vanilla during the last 10 seconds of mixing.
Frost the top of the bundt cake immediately.
Drizzle the bourbon pecan caramel over the cake immediately before serving or drizzle over each individual slice after plating.
Bourbon Pecan Caramel
In a small saucepan over medium-low heat, combine the brown sugar, evaporated milk (or heavy cream), butter, and salt.
Bring the mixture to a gentle bubble. Cook, stirring often, until the sauce thickens, about 5-7 minutes.
Remove the saucepan from the heat and stir in the bourbon, vanilla extract, and pecans. The sauce will thicken as it cools.
If not using immediately, transfer the cooled sauce to an airtight container and store in the refrigerator until ready to use. The sauce will stay fresh for up to 7 days. Re-heat in the microwave or on the stovetop before using.
All images and text ©
.
Whipping up one of my recipes? I wanna know about it! Snap a photo and tag your post with #onesweetmess on Twitter or Instagram. Seeing your creations come to life makes my day!
Disclosure: Thank you to Diamond Nuts for sponsoring this post. All opinions are 100% my own. Thank you for supporting my site while I work with brands I use in my kitchen.
8 Responses to "Sweet Potato Bundt Cake with Marshmallow Frosting"

Leave some love. It makes me happy!