Peach Basil Gin Fizz
This Peach Basil Gin Fizz is summer in a fancy cocktail glass. Ripe, juicy summer peaches get muddled with fresh basil and combined with aromatic gin to create a fun summer cocktail.
I've been, sipping this Peach Basil Gin Fizz on repeat since I created the recipe a little over a week ago. I'm sure it has everything to do with my current peach obsession. Have you noticed the theme around here lately? It's been all peach everything.
You know what? I'm not mad about it–not in the least!
It all started with my Fresh Peach Crush cocktail. One peach recipe didn't fill my arbitrary quota, so I quickly followed it up with No-Churn Peach Cobbler Ice Cream. If two is good, then three is most definitely better, so I've made you yet another peach cocktail recipe.
And I know you're mad about it!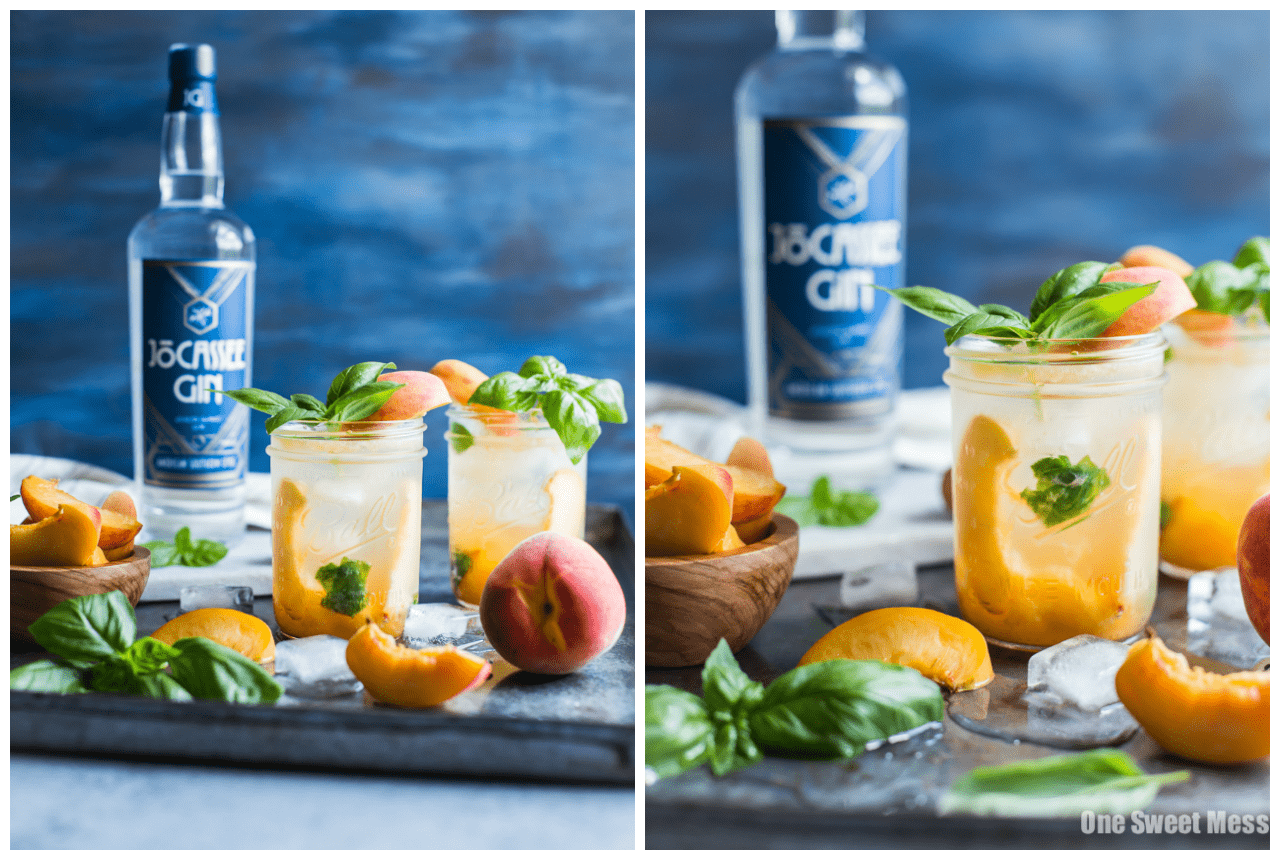 Everything I love about summer comes together in a cocktail glass, or, in this case, a rustic mason jar. I love rotating my stash of mason jars in the summer for cocktail purposes. It's no biggie if one breaks because I have what seems to be an unlimited amount stacked in the basement. My collection grows a little more each year.
Food in jars–yes, I'm that person!
Choose your favorite gin for this cocktail. For summer, I like to use a citrus-forward variety. One that's not overly dry or aromatic. Really, any gin will do ya good.
After you've selected the gin, it gets added to the bottom of a heavy-bottomed glass (hence the mason jar) and muddled with fresh peach slices, peach liqueur, basil simple syrup, and fresh basil. After your arm workout, top it off with peach nectar and as little or as much chilled club soda as you like. The amount of club soda you add is going to depend on how sweet you like your cocktail.
Cheers to summer!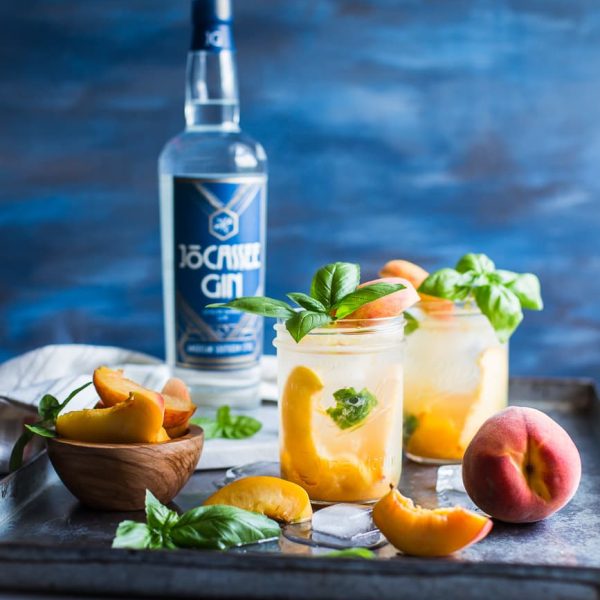 Peach Basil Gin Fizz
Ingredients
Basil Simple Syrup
1 cup packed fresh basil
½ cup granulated sugar
½ cup water
Gin Fizz
2 ounces gin, your favorite
½ ounce peach liqueur, I prefer Mathilde
¼ ounce basil simple syrup
3-5 leaves fresh basil
2 peach slices, peeled
1 ounce peach nectar
3-4 ounces club soda, preferably chilled
Instructions
To make the basil simple syrup, add sugar and water to a saucepan. Bring the mixture to a gentle boil. Add the fresh basil, and, using a wooden spoon, break apart the basil to release its oils into the sugar mixture. Continue to cook for 2 minutes. Remove from the heat and allow the mixture to rest for 30 minutes. Strain and transfer to an airtight container. The syrup will stay fresh for up to 1 month in the refrigerator.

To make the gin fizz, add gin, peach liqueur, peach slices, basil, and basil simple syrup to a glass. Muddle to combine. Add ice to the glass and top with peach nectar and club soda. Stir to combine. Garnish with basil and a peach slice.
Notes
Preparation time reflects hands-on making of the cocktail and not the time it takes to make the simple syrup.
I have tested several varieties and brands of peach liqueur, and Mathilde is my absolute favorite. It tastes the closest to fresh, ripe peaches without the artificial notes in the background. If you're unable to locate Mathilde, peach brandy or peach schnapps will do in a pinch, but they're not my favorite options.
The amount of club soda you add will depend on how sweet you like your cocktail. Chilled club soda works best in this recipe.
Whipping up one of my recipes?
I wanna know about it! Snap a photo and tag @onesweetmess / #onesweetmess on Twitter or Instagram. Seeing your creations come to life makes my day!