Mediterranean Grilled Veggie Pita Pizza
It's easy to eat healthy when this Mediterranean Grilled Veggie Pita Pizza is involved. Grilled pita bread gets layered with creamy hummus, za'atar-spiced grilled veggies, and crumbled feta cheese.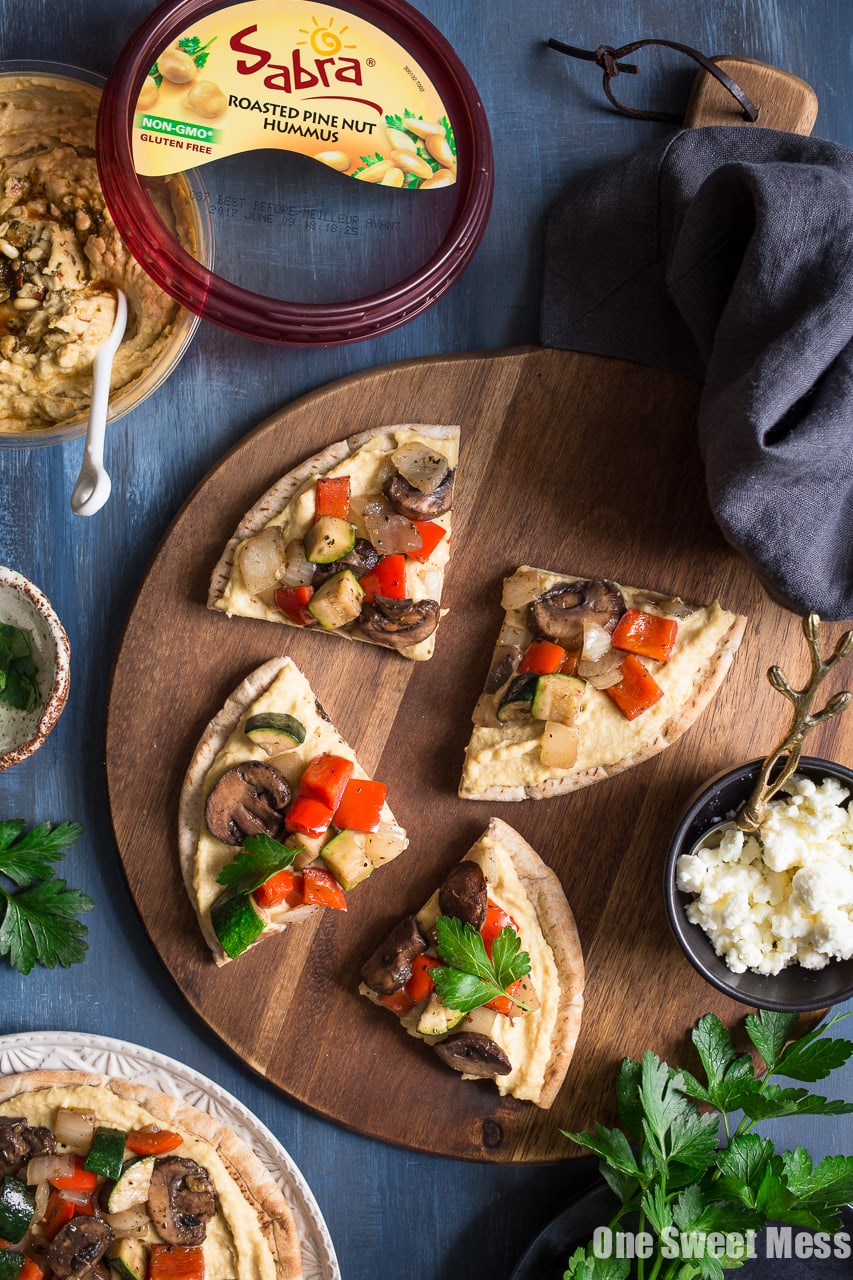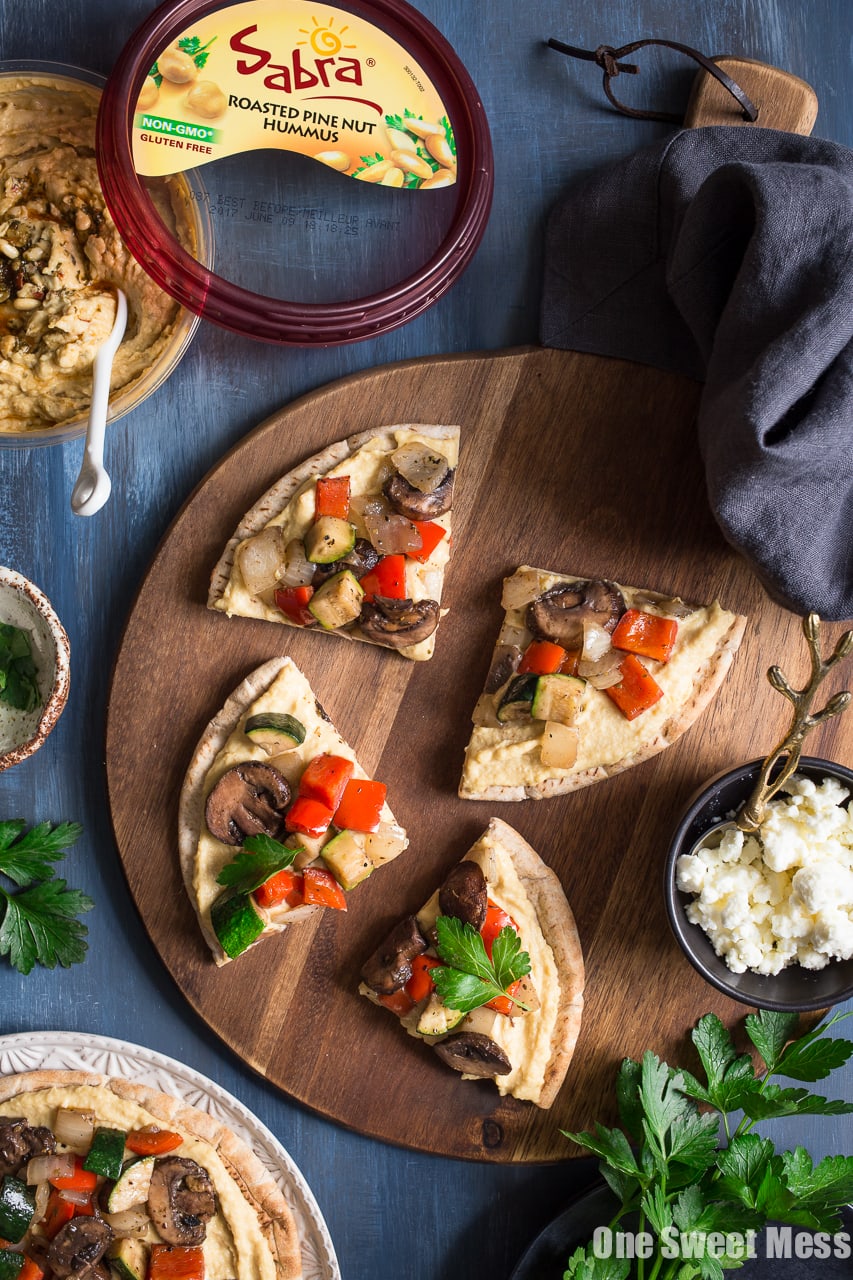 This Mediterranean Grilled Veggie Pita Pizza is vegetarian snacking at its best! The veggies get seasoned with za'atar and grilled to add maximum flavor. What I love about this recipe is that everything can be prepared in advance and assembled when you're to snack.
Because we're all short on time during the busy work week, I'm using Sabra Hummus to make life even easier. Pop the container, and you're ready to roll.
This Mediterranean Grilled Veggie Pita Pizza is the perfect "Unofficial Meal" option. It's super healthy, satisfying, and easy to make. Whip it up for a snack and share it with the family to tide them over until dinner is ready, or serve it as a simple main course with a little something on the side. It's all about sharing good food with the people you love, so dish it up any way you want. There are no rules here.
I've been eating at least of these pita pizzas on the daily. I prepped everything over the weekend and stored the ingredients in the fridge until I'm ready to heat. You can dish it up cold or take a few minutes to warm the veggies in the microwave and toast the pita on the grill or in a hot cast-iron pan on the stovetop. It's delicious any way you choose to serve it.
I'm not picky, so I'll eat my pizza cold or warm. To be honest, I usually eat it cold because I'm either 1. too lazy to heat the veggies and grill the pita, or 2. too hungry to wait the veggies to heat and the pita to get toasty.
Don't forget to layer your Sabra Hummus on thick and sprinkle the pizza with extra feta cheese. If you want to celebrate National Hummus Day up right, check out these other hummus-loaded recipes: Mediterranean Chicken & Grilled Veggie Salad, Sun-Dried Tomato and Roasted Red Pepper Hummus, or Veggie-Loaded Flatbread Pizza with Hummus and Tzatziki.
Mediterranean Grilled Veggie Pita Pizza
Ingredients
Grilled Veggies
1 cup chopped zucchini
1 cup sliced mushrooms
1 cup chopped red pepper
2 tbsp olive oil
¾ tsp za'atar
Salt and pepper
Pita Pizza
4 pieces whole-wheat pita
1 cup Sabra Hummus
½ cup crumbled Feta cheese
¼ cup chopped parsley
Instructions
Preheat a gas or charcoal grill.

In a bowl, add zucchini, mushrooms, onion, red pepper, olive oil, and za'atar. Stir to combine. Transfer the veggies to a grill basket and cook, stirring often, until the veggies are tender, about 7-10 minutes. Season with salt and pepper to taste at the end.

If you're serving immediately, brush both sides of the pita with olive oil. Grill for 30-60 seconds on each side, or until the pita is toasted and warmed through.

To assemble, add 2-3 tablespoons of hummus to each piece of pita. Top with about 1/4 cup of the grilled veggies. Sprinkle with crumbled Feta cheese and garnish with chopped parsley.
Whipping up one of my recipes?
I wanna know about it! Snap a photo and tag @onesweetmess / #onesweetmess on Twitter or Instagram. Seeing your creations come to life makes my day!
If you like this recipe, pin it to Pinterest!
Disclosure: This recipe was developed for the lovely folks at Sabra. All opinions are my own. Thank you for supporting my recipes and site while I work with brands I adore.