Bourbon Grapefruit Cocktail
Grapefruit and bourbon–together, forever, amen!
This gem of a cocktail is fresh and fruity, tart and oaky, strong and boozy. It's everything you want in a summer cocktail. Two will have you feeling heady. Three will have you happy as a pig in… You know the rest.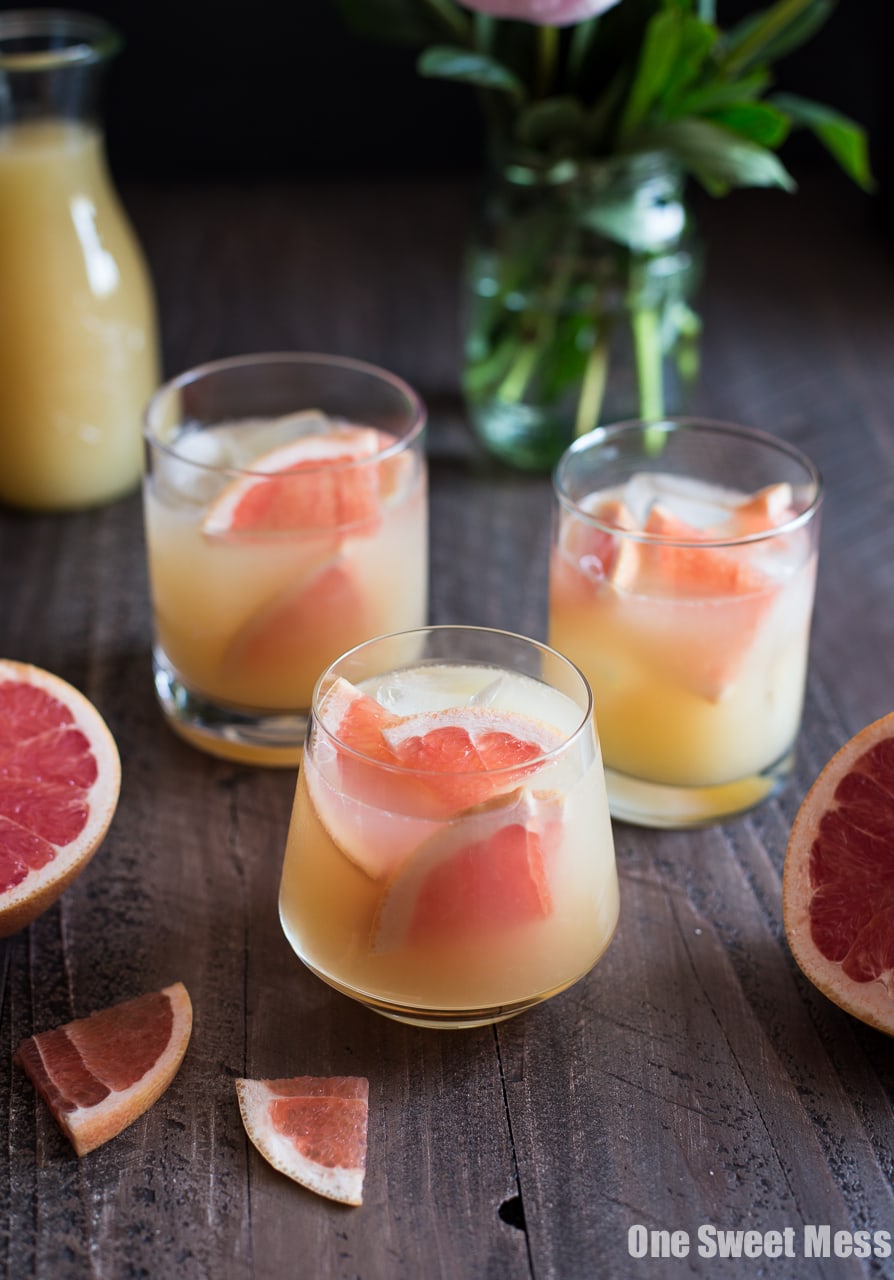 I can't take credit full credit for this bourbon grapefruit cocktail. There's this local joint a few minutes from our house that I frequent when I want fresh oysters, damn tasty food, and a good, stiff drink. If you live in Baltimore, check out Lib's Grill. You won't regret it!
I tend to gravitate to the cocktail portion of the menu, specifically the cocktails that feature bourbon–my favorite of all the booze. As I was reviewing their cocktail offerings, I came across the bourbon grapefruit. It was a combination of fresh squeezed grapefruit juice, rye whiskey, a splash of simple syrup to tame the tart, and it was finished with some bubbly ginger beer and a squeeze of lemon. It was the perfect blend of sweet and tart, and I fell in love instantly.
It took me a few shakes to recreate it at home, but now I get to enjoy the deliciously boozy cocktail in the comforts of my own home for a fraction of the cost. Booze tastes so much better when you don't have to spend a mini fortune.
In my version, I swapped out the ginger beer for some bubbly club soda and used the leftover honey rosemary simple syrup I used to sweeten my Honey Rosemary Lillet Spritzer. I've also made this cocktail using regular, unflavored simple syrup, and when I'm desperate and don't have any simple syrup in the fridge, I resort to a teaspoon of turbinado sugar.
In other words, no excuses for not enjoying this cocktail. Okay? Head on over to Food Fanatic to grape this Bourbon Grapefruit Cocktail recipe.