Chocolate Bagels with Cookies & Cream Whipped Cream Cheese
Chocolate bagels… Need I say more? Oh, all right… Cookies and cream whipped cream cheese. Now put it all together: Chocolate Bagels with Cookies & Cream Whipped Cream Cheese. Heavy on the cream cheese!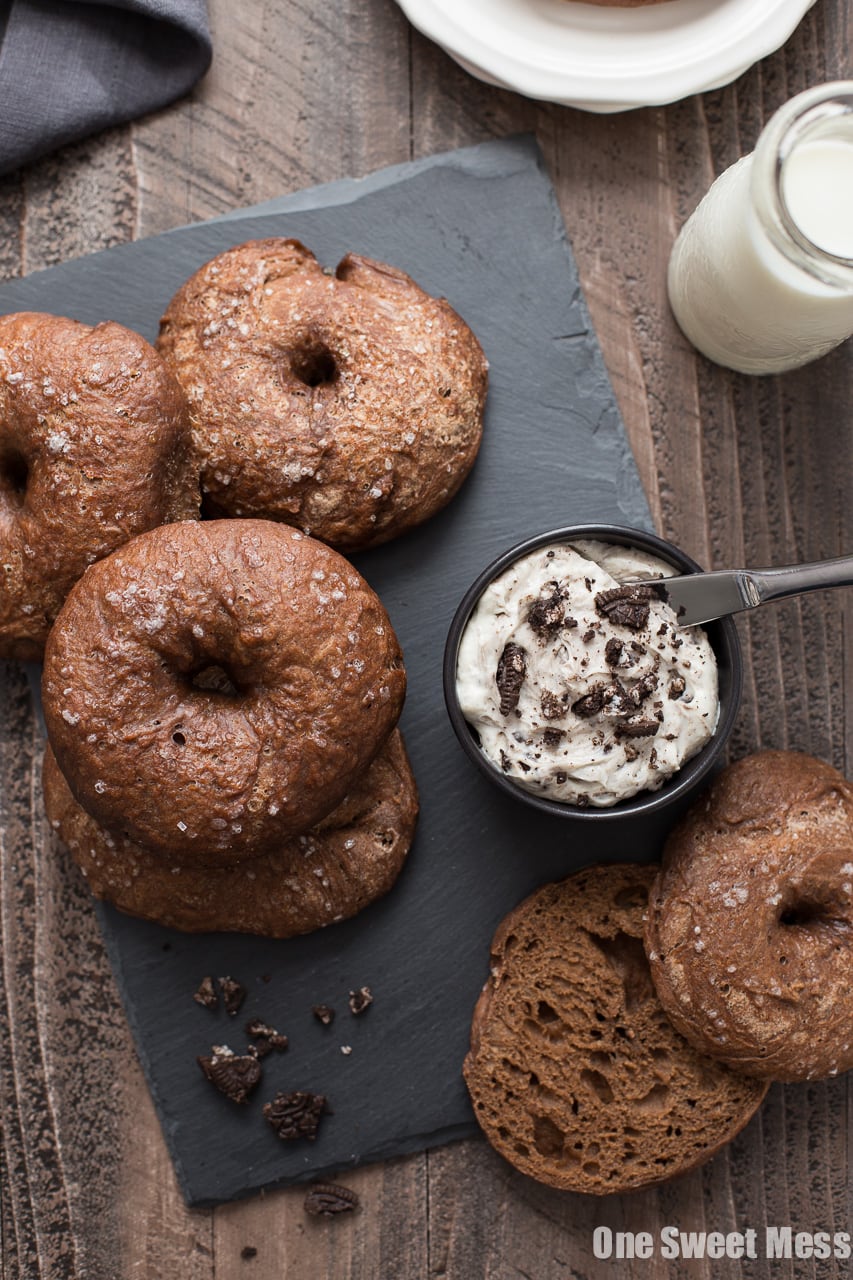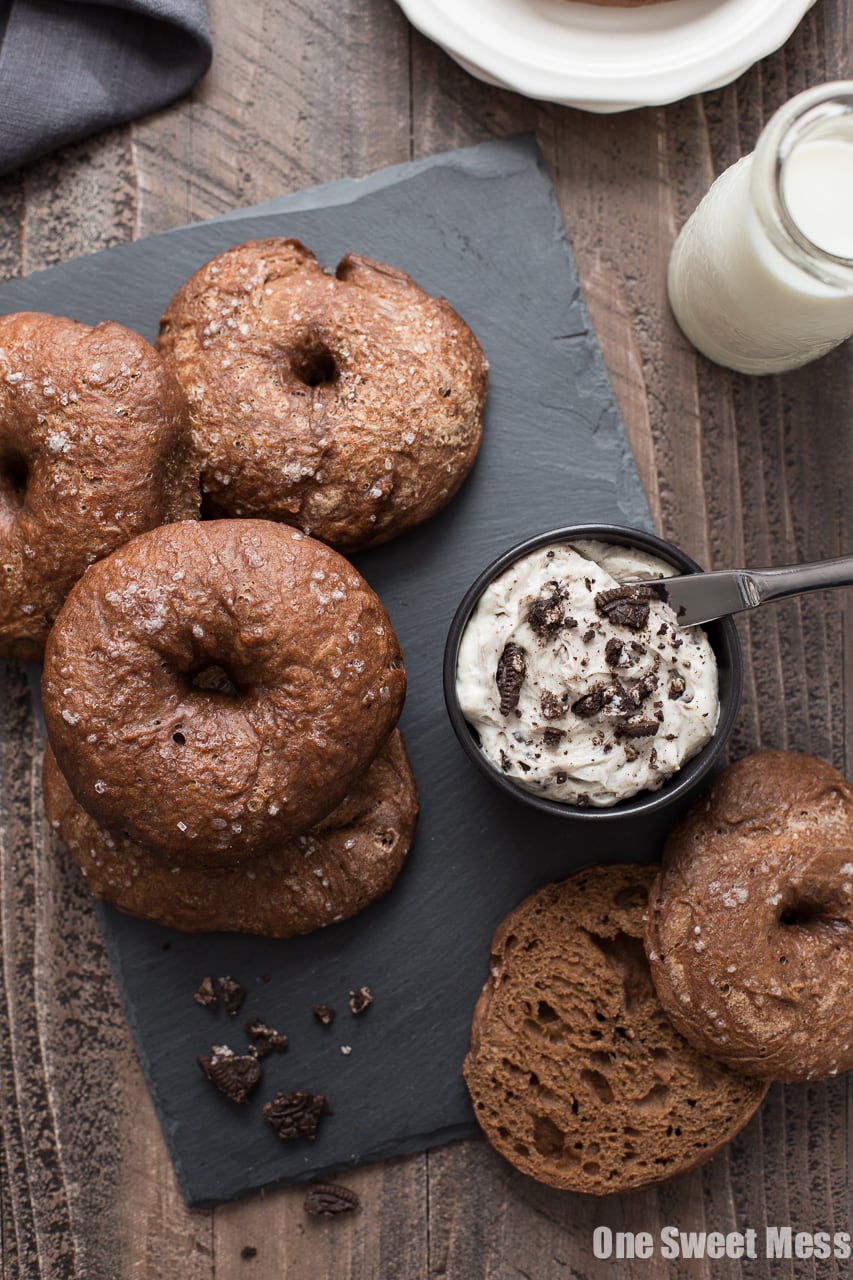 Never have I ever come across a chocolate bagel. I've had a chocolate chip bagel but never an all out chocolate to the core chocolate bagel. That's about to change, because I whipped up a batch of crisp-on-the-outside, chewy-on-the-inside chocolate bagels.
That's right, I made it happen. If you want something done right, sometimes you have to do it yourself.
Wait, it gets better… So. Much. Better. I stuffed them with a light and airy, slightly sweet cookies & cream whipped cream cheese. Just so we're on the same page, that's tangy cream cheese whipped with vanilla bean paste and a scoop of powdered sugar with crushed chocolate sandwich cookies (you all know the ones) folded in for good measure.
It's all about the details.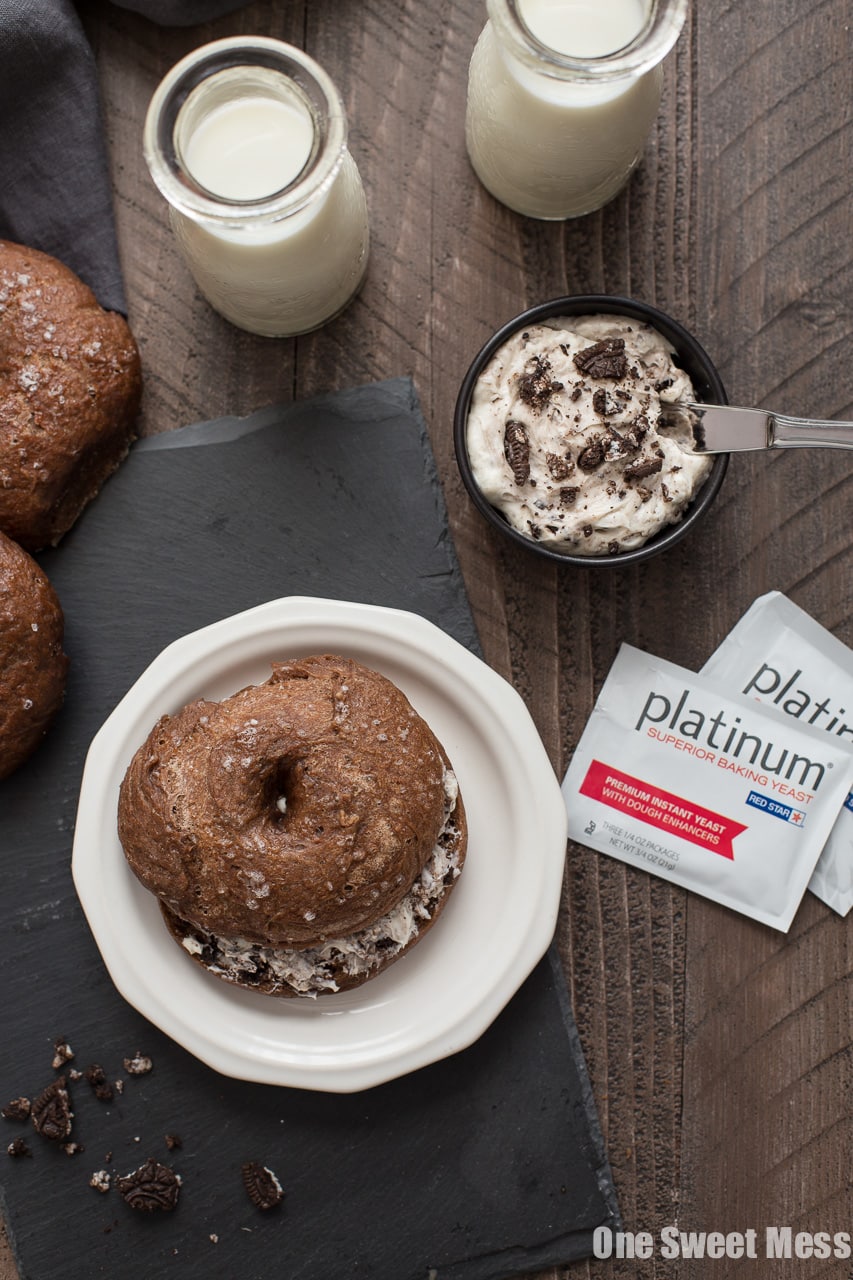 Seriously, these are some darn good bagels. They get their rich chocolate flavor from a scoop of good-quality cocoa powder and a splash of chocolate extract (yup, that's a thing!). If you're unable to locate chocolate extract, you can leave it out. I also added a teaspoon of instant espresso powder to boost the chocolate flavor, really intensify it.
I can not express enough the importance of using high-quality yeast, which is why I always, always reach for Red Star Yeast. It's all about the rise. If you want a tender, chewy bagel, the dough must puff and become light and airy. For this recipe, I used Red Star's Platinum line of yeast. It's fortified with dough enhancers to strengthen and improve your dough, resulting in increased volume and height. One packet will have you feeling like a bread baking rockstar. It's a good feeling.
If you're a beginner bagel maker (that was me once upon a time), refer to my bagel tutorial for the step-by-step bagel-making process. It's a really great guide.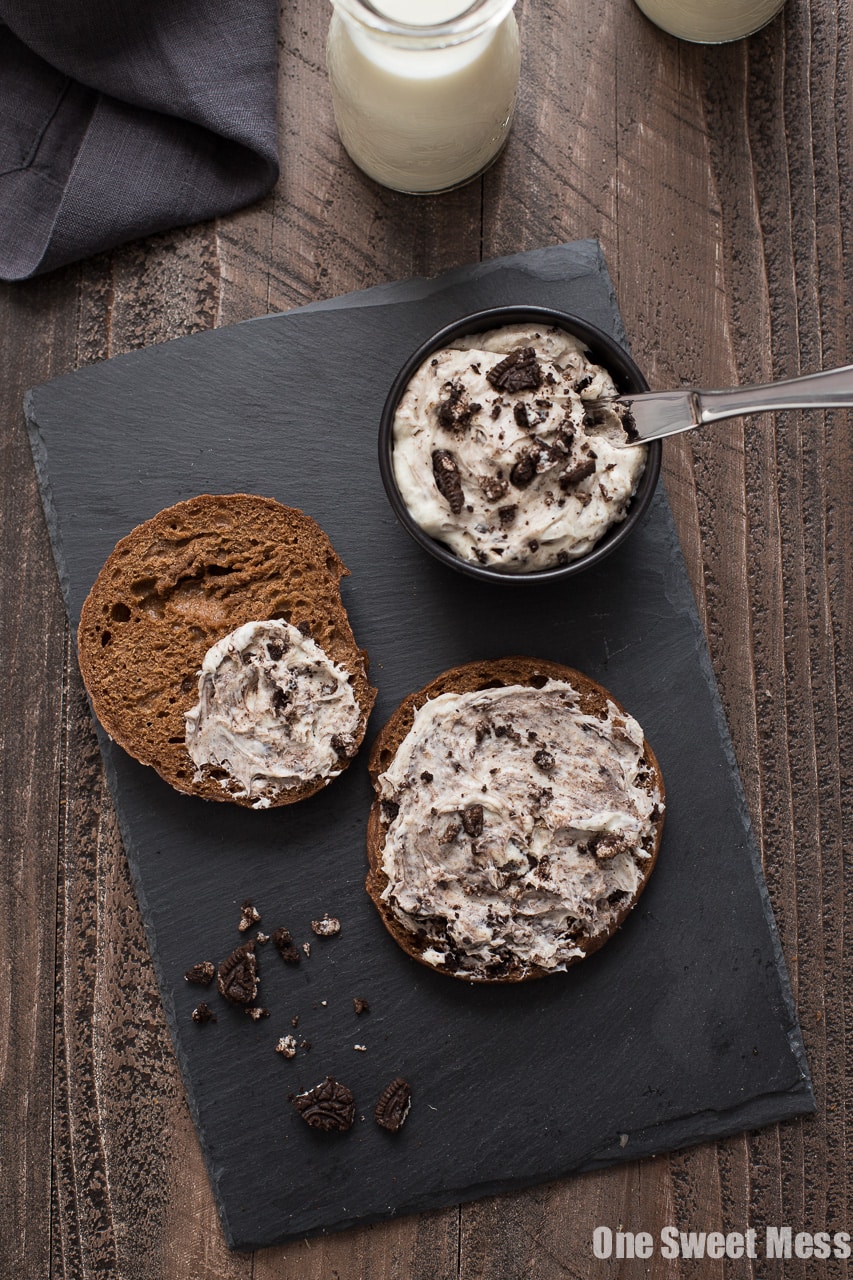 These chocolate bagels are delicious any time of the year, but they would definitely make a great addition to your Easter brunch menu.
Chocolate Bagels with Cookies & Cream Whipped Cream Cheese
Ingredients:
Bagels
3 and 1/4 cups bread flour
1/4 cup cocoa powder
1 and 1/2 teaspoons kosher salt
1 teaspoon instant espresso powder
1 and 1/2 cups warm water (not to exceed 120 degrees F.)
1 packet yeast (such as Red Star Platinum)
1/2 teaspoon vanilla extract
1/2 teaspoon chocolate extract, optional
Coarse sugar for topping, optional
Whipped Cream Cheese
1 (8-ounce) package cream cheese, softened
1/3 cup powdered sugar
1/2 teaspoon vanilla bean paste
5 chocolate sandwich cookies, crushed
Directions:
In a stand mixer fitted with the dough hook attachment, add flour, cocoa powder, espresso powder and salt. Mix on low speed until combined.
Gently whisk the hot water and yeast together in a measuring cup. Set aside for 5-10 minutes to allow the yeast to bloom.
With the mixer on low, slowly add the yeast mixture to the flour mixture. Add the vanilla and chocolate extract (if using). Continue to mix on low speed for 8 minutes.
Transfer the dough to a lightly floured surface. Knead the dough, adding flour as needed, for an additional 1 minute. Shape the dough into a smooth ball and place the dough in a lightly oiled bowl. Cover with a clean, dry kitchen towel and place the bowl in a warm, undisturbed area of your kitchen. Allow the dough to rise until its double in size, about 1-2 hours.
Transfer the dough to a lightly floured surface. Shape the dough into a log. Using a pastry scraper or floured knife, cut the log into 8 even pieces.
Gently roll the dough into balls. Place your thumb in the center of each ball and push down to create a hole. Gently tug on the dough to create a slightly larger whole. Cover the dough with a clean, dry kitchen towel and allow the dough to proof (rest) for 15 minutes.
While the dough is resting, heat 8 cups of water to a gentle boil and preheat the oven to 400 degrees F. Line a baking sheet with parchment paper.
Add the bagels to the water in two batches, and for 40 seconds on each side. Remove from the water with a slotted spoon and onto your prepared baking sheet. Sprinkle each bagel with a generous pinch of coarse sugar and bake for 25-30 minutes, or until the tops of the bagels are golden brown.
To make the whipped cream cheese, add the softened cream cheese and powdered sugar to a stand mixer fitted with the paddle attachment. Beat until smooth and creamy. Add the vanilla bean paste and mix until combined. Fold in the crushed chocolate sandwich cookies.
To serve, cut the bagels in half and lightly toast in a toaster (optional). Spread a thick layer of the whipped cream cheese on each half.
Store the cooled bagels in an airtight container or bag for up to 5 days. Or, freeze the bagels in a single layer for up to 3 months.
After several test batches, I believe bread flour to yield the best results. If you don't have bread flour handy, you can substitute all-purpose flour.
If you're unable to locate Red Star Platinum Yeast, their Active Dry and Quick Rise Yeast produce delicious results.
I prefer to make the whipped cream cheese right before serving so the cookies remain crunchy.
All images and text ©
.
Whipping up one of my recipes? I wanna know about it! Snap a photo and tag your post with #onesweetmess on Twitter or Instagram. Seeing your creations come to life makes my day!
Disclosure: This recipe was developed for the lovely folks at Red Star Yeast. All opinions are my own. Thank you for supporting my recipes and site while I work with brands I adore.