Blood Orange Cosmo
This perfectly pink Blood Orange Cosmo is easy sipping. It's sweet, slightly tart, and plain ol' tasty.
Have you been piling the blood oranges in your cart like they're going out of style? Every time I make a trip to the grocery store, I pick up a few more. The unfortunate fact is, they are going out of style, and at a rapid pace. Blood oranges have such a short season, so you have to get them while the gettin' is good.
Since I clearly have a cocktail problem, I decided to use the jewel-toned beauties to make this Blood Orange Cosmo recipe.
And, it's just in time for your Super Bowl and celebrations, ladies! Of course, the menfolk are more than welcome to join our pink cocktail party, but I'm betting their going to reach for a more manly drink, like beer or bourbon.
That's too bad, really, because this cosmo is pretty darn tasty. It was my saving grace during Snowpacalypse '16–or whatever the good people of Baltimore are currently calling it–when I was trapped in the house for 72 hours straight with Squirrel.
At hour 48, Squirrel looked over at me and said, "Your face annoys me."
My response was one of uncreative wit,"Um, yeah, well, you're face is starting to annoy me too!" I'll admit, it wasn't my best comeback.
I immediately walked my fuming ass downstairs to retrieve the items I needed from the liquor cabinet, all the while thanking the good Lord above that I keep the thing well-stocked. A few rattles of the cocktail shaker, and I was all sorts of mellow.
Four simple ingredients make up this cocktail: blood orange vodka, triple sec, blood orange juice, and lime. I came across 3 Howls Blood Orange Vodka during my recent visit to my local wine and spirits emporium. It's a great bottle of vodka, but if you're unable to locate blood orange, you can use any orange-flavored vodka. Finlandia's Tangerine Vodka and Stoli's Ohranj Vodka are also great choices.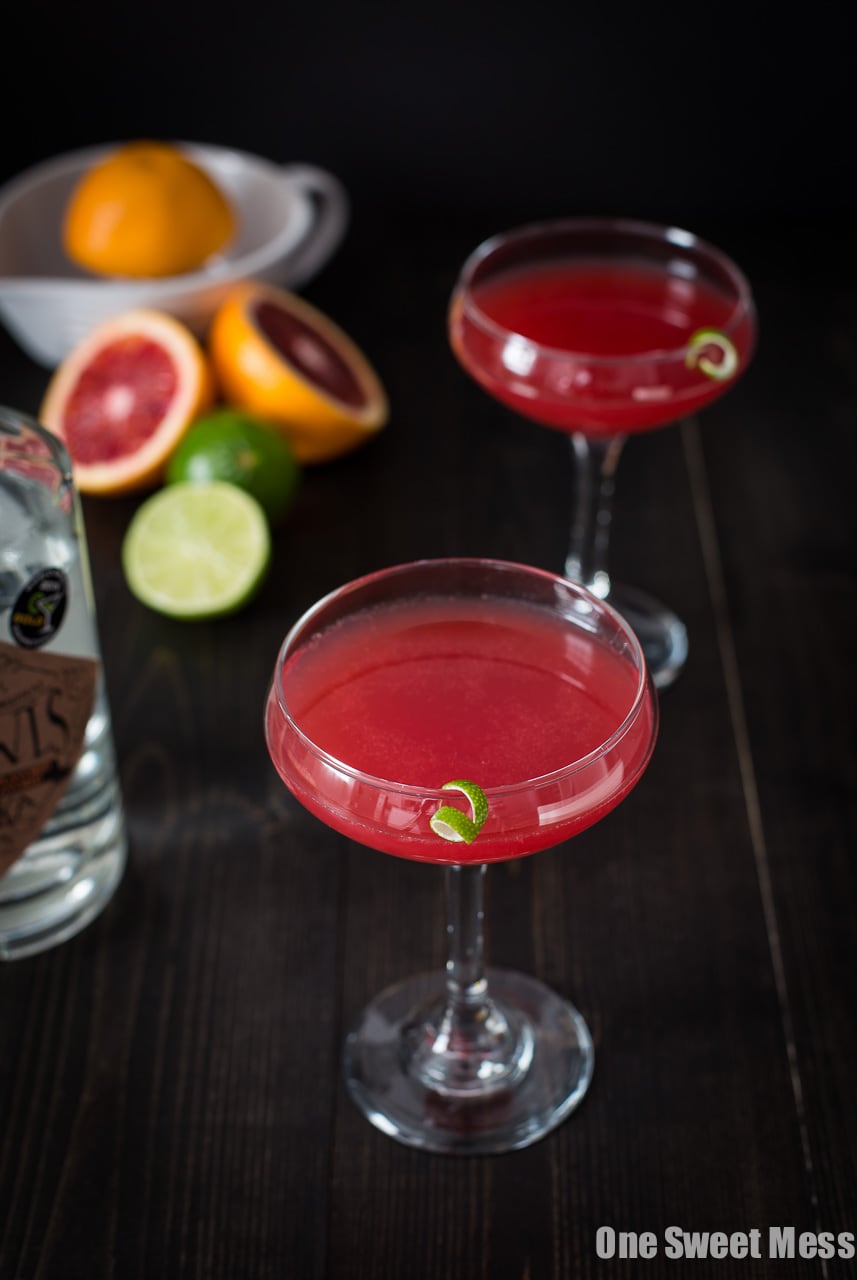 Given it's stunning shade of deep pink, this Blood Orange Cosmo is perfect for Valentine's Day as well. Be sure to make it soon before blood orange season disappears for good!
Blood Orange Cosmo
This perfectly pink Blood Orange Cosmo is easy sipping. It's sweet, slightly tart, and plain ol' tasty.
Ingredients:
3 ounces blood orange juice
1 ounce blood orange vodka
1/2 ounce triple sec
Squeeze of lime juice
Directions:
Add all of the ingredients to the cup of a cocktail shaker. Add a handful of ice and give the mixture a few vigorous shakes.
Transfer the mixture to a martini or coupe glass. Garnish with lime.
All images and text ©
.
Whipping up one of my recipes? I wanna know about it! Snap a photo and tag your post with #onesweetmess on Twitter or Instagram. Seeing your creations come to life makes my day!