The Mid-Winter Mule
The Mid-Winter Mule is strong. It loves having a good time with good people, and it hates when the night comes to an end. The frosty copper mug is its best friend. Bourbon, Pimm's No.1, ginger beer, and a delightfully warm cinnamon simple syrup get shaken to create one heck of a tasty cocktail.
When in doubt, reach for the bourbon. <--- That pretty much sums up my life motto.
It's funny how your taste in food, alcohol, and almost everything else changes as you get older. In my twenties, I was all about those sugar-filled malt beverages that clung to your tongue, causing a case of morning dry mouth the next day. I shudder at the very memory.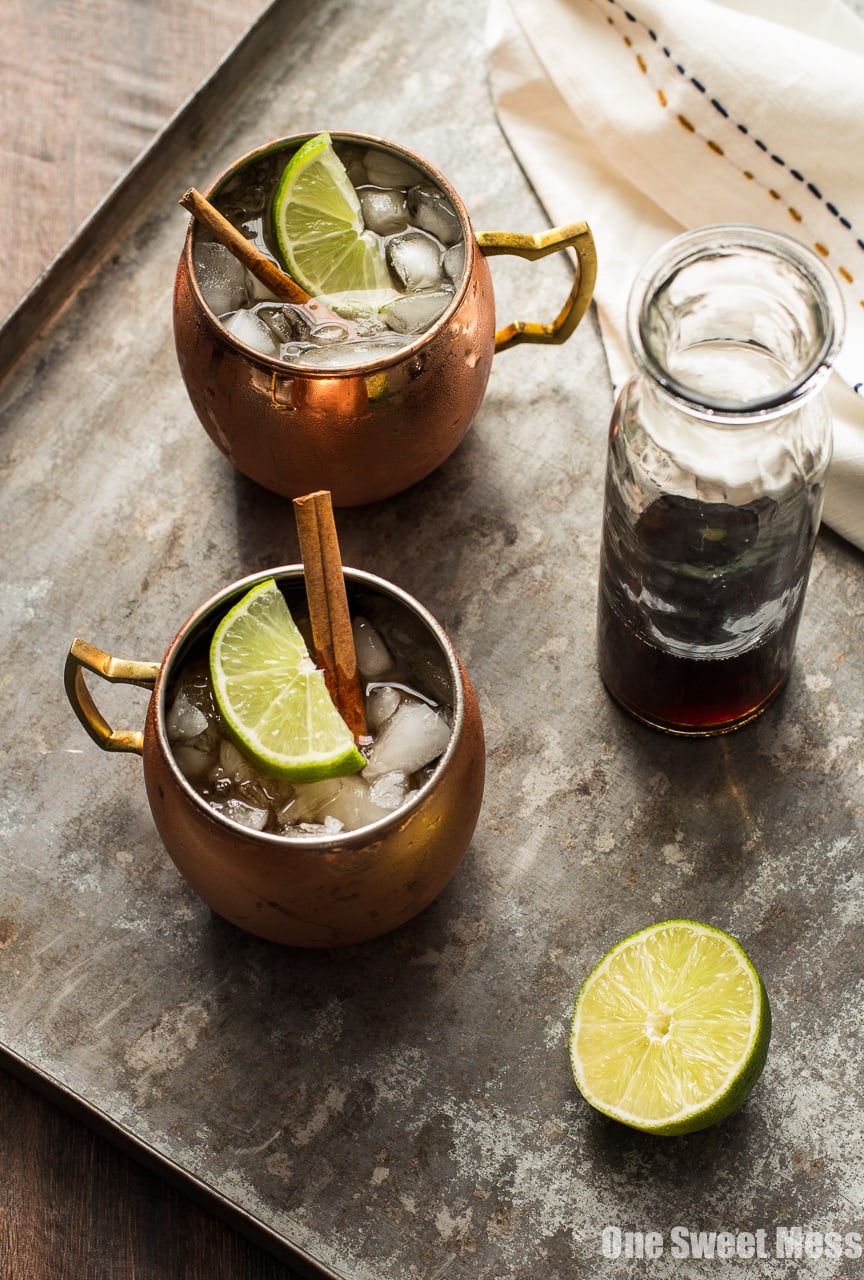 I'm happy to report that things have changed now that I've hit the ripe age of thirty one (saying that out loud makes me feel old). I've wizened up since my twenties, and instead of reaching for the Smirnoff Ice, I now reach for quality alcohol. Bourbon is and will forever be my liquor of choice. I'm smitten with its smooth, slightly musty, oaky flavor with an ever so slight hint of vanilla that lingers on the tongue after each sip. Typing that sentence has me wanting to reach for the bottle, and it's only 8:54 in the morning.
In due time, bourbon, in due time.
Squirrel and I are pretty lame when it comes to ringing in the New Year. In my opinion, the holiday is overrated, not to mention expensive if you decide to celebrate the evening at a bar or swanky venue. So, we stay home and watch the ball drop from our cushy couch in our pajamas instead. It's not a bad deal, really.
This year we binge-watched the last season of Sons of Anarchy. I sipped on this Mid-Winter Mule while simultaneously watching Sons and reading Harry Potter, and Squirrel had a few Jack and Cokes with his eyes glued to the television screen. All in all, it was a glorious night of relaxation.
Now it's back to the ol' grind–work, work, work!
Just because the holidays are behind us doesn't mean the end of cocktails. That's what the evenings are for, right?
This Mid-Winter Mule will warm your insides. It's a mixture of bourbon (lots of bourbon!), Pimm's No.1, cinnamon simple syrup, ginger beer, and lime. If you're not familiar with Pimm's, it's a combination of gin, herbal botanicals, caramelized orange, and warm spices. It's rich amber hue, along with its delicately sweet and fruity flavor has earned itself a spot at my bar.
Fun fact: If you don't own an ice maker that crushes ice, I have an alternative method for you. Place your cubed ice in a clean, dry tea towel. Gather the ends of the towel to secure the ice and give the towel a few good bangs on a hard surface. Viola, crushed ice!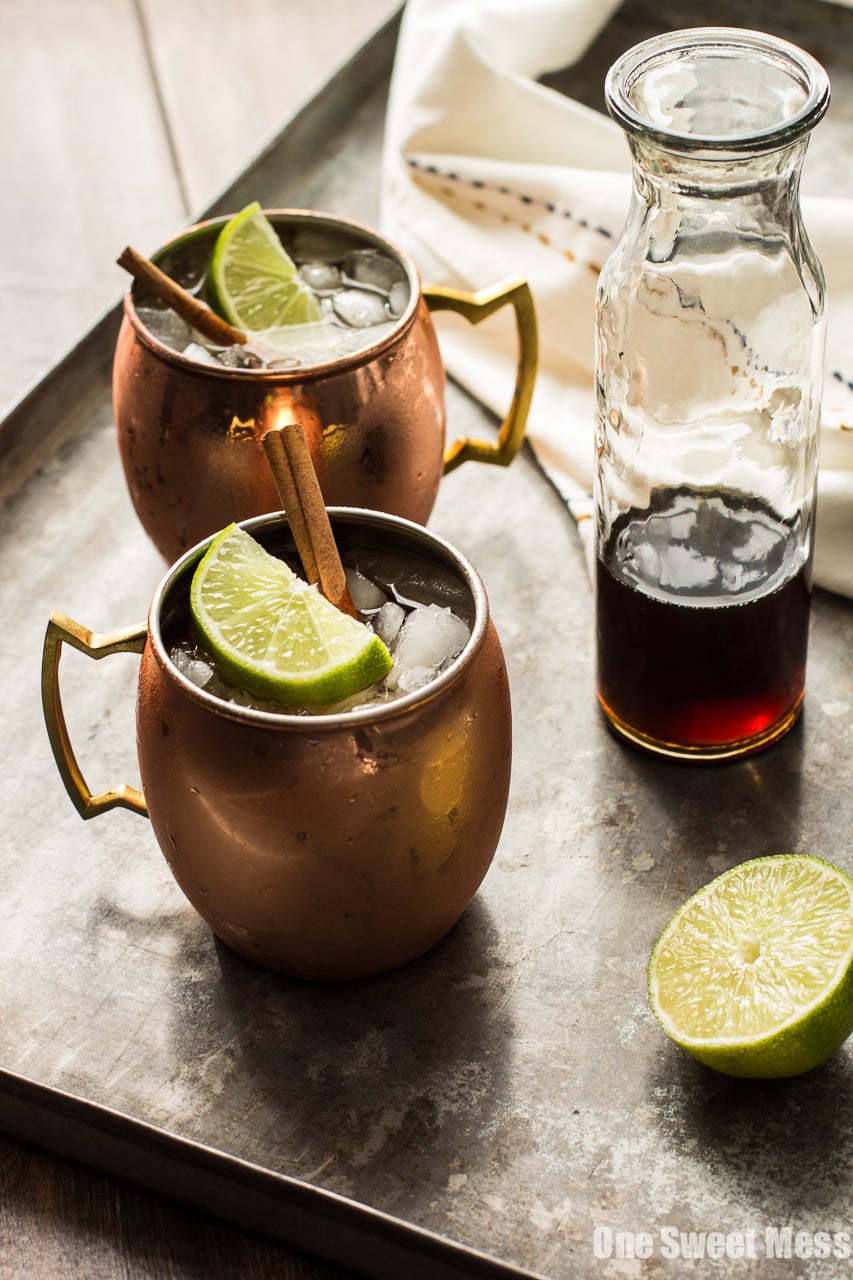 The sip: Each sip from the frozen copper mule mug is a strong one. This cocktail means business, and it's on a mission, and that mission is to get you tipsy and drunk with joy. This cocktail combines four flavor profiles: sweet, fruity, oaky, and spicy. The spice I'm referring to is cinnamon, and it has to be my favorite addition to this cocktail. Now, it's now pow-in-your-kisser cinnamon; instead, it's subtle and lingering in the background. It's all about balance.
The Mid-Winter Mule
This bourbon-infused cocktail combines Pimm's No.1, ginger beer, and homemade cinnamon simple syrup. It's all kinds of potent and all sorts of tasty.
Ingredients:
Mule:
2 ounces bourbon
1 ounce Pimm's No.1
1/2 ounce cinnamon simple syrup (recipe below)
4 ounces ginger beer
Lime wedge for garnish
Cinnamon stick for garnish
Cinnamon Simple Syrup:
1/2 cup turbinado (raw) sugar
1/2 cup water
6 cinnamon sticks
Directions:
Mule:
Add the bourbon, Pimm's No.1, and simple syrup to a cocktail shaker. Add a handful of ice to the shaker. Give the mixture a few vigorous shakes.
Transfer the mixture to a copper mug filled with crushed ice. Top with ginger beer. Garnish with a lime wedge and cinnamon stick.
Cinnamon Simple Syrup:
Add sugar and water to a saucepan. Bring the mixture to a gentle simmer; continue to simmer, stirring occasionally, until the sugar dissolves.
Take the saucepan off the heat and add the cinnamon sticks. Cover the pot and allow the mixture to sit overnight. Strain the mixture. Transfer to an airtight container and store in the refrigerator for up to 1 month.
All images and text ©
.
Whipping up one of my recipes? I wanna know about it! Snap a photo and tag your post with #onesweetmess on Twitter or Instagram. Seeing your creations come to life makes my day!