Healthy Funfetti Shake
This healthy funfetti shake is rich, creamy, and absolutely indulgent. Call it breakfast or call it a snack.
I like to trick myself into eating healthy. Obviously I know what I'm eating before it hits my mouth, but I prefer to trick my brain into thinking it's getting a rich, indulgent treat, when really I'm faking it out with a healthy snack posing as a decadent treat.
Get my drift?
I like my food real. I want no parts of that processed junk with ingredients I can't pronounce. Give me the real deal–healthy, wholesome food made with ingredients that contain three syllables or less.
This healthy funfetti shake is made with the good stuff: bananas, almond milk, yogurt, oats, almonds, honey, and vanilla and almond extract.
Notice a trend? Each ingredient is three syllables or less. Each ingredient can be easily pronounced. Each ingredient is un-fooled around with. We're real people. We deserve real ingredients.
I used Yulu Yogurt, the new yogurt on the block, to make this healthy shake. Yulu Yogurt is Aussie-style yogurt made right here in the United States. You guys, this yogurt is smooth. Matter of fact, it's double smooth. Each batch of Yulu Yogurt is smoothed twice to achieve an ultra creamy, exceptionally smooth texture.
The new Yulu Yogurt is unlike any yogurt I've ever tried. 1. You can see the black speckles of vanilla beans right through the clear cup, 2. It's velvety smooth, 3. There's no tangy, sour taste, and 4. Each cup is packed with 9 grams of protein.
I think I found my new favorite yogurt.
Because Yulu isn't tangy like other styles of yogurt, this funfetti shake tastes just like your slurping on a traditional milkshake made with ice cream.
This shake is rich in protein, calcium, fiber, and potassium. I added a heaping tablespoon of sprinkles for a boost of vibrant color. Because, sprinkles!
Real food. Real good. Happy slurping!
Healthy Funfetti Shake
A rich, creamy shake made healthy with frozen bananas, vanilla yogurt, oats, almonds, and honey.
Ingredients:
1 frozen banana
1 (5.3-ounce) container vanilla yogurt (such as Yulu Yogurt)
1/4 cup milk (dairy or non-dairy)
2 heaping tablespoons old-fashioned oats
1 heaping tablespoon raw almonds
2 teaspoons honey
1/4 teaspoon vanilla extract
scant 1/8 teaspoon almond extract
1 tablespoon rainbow sprinkles
Directions:
Place all of the ingredients in the bowl of a blender (except for sprinkles). Pulse until smooth.
Stir in sprinkles.
Transfer the shake to a glass. Serve immediately.
If you make any of my recipes, I want to know! Snap a photo and use the hashtag #MessyBakerBlog and tag me @themessybaker on instagram.
All images and text ©
.
Whipping up one of my recipes? I wanna know about it! Snap a photo and tag your post with #onesweetmess on Twitter or Instagram. Seeing your creations come to life makes my day!
Kitchen tools I used to make this recipe:
• Vitamix blender
• Measuring cups
• Measuring spoons
• Rainbow sprinkles
If you love smoothies, check out my other smoothie recipes.
Love sprinkles? Check out this recipe for Funfetti Cake Batter Oreo Ice Cream: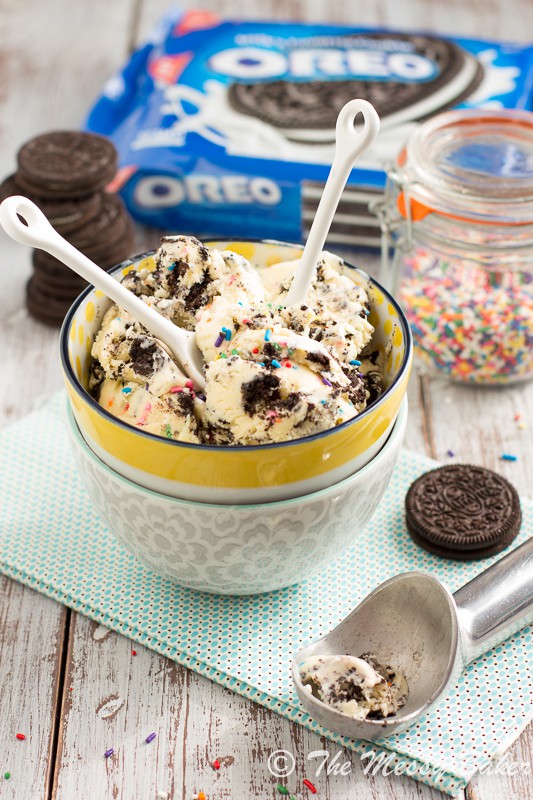 This is a sponsored conversation written by me on behalf of Yulu. The opinions and text are all mine.