Funfetti Cake Batter Oreo Ice Cream
Yup, this happening. It's not just something you dreamed up. This is the ultimate ice cream that beats all other ice cream recipes.
I have a running list labeled "Food Ideas" on my iPad. Every time I'm stricken with a brilliant idea for a recipe, I add it to the list. So far, I've only made one thing off of my list. With Pinterest, magazines, and blogs, I can't quite keep up with all of the delicious recipes I want to try, so the list got pushed to corner.
I've had this fierce craving for ice cream lately. I know it's getting cold out and everyone has since turned to warm pies, soup, and steaming cups of hot chocolate, but I want ice cream.
In my house, ice cream never goes out of season; it's a year-round treat that I can't resist. If there's ice cream in the freezer, I'm gonna eat it.
I finally decided to open the list the other day when I was in desperate need for recipe inspiration. I quickly scrolled down until I came across these words: funfetti cake batter oreo ice cream.
I really need to look at the list more often.
I love making homemade ice cream because the possibilities are endless. To give this ice cream that classic cake batter flavor that we all love so much, I added a combination of vanilla extract and almond extract.
Vanilla and almond create magic when combined. It's a flavor like no other.
This ice cream is every ice cream lover's dream come true. It's rich, creamy, and perfectly sweet.
The addition of rainbow jimmies and crushed Oreo cookies takes this ice cream from good to amazing.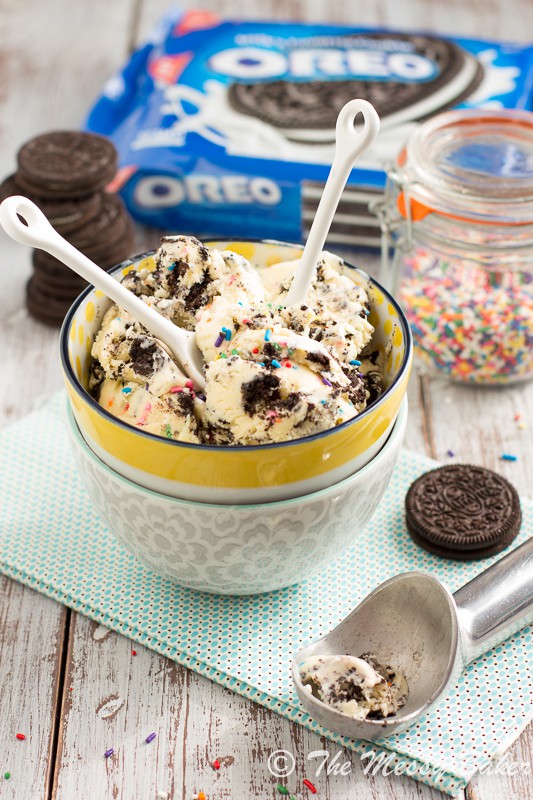 A spoonful of this ice cream, and you'll become addicted.
Funfetti Cake Batter Oreo Ice Cream
Ingredients:
1 cup whole milk
1/2 cup sugar
2 cups heavy cream, divided
5 egg yolks
1 1/2 teaspoons vanilla extract
1/4 teaspoon almond extract (or emulsion)
10 Oreo cookies, roughly crushed
1/4 cup rainbow jimmies
Directions:
In a large bowl, add 1 cup of heavy cream and place a mesh strainer on top.
In a medium bowl, add the egg yolks. Whisk to combine.
Heat the milk, sugar, and remaining cup of heavy cream in a medium saucepan over medium-low heat just until the mixture is hot to the touch (do not boil).
Slowly pour the heated milk mixture into the egg yolks, whisking constantly. Add the egg mixture back to the saucepan and cook over medium heat, whisking constantly until the mixture thickens, about 4 minutes. Pour the mixture through the strainer and stir into the cream. Add the vanilla and almond extract (or emulsion) and stir to combine.
Place the mixture in an airtight container and chill completely before churning, at least 8 hours.
When the mixture is completely chilled, place it in your ice cream maker and churn according to the manufacturer's instructions. When the ice cream is finished churning, stir in the crushed Oreo cookie pieces and rainbow jimmies with a rubber spatula. Place ice cream in an airtight container and freeze.
All images and text ©

.

Whipping up one of my recipes? I wanna know about it! Snap a photo and tag your post with #onesweetmess on Twitter or Instagram. Seeing your creations come to life makes my day!