Cranberry-Orange Spritzer
A sparkling cocktail made with tangy cranberry juice, sweet orange, and creamy vanilla vodka.
Move over, pumpkin, because there's a new fall flavor combination in town.
Pumpkin isn't the only fall flavor, you know. Although, looking at Pinterest, you wouldn't be able to tell that any other flavor combinations exist during the fall/winter months. It's all pumpkin, pumpkin, pumpkin. Pumpkin certainly does have a Marsha Brady thing going for it come September.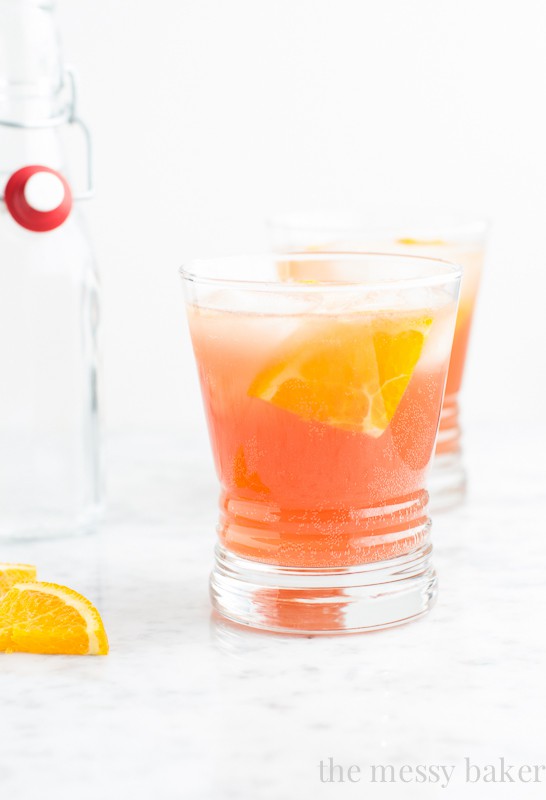 Don't get me wrong, I love pumpkin. I even count down the days until September: the official start of pumpkin madness. However, not everyone loves pumpkin like I do, and I'm a people pleaser; I like to make everyone happy, not just a select group.
For all of you pumpkin haters, this cranberry-orange spritzer is for you!
Cranberry and orange–it's a classic. You see it pop up around Thanksgiving in the form of cranberry sauce, bread, and muffins. All those things are great, but wouldn't you rather something you could sip that happens to contain booze?
That's a rhetorical question folks, because I already know the answer. Heck yes, you would!
Bonfire season is also coming up. Wouldn't you like, to say, sip on a fall-inspired beverage while you cozy up next to the campfire and tell spooky stories while toasting marshmallows? Again, a rhetorical question.
If you said yes to all of those things, this cranberry-orange spritzer is for you.
Let's get our fall on!
Speaking of fall… Who started wearing their riding boots? I'm impatiently waiting. I took them out of their boxes so I can stare at them until the weather cools down.
Let's talk about this cocktail. You're going to love it! It's sweet, tangy, fruity, and bubbly. And, it comes together in a few shakes.
Start by shaking 4 ounces of cranberry juice, the juice of one orange, 1 ounce of triple sec, and 2 ounces of vanilla vodka (or a flavor of your choice) with a scoop of ice. Shake, shake, shake!
Divide the boozy mixture between 2 glasses. Add ice and a splash of club soda or sprite. Garnish with a wedge of orange.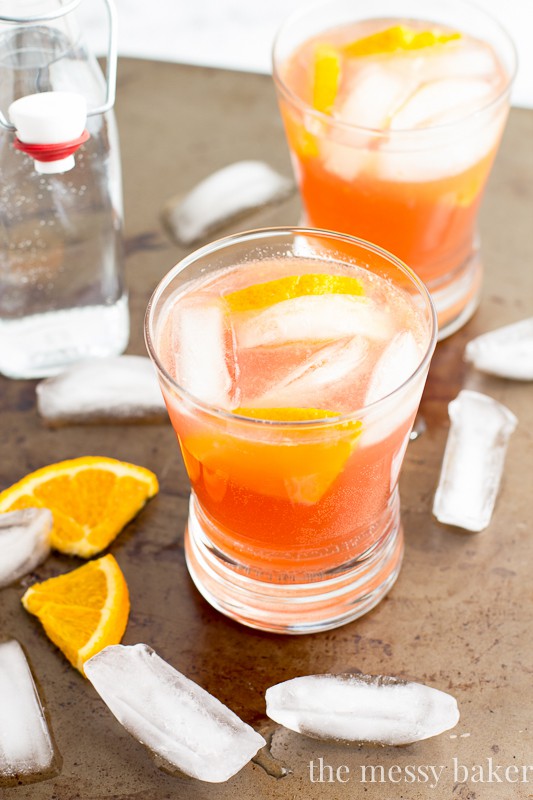 I used vanilla vodka in this recipe, but you can use whatever flavor you have handy. The vanilla-flavored vodka adds a subtle creaminess that pairs nicely with the tanginess of the cranberry.
Cranberry-Orange Spritzer
A sparkling cocktail made with tangy cranberry and sweet orange. Spiked with vanilla vodka, this cocktail will be your new fall favorite.
Yield: 2 glasses
Total Time: 5 minutes
Prep Time: 5 minutes
Cook Time: 0 minutes
Ingredients:
4 ounces cranberry juice
juice of 1 orange
2 ounces vanilla vodka
1 ounce triple sec
splash or club soda or Sprite
orange wedges for garnish
Directions:
Add cranberry juice, orange juice, vodka, and triple sec to a cocktail shaker filled with ice. Give the mixture a few generous shakes.
Divide the mixture between two glasses. Add ice and a splash of club soda or Sprite. Garnish with an orange wedge.
All images and text ©
.
Whipping up one of my recipes? I wanna know about it! Snap a photo and tag your post with #onesweetmess on Twitter or Instagram. Seeing your creations come to life makes my day!
17 Responses to "Cranberry-Orange Spritzer"

Leave some love. It makes me happy!