White Chocolate Pumpkin Almond Butter
Thick, creamy almond butter made with everyone's favorite fall ingredient: pumpkin.
I know it's a bit early, and technically still summer, but I couldn't contain my excitement for fall and all things pumpkin any longer, so I made you a jar of white chocolate pumpkin almond butter.
For all of you summer lovers, I hope we're still cool.
Remember the white chocolate cinnamon almond butter I made a few months ago? I took that recipe and added some fall flair to the ingredient list.
I have major pumpkin brain lately. I have even resorted to carrying around a notebook so I can keep a record of my fall recipe ideas as soon as they pop into my brain.
So. Many. Pumpkin recipes.
If you're not in the mood for pumpkin, I hope the craving hits you soon, because the Interweb is about to barf up an overwhelming amount of pumpkin recipes.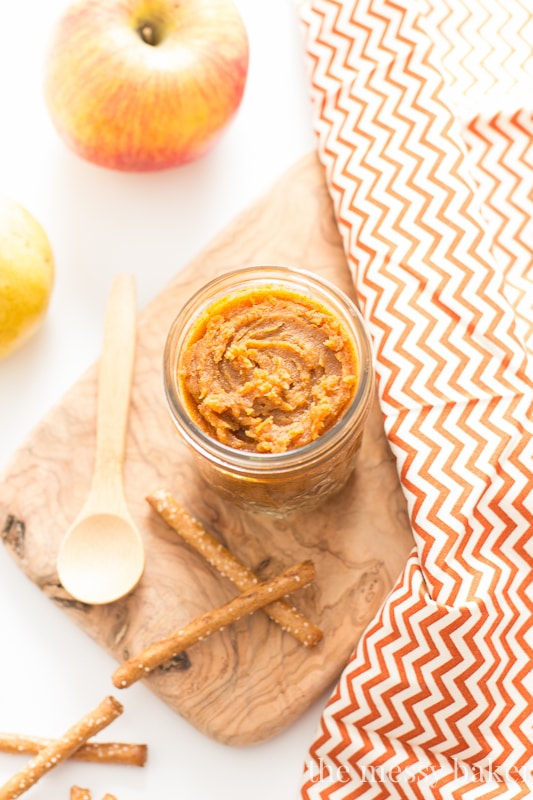 This almond butter is super easy to make. If you've never made homemade peanut butter or almond butter before, I have a step-by-step dark chocolate peanut butter tutorial you can use as a guide.
I used a combination of pumpkin puree and pumpkin pie spice to create that classic pumpkin flavor we all look forward to each and every fall. The pumpkin pie spice gives the butter a warm, spicy flavor. I added a generous scoop of white chocolate chips to sweeten the butter and give it a creamy texture.
You can dip until your heart is content. I like to use honey wheat pretzel sticks, apples, pears, vanilla wafers, and biscotti. You can even spread it on warm toast. The butter is a bit thick, so I heat it in the microwave for a few seconds to soften it up a bit.
It tastes like pumpkin pie in a jar.
White Chocolate Pumpkin Almond Butter
Thick, creamy almond butter made with white chocolate, pumpkin puree, and pumpkin pie spice. It's almond butter with fall flair.
Yield: 10 ounces
Total Time: 10 minutes
Ingredients:
1 cup raw almonds
1/2 cup white chocolate chips
1/4 cup pumpkin puree
1/2 teaspoon vanilla extract
1/2 teaspoon pumpkin pie spice
pinch of salt
Directions:
Add the almonds to the bowl of your food processor. Turn on the processor and allow the almonds to blend until they become smooth and creamy, about 8-10 minutes.
Add the white chocolate chips and blend until the chocolate if fully melted and smooth. Add the pumpkin puree, vanilla extract, and pumpkin pie spice. Blend until smooth.
Store in an airtight container for up to 2 weeks.
All images and text ©
.
Whipping up one of my recipes? I wanna know about it! Snap a photo and tag your post with #onesweetmess on Twitter or Instagram. Seeing your creations come to life makes my day!
15 Responses to "White Chocolate Pumpkin Almond Butter"

Trackbacks/Pingbacks

Leave some love. It makes me happy!