Gluten-Free Bacon Banana Pepper Pizza
Gluten-free pizza crust topped with crispy bacon and tangy banana peppers. This gluten-free bacon banana pepper pizza is a crowd pleaser.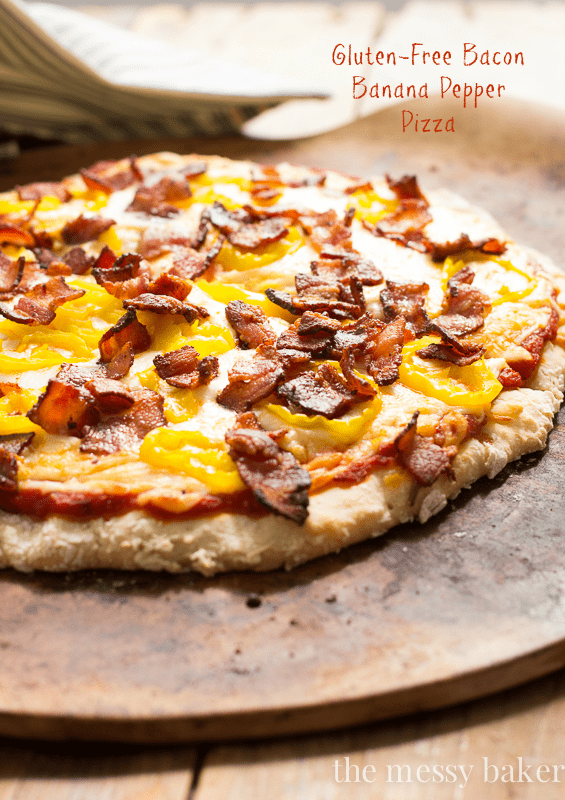 Pizza… It's an American favorite. I don't think I know one person who doesn't like a good slice of pizza dripping with melted cheese and crispy toppings.
My mouth is watering just thinking about all that gooey cheese.
Friday night is pizza night in our house. I make the dough up ahead of time and store it in the fridge until I'm ready for it on Friday evening. We very rarely order pizza from our local pizza shop these days. Once you have homemade pizza, you're hooked. The dough is chewy, yeasty, and perfectly crisp. You get to add as much or as little cheese as you want–extra cheese for me, please! And, the topping combinations are endless.
Today, I made you a gluten-free version of our favorite pizza using Pamela's Products Pizza Crust Mix. Our favorite topping combination is banana peppers and crispy bacon. The banana peppers add a sweet heat, and the bacon adds a salty crunch. Whenever I ask my family what they want on their pizza, they request this combo.
I keep a huge jar or banana peppers stocked in my fridge and bacon at the ready in my freezer. You'll want to drain the banana peppers and crisp up the bacon in a skillet before adding them to your pizza.
The dough:
Gluten-free pizza dough is very different than dough made with wheat flour. Like any other pizza dough, gluten-free pizza dough requires yeast in order to rise and create a thick, chewy crust. The dough mixes up sticky and requires gentle handling.
Unlike pizza dough made with wheat flour, gluten-free pizza dough is airy, not elastic. Instead of rolling it out with a rolling pin, you're going to use your fingers to press and shape the dough into a 1/2-inch thick circle directly on your pizza stone or parchment-lined baking sheet.
I always pre-bake my pizza crust before adding the sauce and toppings. Since most of us don't own a pizza oven, pre-baking the crust is imperative and should not be skipped. Pre-baking gives the crust that crispy, golden bottom that you crunch through with every bite. Soggy pizza is not okay.
Though the dough comes together a bit differently than pizza crust made with wheat flour, the flavor, crunch, and texture are spot on. I fed this pizza to Squirrel, and he had no idea it was gluten-free until I let him in on the secret. He just kept munching away, telling me how good it was.
Have crust, will travel.
Often times, I find myself over my parent's or a friend's house on a Friday night for cocktails. The great thing about pizza dough is that is travels well. I pack my chilled dough, sauce, and toppings in a cooler and take them with me. It makes for a fun traveling pizza party.
Each slice of pizza is dripping with melted cheese and loaded with peppers and bacon. The crust is perfectly golden and crisp. One slice just isn't enough.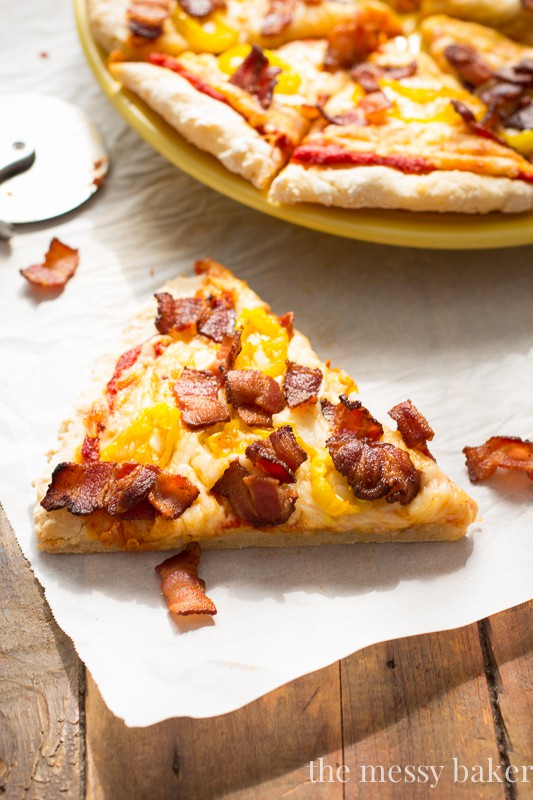 Pamela's Products is providing 5 gluten-free prize packages to 5 lucky winners. Each prize pack will include 1 bag of their Artisan Flour Blend, 1 bag of their Biscuit & Scone Mix, and 1 bag of their Pizza Crust Mix. I have had the pleasure of baking with each of these mixes and love every single one of them.
This giveaway is open to U.S. residents only. Five winners will be chosen and contacted via email. Each winner will have 2 days to respond with their mailing address. If a winner fails to respond within 48 hours, a different winner will be chosen. Good luck! 
Gluten-Free Bacon Banana Pepper Pizza
Ingredients:
1 package Pamela's Products Pizza Crust Mix
3/4 teaspoon kosher salt
1 cup + 2 tablespoons hot tap water (not to exceed 110 degrees F.)
1 teaspoon honey
1 package active dry yeast (included in pizza crust mix)
2 tablespoons extra-virgin olive oil
1/2 cup pizza sauce
2 cups shredded mozzarella cheese
1/2 cup banana pepper rings, drained
6 slices bacon, cooked and crumbled
Directions:
In a large bowl, whisk together pizza crust mix and kosher salt.
Whisk together hot tap water and honey in a measuring cup or small bowl. Gently stir in yeast. Allow the mixture to rest for 5 minutes.
Using a rubber spatula, gently stir the yeast mixture and 2 tablespoons of olive oil into the dry ingredients until thoroughly combined. The dough will be very sticky.
Turn the dough out onto a floured surface. Gently form the dough into a loose ball. Place the ball in a lightly oiled bowl. Cover the bowl with a clean, dry towel and place the bowl in a warm, undisturbed area of your kitchen. Allow the dough to rise for 2 hours.
Preheat the oven to 400 degrees F.
Place the dough ball on a pizza stone or parchment-lined baking sheet. Using your fingers, gently press the dough out to form a 1/2-inch thick circle. Place the dough in the oven and allow to bake for 20 minutes, or until the bottom of the crust is a light shade of golden brown.
Spread the pizza sauce evenly over the surface of the pre-baked pizza crust. Sprinkle on the cheese. Top with banana peppers and crispy bacon. Bake the pizza for 12-15 minutes, or until the cheese is melted.
Cut into eight slices and serve immediately.
All images and text ©
.
Whipping up one of my recipes? I wanna know about it! Snap a photo and tag your post with #onesweetmess on Twitter or Instagram. Seeing your creations come to life makes my day!
Disclosure: This recipe was developed for the amazing folks at Pamela's Products. All opinions in this here post are my own. Thank you for supporting my recipes and site while I work with brands I adore.