Smoky Slow Cooker Venison Chili
This week's #SundaySupper theme is all about comfort food, and who doesn't enjoy some good old soul-satisfying food? This Smoky Slow Cooker Venison Chili is the very definition of comfort food.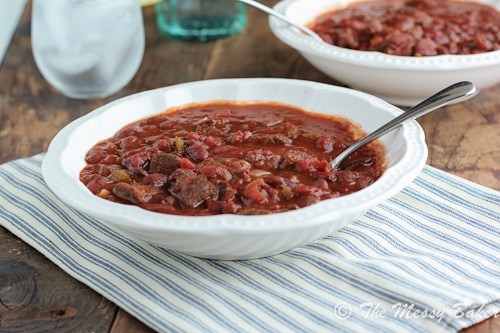 For me, comfort food is nostalgic. It warms your heart and evokes memories of childhood, loved ones, past events, triumphs, and "the good ol' days." It's the spaghetti pie my great-grandmother used to make, my mom's pot roast, or my Grandmom's sugar cookies. It's all the food I grew with as a child and still look forward to as an adult.
My brother recently murdered his very first deer. I know, "murdered" sounds harsh, but either way you look at it, the deer is dead. Personally, I don't have the heart to kill Bambi. One look from those big doe eyes, and I'm no more good. The deer would end up with a hug and a pat on its fluffy little deer tail. What can I say, I'm a lover.
In honor of my brother's first deer, I made Smoky Slow Cooker Venison Chili. It's hearty, filling, and loaded with chunks of tender venison. This chili is, to quote my brother, "Amazing!"
This chili screams comfort food. It's full of tender chunks of venison, smoky chipotle peppers, smoked paprika, creamy kidney beans, and a generous helping of bell peppers and onions.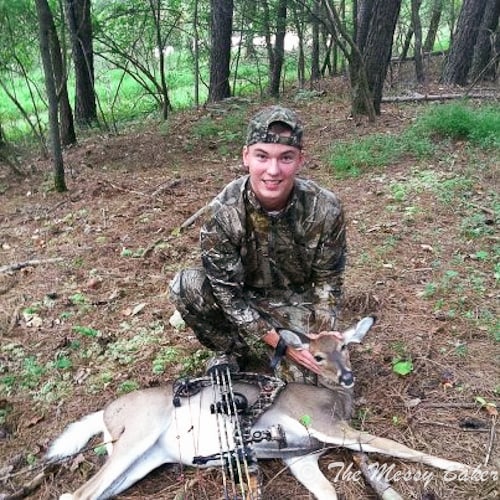 I may not suit up and go all caveman-style and fetch my own food, however, I will let my little brother do the dirty work for me. Eh, that's what boys are for, right? My job is to cook the food and feed the hungry. That's it. Besides, stilettos and mud don't mix.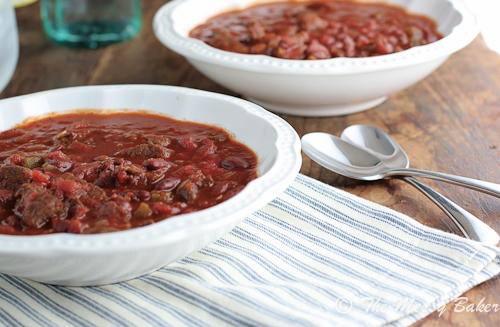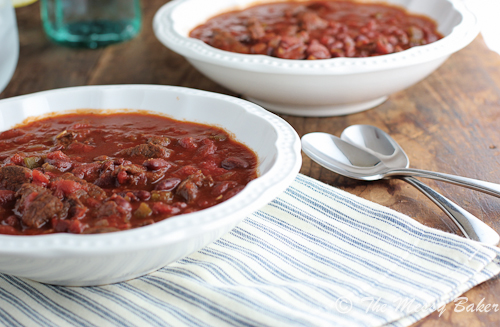 Ready for the best part? This chili is made in the slow-cooker. All you have to do is brown the venison, then dump all the ingredients in the crockpot. Viola, delicious chili made easy.
Enjoy!
Smoky Slow Cooker Venison Chili
Ingredients:
Marinade
2 cloves garlic, chopped
1/4 cup canola oil
1/4 cup red wine vinegar
1 tablespoon worcestershire sauce
2 tablespoons. chipotle in adobo (see note)
1/2 teaspoon smoked paprika
1/2 teaspoon ancho chili powder
1/2 teaspoon kosher salt
1/4 teaspoon pepper
Chili
2 and 1/2 pounds venison or beef, cut into chunks
1 (28-ounce) can crushed tomatoes
1 (40.5-ounce) can kidney beans
4 tablespoons tomato paste
1 (14-ounce) can diced tomatoes with chiles
2 tablespoons chipotle in adobo (see note)
3 cloves garlic, minced
1 large onion, diced
1 green bell pepper, diced
1 tablespoon worcestershire sauce
2 tablespoons chili powder
1 teaspoon smoked paprika
1 teaspoon ancho chili powder
1 teaspoon cumin
1/2 teaspoon cayenne pepper
Few dashes Tabasco
Salt & pepper
Directions:
Marinade
In a large bowl, whisk together garlic, canola oil, vinegar, worcestershire sauce, chipotle in adobo, smoked paprika, and ancho chili powder.
Add venison or beef and toss in the marinade. Cover with plastic wrap and refrigerate overnight.
Chili
Add a few tablespoons of canola oil to a large sauté pan and heat over medium-high heat. Add the venison or beef and brown on each side.
Add the browned meat to the crockpot, then add the remaining chili ingredients to the pot. Stir to combine.
Cook on low for 8 hours. If you want a thicker chili, add more tomato paste. Season with salt and pepper to taste.
Place an entire can of chipotle in adobo in the food processor and pulse to create a paste. Store in an airtight container in the refrigerator for up to 1 month.
All images and text ©
.
Whipping up one of my recipes? I wanna know about it! Snap a photo and tag your post with #onesweetmess on Twitter or Instagram. Seeing your creations come to life makes my day!