Cuban-Style Grilled Chicken Salad
This Cuban-Style Grilled Chicken Salad is loaded with mixed greens, black beans, ripe tomatoes, charred corn, sliced avocados, and coconut-oil fried plantains. It's not your average main-dish salad!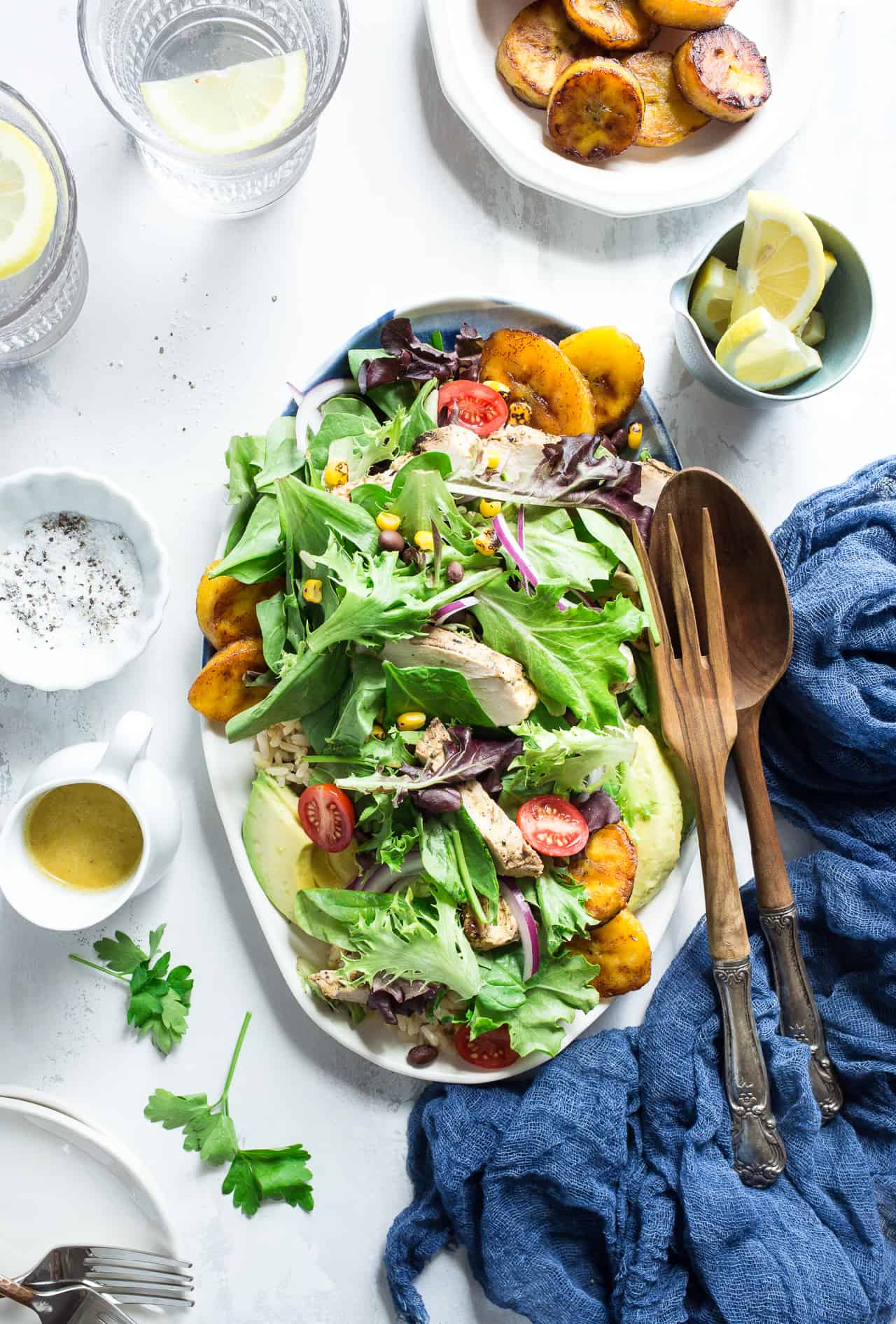 I've been craving salad like whoa lately. No doubt, it has everything to do with the fact that our air conditioning took a crap on us and we're currently living in a sauna-like atmosphere.
I've made sitting in front of the fan my job these days. When I do muster up the energy to peel myself away from the air flow, salad is about the only thing I have the energy to make right now, and then it's immediately back to sitting in front of the fan–salad in hand, of course.
You know I'm all about sourcing healthy, high-quality ingredients. What if I told you that you can shop healthy but spend less? You'd be all over it, right! Same here. When Sprouts Farmers Market opened a location in the area, I had to check it out. They promise quality ingredients for less, and they stay true to their promise.
I purchased all of the ingredients to make this Cuban-Style Grilled Chicken Salad at their newest Sprouts location in Towson, Maryland. This fully-loaded main-dish salad will satisfy even the hungriest guy or gal. You wanna know the best part… The coconut-oil fried plantains! I do love me some fried plantains, but I rarely ever make them at home.
That changes today, friends, because frying plantains is super easy. A few tablespoons of coconut oil in a pan and 1 ripe, firm plantain is all you'll need. Two minutes on each side and a sprinkle of salt and you have yourself a tasty snack or, in this case, a deliciously addictive salad topping.
The ingredient list is as real as it gets. There is nothing processed, manufactured, or synthetic in this salad. Every single ingredient is straight from the earth. I think we owe Mother Nature a big fist bump. Thumbs down for all the rain, though. Just sayin'!
What's in this Cuban-Style Grilled Chicken Salad that makes it oh, so healthy:
Organic, free-range chicken breasts
Mixed greens
Organic Plantains
Cherry tomatoes
Black Beans
Local, organic corn
Avocado
Red onion
Brown rice
What I love most about this Cuban-Style Grilled Chicken Salad, aside from the fried plantains, of course, is that the sour orange marinade for the chicken also duals as the dressing for the salad. It's the whole "Two birds. One stone." concept. You gotta love that, because, let's be real, simple and easy is highly welcome in the summer. The last thing I want to do is cut into your beach time.
You're most likely not going to be able to locate sour oranges, but that's okay, because I couldn't either. To mimic the same flavor profile as a sour orange, combine freshly-squeezed orange juice with lemon and lime juice. It's that simple.
Even if you don't make the salad, I highly recommend marinating and grilling the chicken with the sour orange marinade/dressing. The flavor is absolutely outstanding–big, bold, and zesty. You'll want to put the chicken on everything.
But, seriously, the salad is legit. If you're craving salad as much as I am this summer, give this vegetarian option a try—> Roasted Sweet Potato and Black Bean Salad with Chili Lime Vinaigrette.
Cuban-Style Grilled Chicken Salad
Ingredients
Marinade/Dressing
Zest of 1 orange
Juice of 2 large oranges, about 1/2 cup
juice of 1 lemon
juice of 2 limes
2 cloves garlic, roughly chopped
½ jalapeno, seeds removed and roughly chopped
1 scallion, roughly chopped
1 teaspoon dijon mustard
4-5 dashes hot sauce
½ teaspoon ground cumin
¼ teaspoon ground coriander
½ teaspoon oregano
¼ teaspoon smoked paprika
1 and 1/2 teaspoons kosher salt, divided
1 teaspoon honey
⅓ cup olive oil
2 large chicken breasts, pounded out to 1/2-inch thick
Fried Plantains
4 tablespoons coconut oil
2 plantains, peeled and sliced into 1/4-inch thick rounds
Salad
2 cups cooked brown rice
1 5-ounce container spring salad mix (about 6 cups)
1 cup grape or cherry tomatoes, halved
1 cup grilled corn kernels
1 cup black beans, drained and rinsed
½ cup thinly sliced red onion
1 large avocado, chopped
½ cup Cotija cheese, optional
Instructions
To make the marinade/dressing, add orange zest and juice, lemon juice, lime juice, garlic, jalapeno, scallion, dijon, hot sauce, spices, 1/2 teaspoon kosher salt, and honey to the bowl of a food processor. Pulse until smooth. Slowly stream in the olive oil as you pulse the mixture.

Add 1/2 of the mixture to a bowl and stir in remaining 1 teaspoon kosher salt. Add the chicken to the bowl and turn to coat. Cover the bowl and place it in the refrigerator to marinate overnight, or for at least 8 hours. Transfer the remaining half of the marinade to an airtight container and place in the refrigerator until you're ready to serve the salad. It will stay fresh for up to 7 days.

Preheat a gas or charcoal grill. Remove the chicken from the marinade and lightly salt and pepper each side. Grill for 5-7 minutes on each side, or until the internal temperature reads 160 degrees F. on an instant-read thermometer. Allow the breasts to rest for 10 minutes before slicing.

To make the fried plantains, heat the coconut oil in a large skillet over medium-high heat. Add the sliced plantain rounds and cook until golden brown on each side, about 2 minutes per side. Transfer to a paper towel-lined plate and lightly sprinkle with salt.

To make the salad, add the spring mix, tomatoes, corn, black beans, and red onion to a large bowl. Toss to combine. Add the cooked rice to the bottom of a large platter. Layer the mixed greens on top. Arrange the sliced chicken, avocado, and fried plantains on top of the greens. Sprinkle with cheese, if using. Drizzle the salad with the dressing and serve immediately.
Whipping up one of my recipes?
I wanna know about it! Snap a photo and tag @onesweetmess / #onesweetmess on Twitter or Instagram. Seeing your creations come to life makes my day!