Blueberry Chocolate Chip Cake with Peanut Streusel
I want you to want me <---Is what I'd say if I were this Blueberry Chocolate Chip Cake with Peanut Streusel.
Blueberry season is coming to an abrupt end, so you better get while the gettin' is good. Or, we can be less dramatic and grab a bag of frozen blueberries. Totally your call.
Technically this Blueberry Chocolate Chip Cake with Peanut Streusel is defined as a breakfast cake, so please, I beg you (*gets down on knees), indulge. Your morning coffee with thank 100x.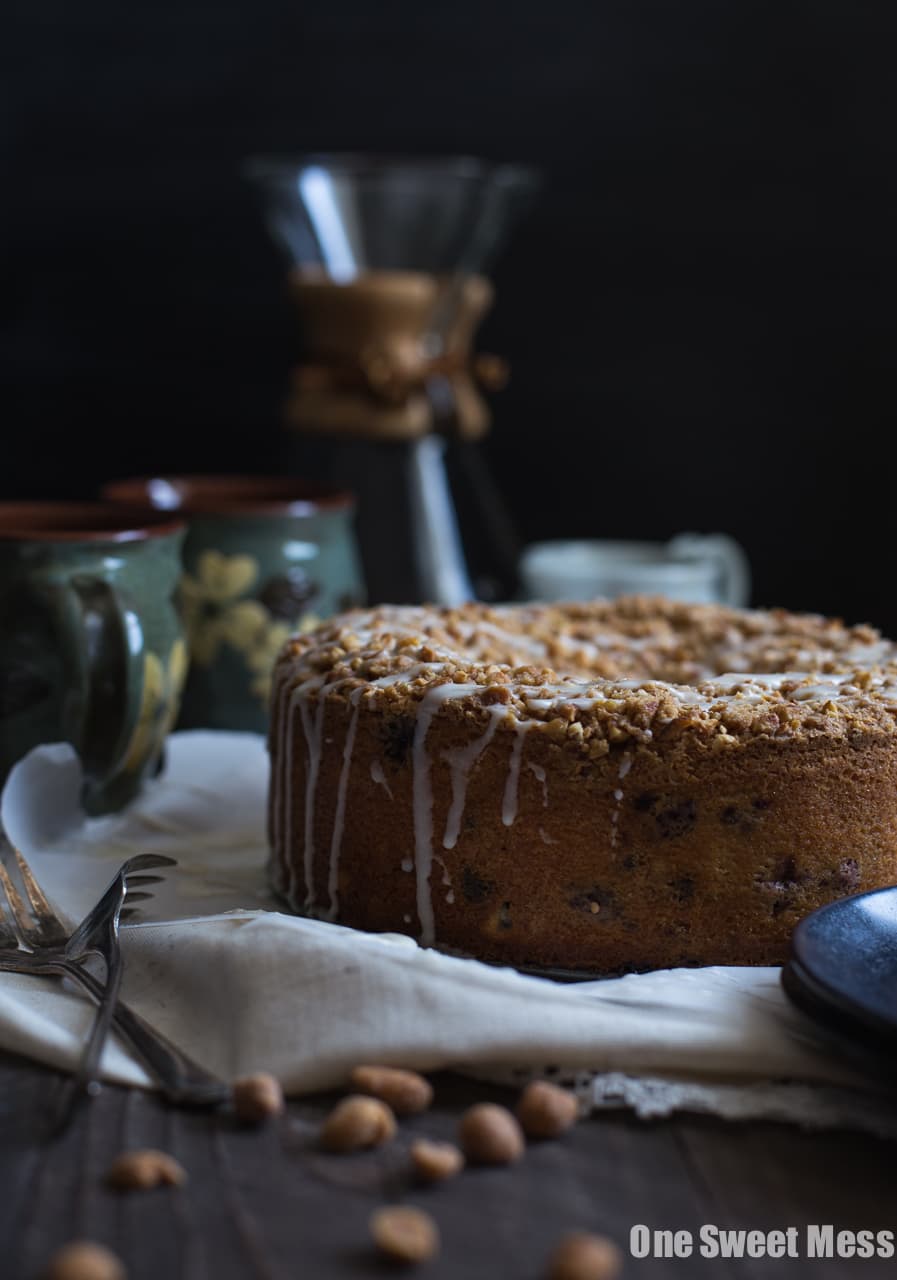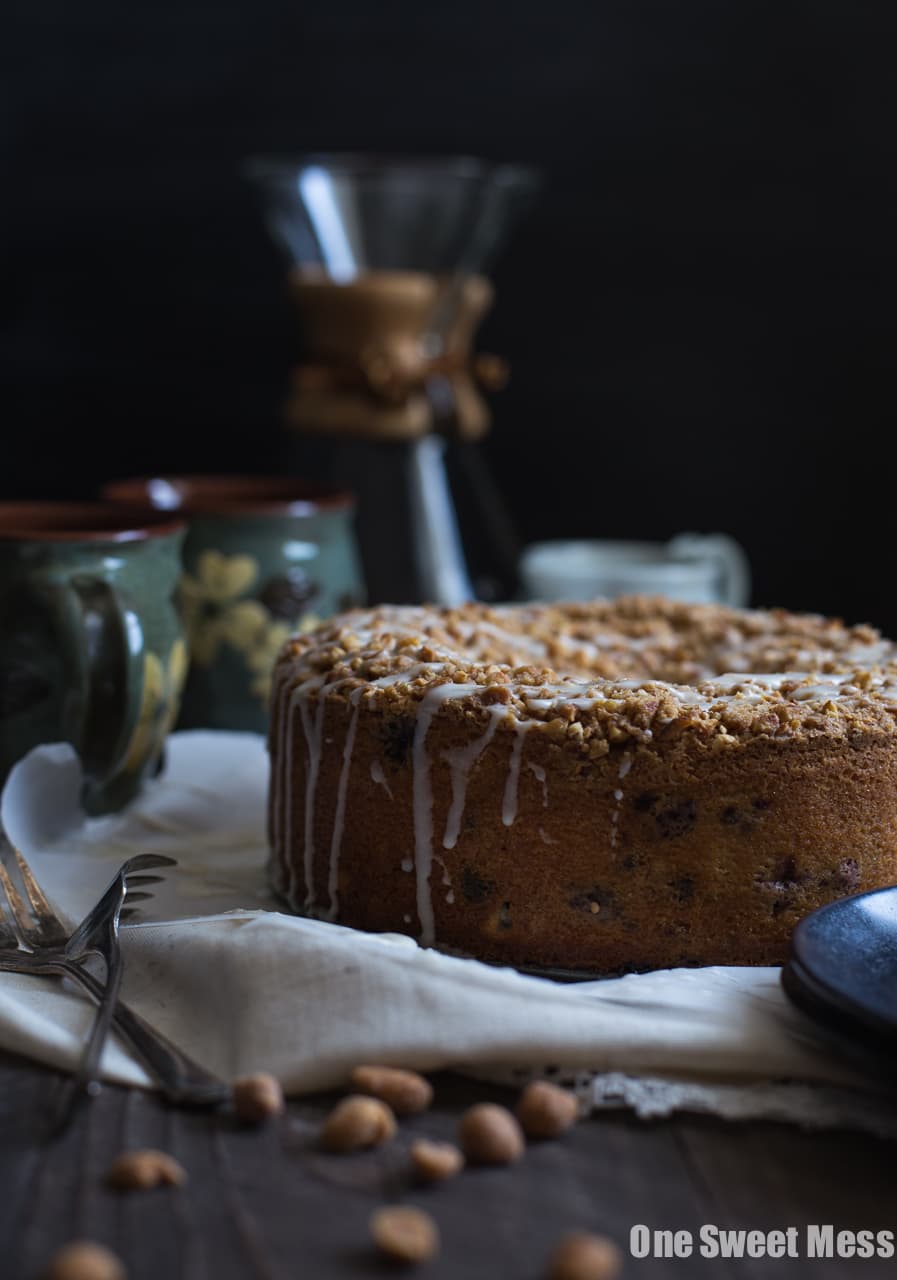 I'm not going to lie and tell you this is a 1-bowl kind of cake, because it's not. But so what if the dish count is a little high this time around, because once your lips wrap themselves around the cake-laden fork, you'll forget all about the few extra dishes.
What makes this cake special, not to mention damn delicious, is the honey roasted peanut streusel that bakes up all sugary and toasty on top of the oh-so buttery cake. It's down right magical, people!
If you're looking for a moist, tender cake bursting with ripe blueberries and sweet chunks of melted chocolate bits, make this cake and eat if for breakfast every. single. day.
Blueberry Chocolate Chip Cake with Peanut Streusel
Yield: 1 (9-inch) cake
Total Time: 1 hour 15 minutes
Prep Time: 15 minutes
Cook Time: 60 minutes
Ingredients:
Peanut Streusel
3/4 cup all-purpose flour
1/2 cup brown sugar
1 cup honey roasted peanuts
1/2 cup pretzels
1 and 1/2 teaspoons ground cinnamon
1/4 teaspoon kosher salt
1/2 cup unsalted butter, at room-temperature
Cake
2 and 1/2 cups all-purpose flour
1 and 1/2 teaspoons baking powder
1/2 cup unsalted butter, at room-temperature
3/4 cup granulated sugar
3/4 cup brown sugar
13 tablespoons + 1 teaspoon (200 grams) sour cream
6 tablespoons canola oil
1 teaspoon vanilla extract
2 cups fresh or frozen blueberries
1 cup semi-sweet chocolate chips
Glaze
1 cup powdered sugar
1/2 teaspoon vanilla extract
3 tablespoons milk
Directions:
Preheat the oven to 350 degrees F. Grease a 9-inch springform cake pan.
To make the peanut streusel, place the flour, sugar, peanuts, pretzels, cinnamon, and salt in the bowl of a food processor. Pulse 3-4 times to chop the peanuts. Add the butter and pulse until coarse crumbs form. Place the mixture in the refrigerator until ready to use.
To make the cake, add the flour, baking powder, and salt to a medium bowl; whisk to combine. In the bowl of a stand mixer fitted with the paddle attachment, cream the butter, granulated sugar, and brown sugar until light and fluffy, about 3 minutes. Add the eggs, sour cream, vegetable oil, and vanilla extract to a medium bowl; whisk to combine. With the mixer on low, slowly pour the egg mixture into the butter mixture and mix until smooth. Slowly add the flour mixture until smooth and fully incorporated, scraping down the sides of the bowl as needed. Fold in the blueberries and chocolate chips. Transfer the batter to the prepared cake pan. Sprinkle the peanut streusel mixture evenly over the top of the cake batter. Bake for 50-60 minutes, or until a toothpick inserted into the center comes out clean. Remove from the oven and transfer to a wire rack to cool for at least 30 minutes.
To make the glaze, add the powdered sugar, vanilla extract, and milk to a bowl. Whisk until smooth. Drizzle the glaze over the top of the cooled cake. Serve.
Do not use anything smaller than a 9-inch cake pan for this recipe.
Adapted from Home by Brian Voltaggio
All images and text © .
Whipping up one of my recipes? I wanna know about it! Snap a photo and tag your post with #onesweetmess on Twitter or Instagram. Seeing your creations come to life makes my day!
One Response to "Blueberry Chocolate Chip Cake with Peanut Streusel"

Leave some love. It makes me happy!