Chocolate Espresso Toasted Hazelnut Cookies
These Chocolate Espresso Toasted Hazelnut Cookies are rich in butter, soft, yet crunchy, and abundant in chocolate and hazelnuts that have been toasted to perfection.
I've recently taken up the sport of stalking the mall Santaland. I don't have children, so that's probably why I find it hilarious to watch the reactions of the kiddos as they see Santa for the first time. Some kids are in complete awe, others look horrified as they meet the man in the bright red suit. Some kids keep their cool at a distance, but once it's their turn to sit on Santa's lap, their composure quickly wavers. Their calm admiration makes an acute left turn somewhere along the road and suddenly all hell breaks loose.
I get it. Santa's scary! Before their meet and greet with Santa, parents have been practicing stranger danger and then, all of sudden, it's perfectly fine to go up to a complete stranger and (gasp!) sit on his lap. In any other situation that would be wrong on so many levels. If you found your kid sitting on a stranger's lap any other time of the year, it would trigger an animalistic rage so fierce a parent could lift up a car in order to save their child from the bad, bad stranger.
Santa is the one exception. Parents wait in line for hours just so they can place their precious bundle of joy in Santa's arms in hopes they'll create a memory that will last forever. A memory they can pull out years down the road with the intention of embarrassing their child in front of their new partner in crime, "Wasn't little Sally just adorable in her sequin-dipped dress and glitter-soaked shoes? She looks like a little Christmas ornament in Santa's lap." Or, "Little Donny was a stubborn little brat that day. He kept running away from Santa. He just cried and cried."
Well, of course little Donny cried! I'd cry too if you were forcing me onto the lap of a fat stranger wearing a bright red suit.
I love watching the parents as they try to keep their children entertained in the long line that snakes around the entire mall, combing their child's hair and frantically cleaning their little faces in order to get the chocolate they used to bribe them to stay quiet and tame as they weaved through the line.
Is it worth it? From what I can tell, you wait all that time and when you do finally reach Santa, poor Johnny is not having it, like at all. What you end up with is a picture of your kid screaming his/her head off. Some memory.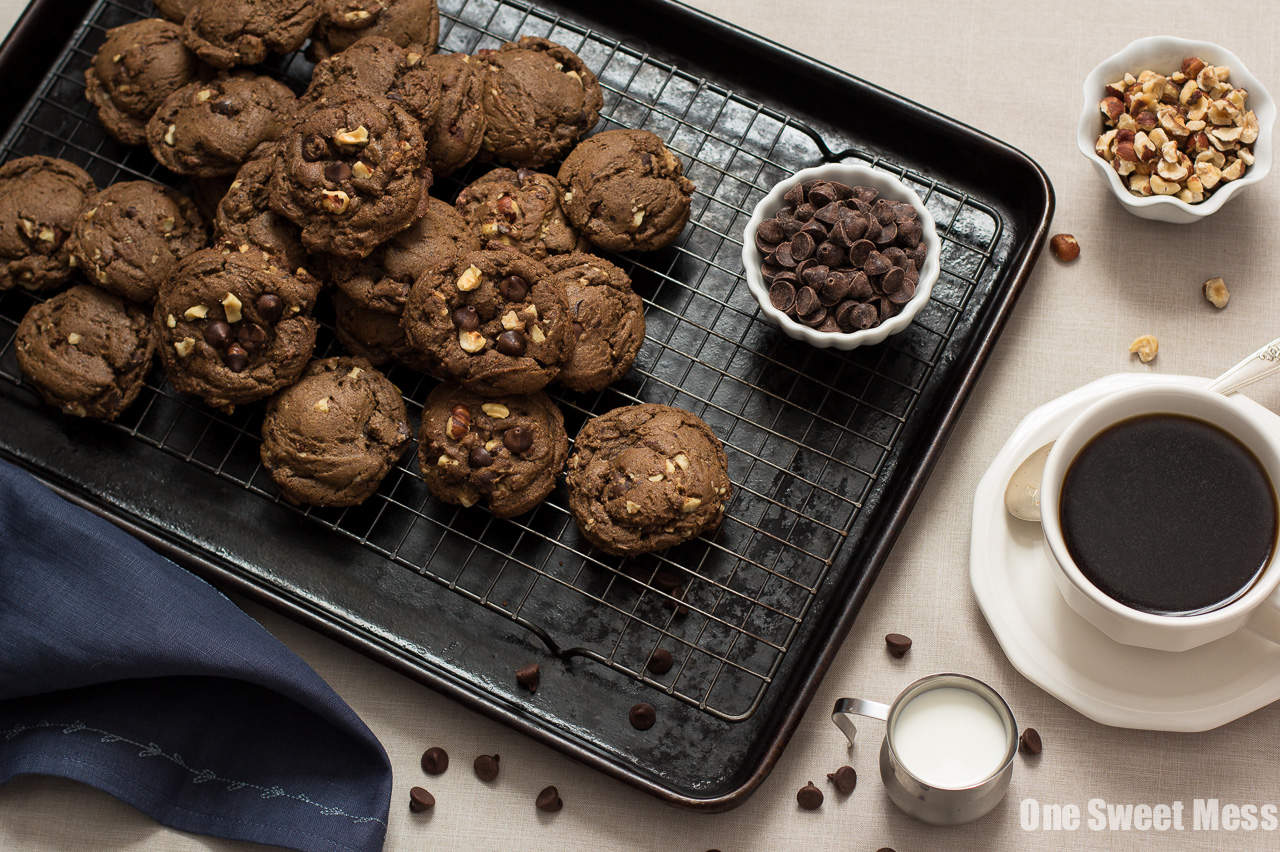 Kids, I feel for you. I really, really do! To apologize for your parents' attempt at creating precious memories, I've made you cookies. You've earned it! And these are good–really good! Go ahead, take two.
I've made three batches of these Chocolate Espresso Toasted Hazelnut Cookies in one week. My intention was to gift the cookies, but I just keep eating them instead. They're irresistible in every way. Double the chocolate, espresso-infused chocolate chips, and toasty Diamond Chopped Hazelnuts. In my opinion, the hazelnut is under-appreciated. They're good all on their own, but magical things happen when you take the time to toast them, which is exactly what I did for this recipe. Trust me, it's worth the extra 5 minutes worth of effort.
I used a combination of instant espresso powder, espresso chocolate chips, and coffee extract to give these cookies a boost of coffee flavor. The combination is delicious.
These cookies are ultra chocolate-y with a chewy, gooey center and a toasty crunch from the hazelnuts.
Chocolate Espresso Toasted Hazelnut Cookies
These cookies are rich in butter, soft, yet crunchy, and abundant in chocolate and hazelnuts that have been toasted to perfection.
Ingredients:
1 stick (1/2 cup) unsalted butter, at room-temperature
1/2 cup granulated sugar
1/2 cup brown sugar
1 large egg
1/2 teaspoon vanilla extract
1/2 teaspoon coffee extract
1 and 1/4 cups all-purpose flour
1/3 cup cocoa powder
1 teaspoon baking soda
3 teaspoons espresso powder
1/2 teaspoon kosher salt
1/2 cup toasted Diamond Chopped Hazelnuts
3/4 cup espresso chocolate chips
Directions:
In the bowl of a stand mixer fitted with the paddle attachment, cream butter and sugars together until fluffy, about 2 minutes. Add the egg, vanilla and coffee extracts. Mix until combined.
In a small bowl, whisk toghether flour, cocoa powder, baking soda, espresso powder, and salt.
With the mixer on low, slowly add the flour in three batches, scraping the bowl as needed. Fold in the hazelnuts and espresso chocolate chips. Transfer the dough to a bowl and cover with plastic wrap. Chill for at least 4 hours or overnight.
Preheat the oven to 350 degrees F. Line a baking sheet with parchment or a silicone baking mat. Scoop out the dough using a 1-inch cookie scoop, placing the cookies 3 inches apart. Bake for 10 minutes.
Allow the cookies to cool on the cookie sheet for 5 minutes. Transfer to a wire rack to cool completely. Store in an airtight container for up to 3 days.
All images and text ©
.
Whipping up one of my recipes? I wanna know about it! Snap a photo and tag your post with #onesweetmess on Twitter or Instagram. Seeing your creations come to life makes my day!