Thirsty Thursday: Pineapple Green Tea
This Pineapple Green Tea is a sweet and refreshing summer drink.
Everyone has a favorite drink they make and store in the refrigerator every week. Mine is green tea—a big, fat pitcher of the stuff! Not only is it loaded with antioxidants, but it also quenches your thirst like no other beverage, and I love that it pairs well with just about any flavor, especially fruit.
I make a big pitcher of green tea every Sunday to enjoy throughout the week after my morning coffee, but this week's pitcher is by far my favorite. I decided to experiment with my original recipe and added a bit of tropical flair in the form of fresh, juicy pineapple.
After steeping the tea bags, I stirred in 1 cup of all-natural pineapple juice and 6 cups of water. In order to keep my green tea on the light side and cut down on calories, I added Born Sweet® Zing™ Zero Calorie Stevia Sweetener.
I've looked high and low and tested several varieties of zero-calorie sweeteners, but nothing compares to Zing™ Zero Calorie Stevia Sweetener. It's perfectly sweet without a funny aftertaste, which is why I've never been able to get on board with zero-calorie sweeteners in the past.
Zing™ Stevia Sweetener is made with only real ingredients–nothing artificial, only the sweetness that is extracted from the leaves of Mother Nature's stevia plant. I've been sprinkling it in my iced coffee, on grapefruit, and adding it to my morning oatmeal.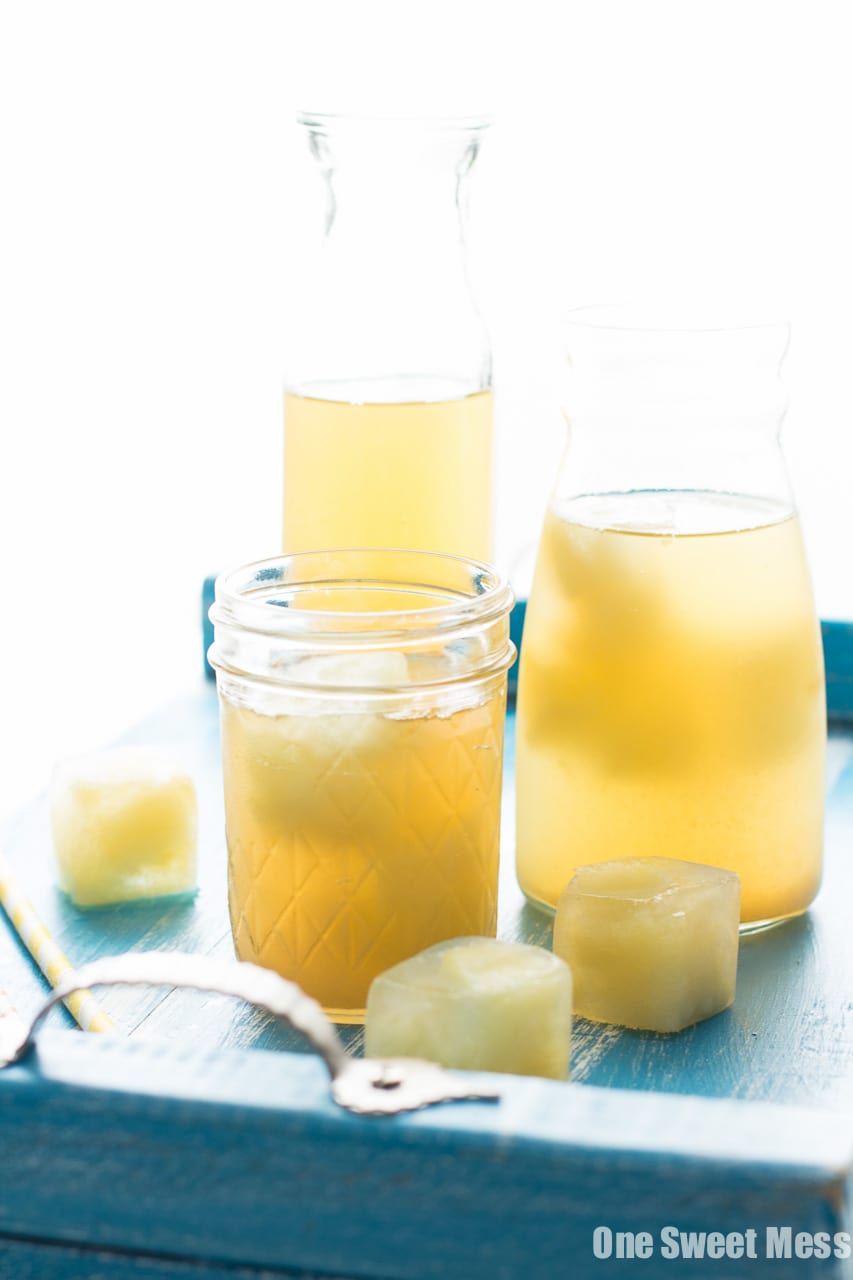 This Pineapple Green Tea is sweet, fruity, and bursting with the fresh flavor of pineapple. I even made a tray of pineapple ice cubes to pair with your tea. When the ice cubes melt–because it is summer–your tea stays just as flavorful as the first sip.
Pineapple Green Tea
A refreshing combination of antioxidant-infused green tea, pineapple juice, and zero-calorie sweetener.
Ingredients:
Tea
6 green tea bags
6 cups boiling water
1 cup pineapple juice
Zing™ Zero Calorie Stevia Sweetener
Pineapple Ice Cubes
1 (28-ounce) can pinepple chunks
1 cup water
Directions:
Tea
Bring 6 cups of water to a boil in a saucepan. Remove the water from the heat and add the tea bags. Allow the tea to steep for 10 minutes.
Remove the tea bags. Stir in the pineapple juice. Transfer the tea to a heat-proof pitcher and place in the refrigerator to chill completely.
Add a few pineapple ice cubes to a glass and pour in the tea. Add the zero-calorie sweetener until you reach your desired sweetness.
Pineapple Ice Cubes
Drain the pineapple, reserving the juice. Place 2 pineapple chunks in each insert of 2 square icecube trays.
Add 1 cup of water to the pineapple juice. Fill the trays with the pineapple-water mixture.
Place the trays in the freezer until completely frozen, about 4 hours.
All images and text ©
.
Whipping up one of my recipes? I wanna know about it! Snap a photo and tag your post with #onesweetmess on Twitter or Instagram. Seeing your creations come to life makes my day!
I was selected for this opportunity as a member of Clever Girls and the content and opinions expressed here are all my own.