Toasted Coconut Ice Cream with Almonds & Dark Chocolate
Rich, creamy coconut-infused ice cream loaded with toasted almonds and dark chocolate pieces.


The question I get asked the most is where I get the inspiration for my recipes. My response: everywhere. Life, travel, cookbooks, cooking shows, etcetera, and so on. My passion for food knows no limits.
I used to go in to elaborate detail when someone would ask me about a specific recipe. Well, that was until I started recognizing the signs of boredom after the first few minutes of chatting someone's ear off about how this Chipotle Beer Mac and Cheese came to be. The poor saps are probably sorry they ever asked.
I believe it was my brother who finally found the courage to tell me the truth. He said, "Jennie, we don't care how you got to the end result, as long as the dish tastes good."
Fair enough.
Ever since my brother's statement, I keep my responses short and simple whenever someone asks about one of my recipes.
The inspiration for this Toasted Coconut Ice Cream with Almonds & Dark Chocolate came from a local dairy/ice cream shop I visited while I was in Chicago. They had an endless list of ice cream flavors, but there was no resisting the lure of toasted coconut.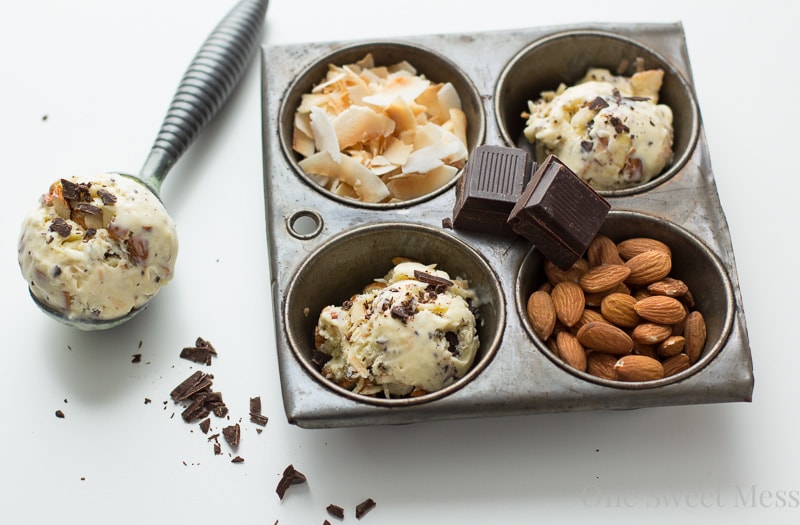 After the first bite, I knew I would go home and replicate the recipe immediately, and I did. My version is definitely a winner–maybe even a notch or two better than the joint in Chicago.
What makes this recipe so good is the addition of coconut in three different forms: coconut milk, coconut extract, and toasted coconut flakes. It's triple the in-your-face coconut flavor.
If you've never made homemade ice cream before, I'm hear to tell you it's super easy and definitely worth the effort. Honestly, most of the effort involves practicing patience. It takes a whole lot of effort waiting for the custard to chill and ice cream to freeze, when all you really want to do is get to scoopin'!
You can find this Toasted Coconut Ice Cream Recipe on Food Fanatic.