Banana Bread with Cookie Butter Cheesecake Swirl
Sweet, moist banana bread swirled with a layer of cookie butter cheesecake.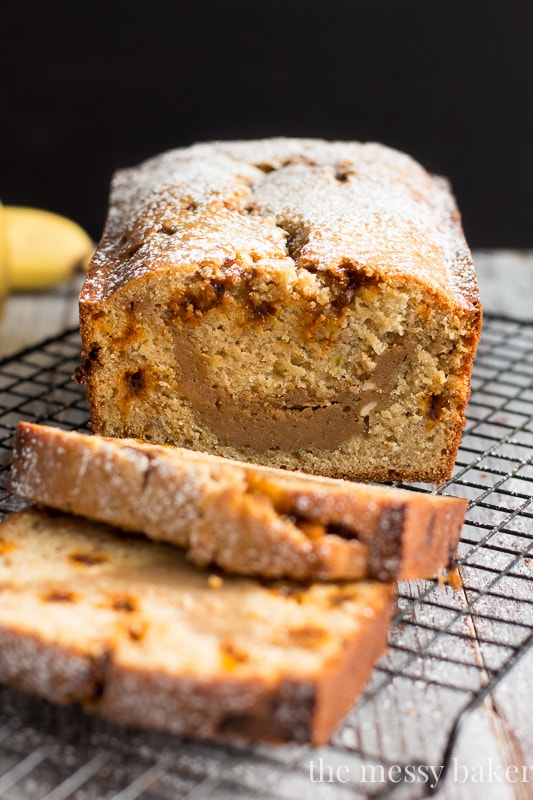 Your heart just skipped a beat, didn't it? Mine did the same thing when the idea for this banana bread popped into my head.
Here's the thing about owning a website dedicated to food–it's all food, all the time. My thoughts are a perpetual stream of recipe ideas, ingredient pairings, and I-better-write-that-down moments.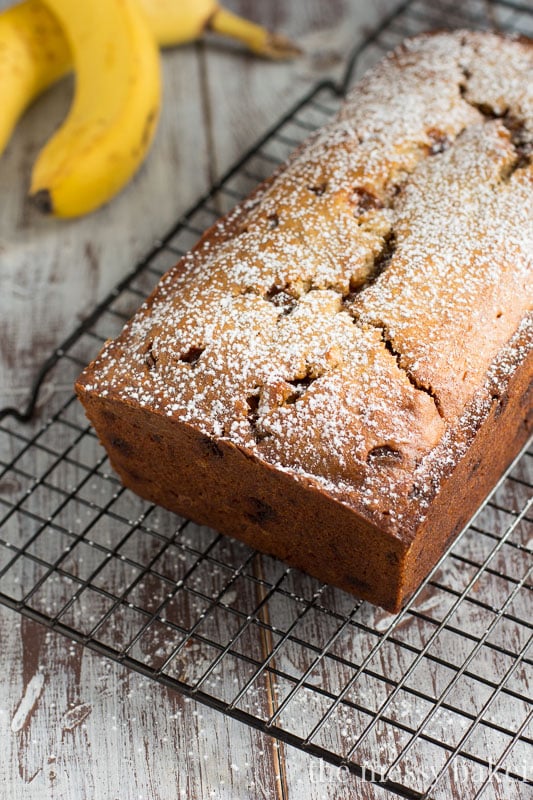 I try my best to create an editorial calendar and stick with it, but then this banana bread with cookie butter cheesecake swirl recipe popped into my head. A few minutes later I'm standing over my editorial calendar erasing today's original recipe and penciling in this recipe to take its place.
It's a constant battle of the recipes around here.
Today's winning recipe is–if I do say so myself–pretty epic. Banana bread is great on its own, but it's even better stuffed with a cookie butter-spiked cheesecake mixture.
If you're still a cookie butter virgin, I highly suggest you rectify the situation immediately. I also recommend buying two jars–one for snacking spoon-to-mouth style and one for baking. Don't be surprised if you find yourself sneaking down to the kitchen in the wee hours of the night for a nibble. It goes with the territory.
Not only did I swirl it up with cookie butter cheesecake. I also loaded the batter with sweet cinnamon chip morsels.
I like to save the swirl for last, so I begin by eating the banana bread that surrounds the sweet, creamy center.
This bread will blow your mind.
Banana Bread with Cookie Butter Cheesecake Swirl
Sweet, moist banana bread swirled with a layer of cookie butter cheesecake.
Ingredients:
Bread:
2 ripe bananas, peeled
1 stick unsalted butter, melted
3/4 cup brown sugar
1/2 cup granulated sugar
2 large eggs
2 teaspoons vanilla extract
1/2 cup buttermilk
2 and 1/2 cups all-purpose flour
1 and 1/4 teaspoons baking powder
1/4 teaspoon baking soda
1/2 teaspoon kosher salt
1/2 teaspoon ground cinnamon
3/4 cup cinnamon chips
Cookie Butter Swirl:
4 ounces cream cheese, softened
1/2 cup cookie butter
1/4 cup granulated sugar
1 egg
1/2 teaspoon vanilla extract
1/4 teaspoon cinnamon
Directions:
Bread:
Preheat oven to 325 degrees F. Grease and flour a 10-inch-by-5-inch or 9-inch-by-5-inch loaf pan.
In a large bowl, mash bananas with a fork or potato masher.
Add melted butter, brown sugar, granulated sugar, eggs, vanilla, and buttermilk. Whisk until thoroughly combined.
Add dry ingredients to the bowl with the banana mixture. Using a rubber spatula or wooden spoon, stir until flour is no longer visible.
Add half the batter to the prepared loaf pan. Spread the prepared cookie butter cheesecake mixture evenly over the batter. Top with remaining batter. Spread evenly with a rubber spatula.
Bake for 70-80 minutes, or until a toothpick inserted in the center comes out mostly clean. Start checking your bread at the 70-minute mark every 5 minutes to prevent over baking.
Allow the bread to cool completely in the pan. Run a butter knife around the edges of the pan to loosen the loaf. Remove from the pan and allow to cool completely. Store in an airtight container for up to 5 days or slice and freeze for up to 3 months.
Cookie Butter Swirl:
Add cream cheese, cookie butter, and sugar to a large bowl or the bowl of a stand mixer fitted with the paddle attachment. Mix until smooth.
Add the egg, vanilla extract, and cinnamon. Mix until smooth and the egg is thoroughly combined. Set aside.
All images and text ©
.
Whipping up one of my recipes? I wanna know about it! Snap a photo and tag your post with #onesweetmess on Twitter or Instagram. Seeing your creations come to life makes my day!
Baking tools I used to make this recipe:
• Hand mixer
• Mixing bowls
• Whisk
• Measuring cups
• Measuring spoons
• 10-inch loaf pan
• Biscoff Spread
If you like this recipe, then you'll love these:
Nutella & Toasted Pecan Swirl Banana Bread
Cookie Butter Cinnamon Chip Granola
Recipes from my peeps:
Averie Cooks- Softbatch Cookie Butter Brown Sugar Cookies
Crazy for Crust- Cookie Butter Pretzels
Hungry Couple- Banana Bread Donuts with Banana Glaze
Minimalist Baker- One Bowl Gluten Free Banana Bread