Gluten-Free Cinnamon Chip Waffles with Caramelized Apples
Thick, golden waffles topped with sweet, gooey caramelized apples. Breakfast is served!
These gluten-free cinnamon chip waffles with caramelized apples are a breakfast-lover's dream come true. Thick, golden waffles speckled with sweet cinnamon chips and topped with generous spoonfuls of sticky caramelized apples–I just drooled a little.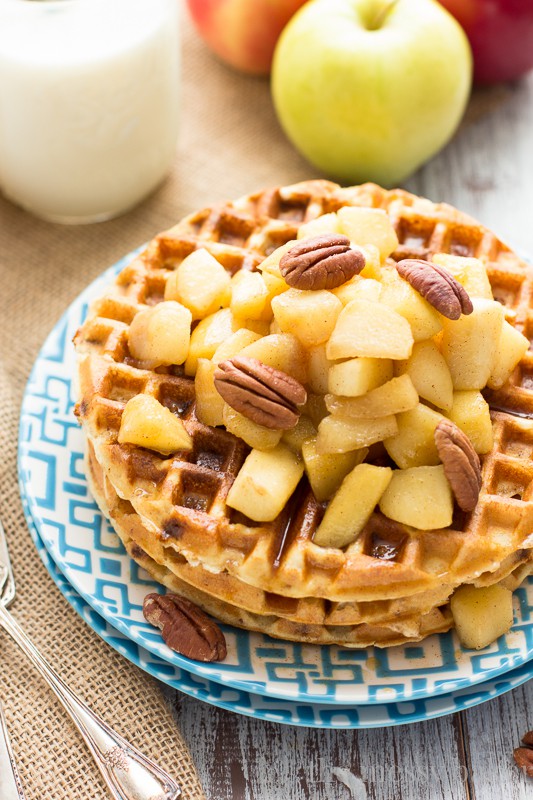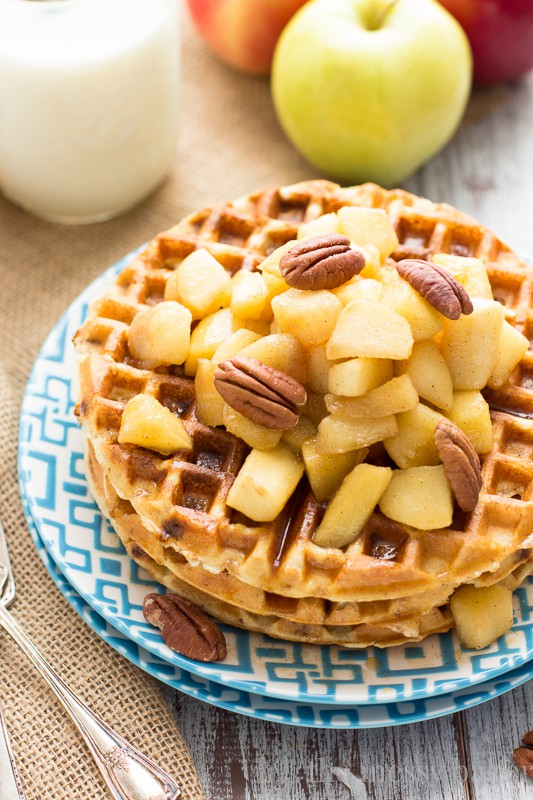 Waffles in my house are a rare occasion. I blame Squirrel. When in doubt, blame your spouse. Isn't that what "they" say?
But, really, this time it's all his fault. "I'm not a sweets-in-the-morning kind of guy." Who says things like that? I practically live for sweets in the morning. Any time I can get my paws on a cinnamon bun, you bet I'm going to relish in that moment.
Look at that mound of waffles dripping with sweet, gooey apples. Who could resist such a glorious plate? I don't own an ounce of willpower, so it's certainly not me.
These waffles are made gluten-free using Pamela's Products Baking & Pancake Mix. I've come to love this mix for several reasons. The fact that I can whip up waffles in no time is clearly number one, but that's not the only reason. This particular mix makes the fluffiest pancakes. And, it's full delicious whole grains, 8 grams per serving! The brown flecks that you see throughout the mix when you open the bag is almond meal. Not only are the pancakes and waffles fluffy, but you get a mild nutty flavor from the almond meal.
To achieve a light, fluffy waffle, I folded in beaten egg whites. Now, I know this sounds like a lot in the morning when you're starving, but, I promise, it's really simple. The batter comes together in 5 minutes and each waffle takes about 2 minutes to cook in the waffle maker.
It helps if you have your coffee first.
The caramelized apples. So easy, yet so delicious. I peeled, cored, and diced 4 apples for this recipe. Melt some butter in a skillet and sauté your apples until tender, about 8-10 minutes. Sprinkle in some brown sugar and cinnamon, and cook until melted and gooey. Spoon the warm mixture over your waffles.
Try to share. I know it will be hard, but let's be nice.
Gluten-Free Cinnamon Chip Waffles with Caramelized Apples
Thick, golden waffles topped with sweet, sticky caramelized apples.
Yield: 4 (7-inch round) waffles
Total Time: 15 minutes
Prep Time: 5 minutes
Cook Time: 10 minutes
Ingredients:
Waffles:
1 and 1/2 cups Pamela's Baking & Pancake Mix
1 tablespoon granulated sugar
1/3 cup cinnamon chips
2 eggs, separated
1/2 teaspoon vanilla extract
1 tablespoon canola oil
3/4 cup milk
Caramelized Apples:
3 tablespoons unsalted butter
4 apples, peeled, cored, and diced
3 tablespoons brown sugar
1/4 teaspoon cinnamon
1/4 cup toasted pecans, roughly chopped
Directions:
Waffles: 
Preheat waffle iron.
In a medium-sized bowl, whip egg whites until stiff.
In a separate bowl, whisk together pancake mix, sugar, and cinnamon chips.
Add egg yolks, vanilla extract, canola oil, and milk to the bowl. Whisk until smooth. Gently fold in the egg whites.
Spray your waffle iron with non-stick baking spray. Ladle 1/2 cup of the batter into the center of the waffle iron. Bake until golden brown, about 2 minutes.
Top with caramelized apples.
Caramelized Apples: 
Melt butter over medium-low heat in a non-stick skillet.
Add apples and cook until tender, stirring occasionally, about 8-10 minutes.
Stir in brown sugar, cinnamon, and pecans. Cook, stirring often, until the sugar dissolves and the mixture thickens, about 2 minutes.
All images and text ©
.
Whipping up one of my recipes? I wanna know about it! Snap a photo and tag your post with #onesweetmess on Twitter or Instagram. Seeing your creations come to life makes my day!
Disclosure: This recipe was developed for the amazing folks at Pamela's Products. All opinions in this here post are my own. Thank you for supporting my recipes and site while I work with brands I adore.
18 Responses to "Gluten-Free Cinnamon Chip Waffles with Caramelized Apples"

Leave some love. It makes me happy!