Havarti, Pear & Smoked Ham Crackers
Buttery crackers topped with creamy Boar's Head Havarti cheese, ripe pear, and smoked ham. This easy appetizer is perfect for fall entertaining.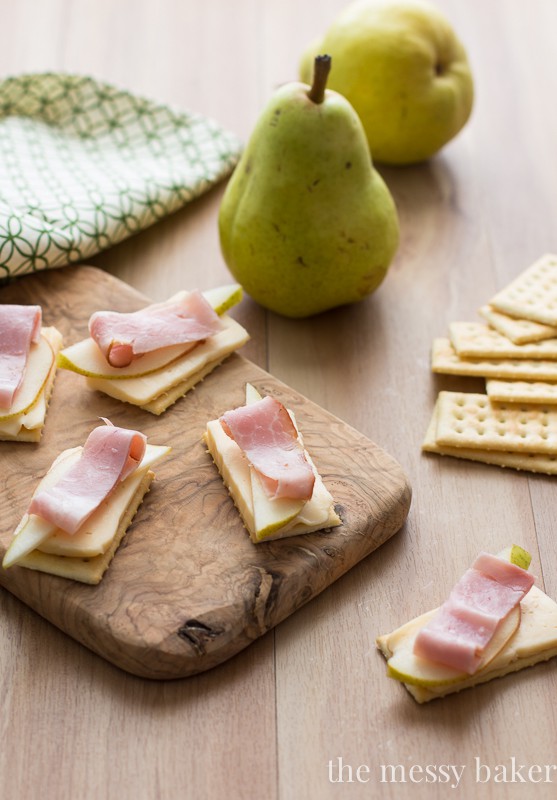 I'm not really sure I can call this a recipe. It's more like a stack of ingredients–a creamy, buttery, sweet, salty stack of ingredients. If you do the math, it adds up to be one delicious non-recipe stack.
I do most of my entertaining during the fall season. With football, bonfires, and Thanksgiving filling my calendar, I'm always looking for easy appetizer recipes that come together in minutes. This recipe for havarti, pear, & smoked ham  crackers is the easiest appetizer recipe I've ever made.
These little cracker bites look fancier than they really are. They appear as if you've put a lot of thought and effort into them, when really they're just a stack of delicious ingredients that took less than 10 minutes to prepare. We won't tell anyone that you quickly threw these together and spent the rest of the time scrolling through your Facebook feed.
Nobody really needs to know.
I used Boar's Head Cream Havarti Cheese. It's a double creme Danish style cheese that is mild in flavor and melts in your mouth with every bite. This cheese quickly became my favorite after one bite. It's so buttery!
Boar's Head has been making premium products for more than 100 years. They take pride in the products they produce and refuse to cut corners in order to put profit before excellence. And, I take pride in eating all the cheese. It's a win-win.
Since havarti is naturally mild in flavor, you can pretty much pair it with any flavor. Since it's fall, I went with sweet, ripe pear and smoked ham. I love a good sweet and salty combo.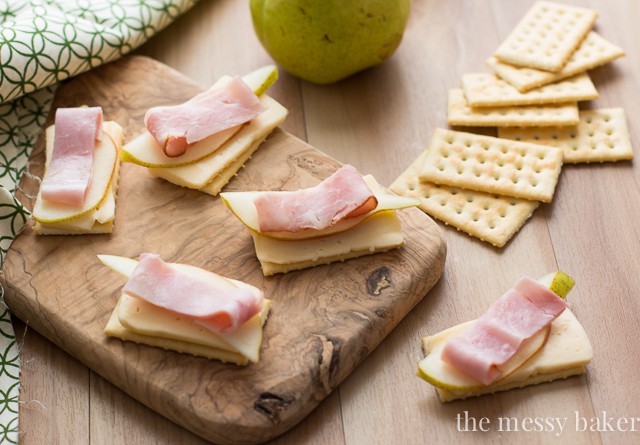 I wasn't kidding when I said these are easy to assemble.
Here's how you stack 'em:  Place a thick slice of havarti on a cracker of your choice; top with a slice of ripe pear and a slice of smoked ham. Assemble on a tray and serve. It's that easy!
Warning: These will go fast.
Visit Boar's Head to create your own cheese board for your next party or event.
Havarti, Pear, & Smoked Ham on Crackers
Buttery havarti cheese topped with ripe pear and smoked ham on crackers.
Ingredients:
1 (8-ounce) block Boar's Head Cream Havarti Cheese
1 ripe pear, cut into thin slices
1/4 pound shaved smoked ham
20 crackers
Directions:
Using a cheese cutter or sharp knife, cut Havarti cheese into 1/8-inch slices.
Place a slice of cheese on each cracker.
Top with a slice of pear and a small mound of smoked ham.
All images and text ©
.
Whipping up one of my recipes? I wanna know about it! Snap a photo and tag your post with #onesweetmess on Twitter or Instagram. Seeing your creations come to life makes my day!
I was selected for this opportunity as a member of Clever Girls Collective and the content and opinions expressed here are all my own.